Groomsmen Fashion: 5 Tips for a Classy Look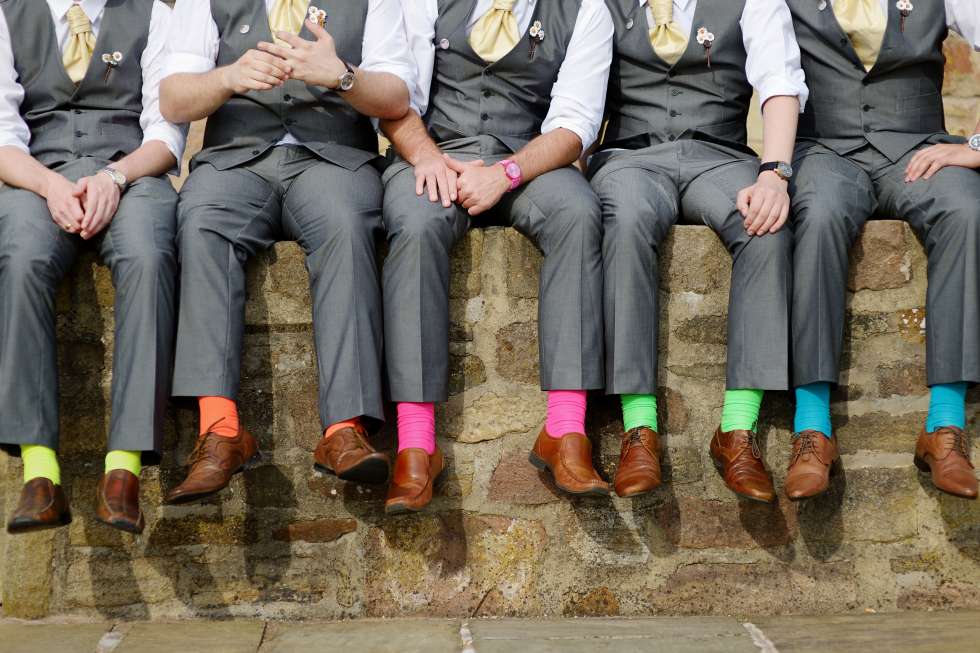 Brides are usually the center of attraction in every wedding, but this doesn't mean that no one will notice the gents. On the contrary, the style and outfit of the groomsmen can significantly affect the look of the entire entourage. Show up in a tacky-looking suit and mismatched color combinations, and the entourage will not look as good. 
Groomsmen fashion shouldn't be taken lightly. If you're going to attend a wedding as a groomsman soon, you need to pay attention to your outfit. You don't want to waste the couple's time and effort in making sure their entourage looks their best, right?
Also, check out these fun boutonnieres ideas: Creative Boutonnieres for Weddings
For the best men's fashion tips click here!
Create a classy look as a groomsman by following these fashion tips:
Think Out of The Box
When you hear or think about groomsmen fashion, suits in black, white, and gray will immediately come to mind. These colors are common options for groomsmen, but these aren't the only available colors you can choose from. 
You can create a classy look as a groomsman by thinking out of the box and looking into wedding suits in different colors. Some of the most unique color combinations you can try for your suit are burgundy and mustard or pink and khaki. You can also take it up a notch by picking suits in bolder colors, such as teal or lilac. 
Work With a Tailor
The efforts you put into picking a unique color for your suit will be useless if it doesn't fit. Wearing anything that's too small or too big can be uncomfortable and prevent you from looking good on the wedding day. 
To create a classy look as a groomsman, work with a tailor and have your suits altered according to your size. This should be a priority regardless if the couple will provide your attire or you're expected to provide one on your own. 
Having a tailor alter your suit will ensure that you'll remain comfortable and feel good throughout the wedding. By wearing a suit that's tailored fit to your size, you can move with ease throughout the ceremony, perfect if you're planning to party all night!
Play Around With Patterns
one are the days when groomsmen only had the option to wear plain-colored suits. Today, seeing groomsmen wear patterned pieces has become a norm worldwide.
You can hop into the bandwagon by wearing patterned pieces the next time you're asked to be a groomsman. Patterned suits, pants, and even formal shirts are very common, which means you can easily find pieces that match your unique style and the theme of the wedding. 
While wearing patterns can show off your fun side, remember not to go overboard. If you're planning to wear a patterned suit, opt to match it with a plain-colored shirt underneath. Avoid wearing different types of patterns, as this will only make your attire look unpolished
Use Accessories
Groomsmen often have the same or similar attires at weddings. In some cases, groomsmen might even have colors and patterns identical to the dresses of the bridesmaids. If you want to stand out from the entourage without stealing the show from the couple, use accessories sparingly. 
As a groomsman, you have several accessories to choose from. For starters, you can wear colorful socks and surprise everyone during the photoshoots. You can also get creative with your pocket squares or pairs of shoes. If the theme and couple allow, you can even show up with a hat on!
Consider The Season
With the number of styles available for groomsmen, choosing which to follow can be tough. What materials should you look for in a suit? How can you narrow down your color choices? You'll likely have these questions (and more) on your head. 
Another way to create a classy look as a groomsman is to consider the season when dressing up. For example, if you're invited to a wedding that'll take place in winter, consider wearing a tweed suit or velvet blazer. These are excellent cold weather pieces that'll make you look more fashionable and comfortable. If the wedding is set in spring, opt to wear suits in pastel colors or pieces made from cotton. If you're going to attend a summer wedding, consider wearing breathable fabrics in lighter colors and short-sleeved shirts.
---
Knowledge Is Power
You don't need to be a professional at fashion to create and pull off a classic look as a groomsman—following all of the tips presented in this article is enough. Use this article as your guide when dressing up as a groomsman, and you'll surely impress the couple on how classy your look is!