Beautiful Beach Wedding Decoration Ideas
Getting married soon?
Looking to hire tableware & decor?
Let's help you find the right supplier.
Get Offers Today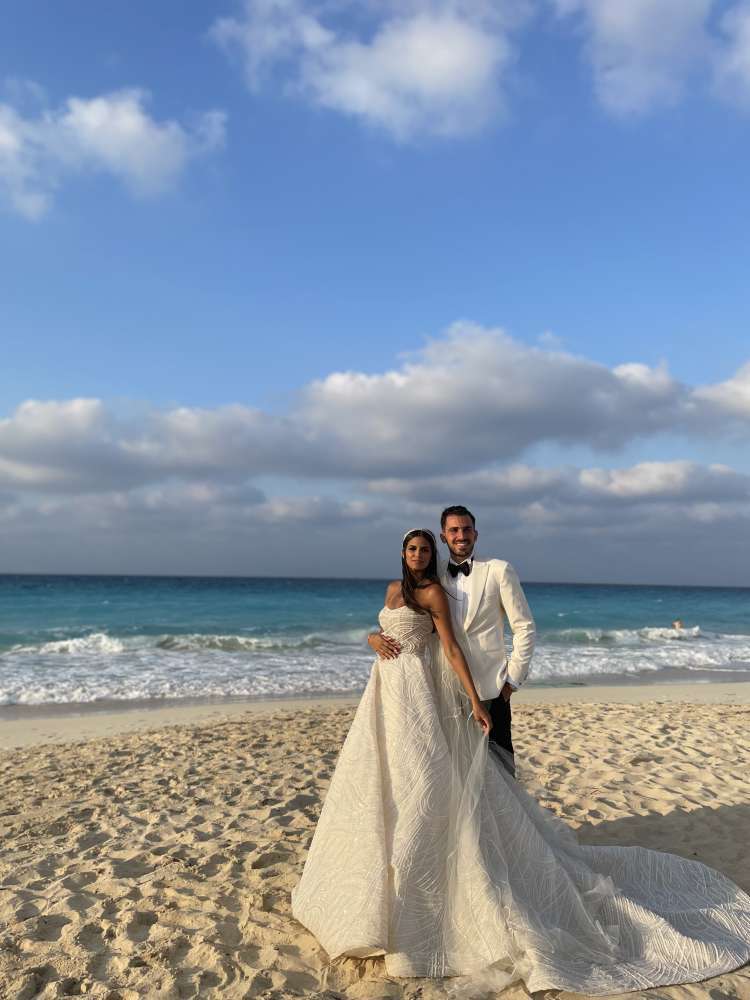 A beach-themed wedding is a dreamy and idyllic choice for couples who envision a truly mesmerizing and unforgettable celebration. It offers an opportunity to exchange vows in an enchanting setting, enveloped by the gentle melody of crashing waves and bathed in the warm embrace of the sun's golden rays.
Imagine transforming your chosen venue, be it a grand ballroom or your own picturesque back garden, into a haven that flawlessly captures the essence of the beach. Every detail, from the beach wedding decorations to the meticulously curated beach wedding theme ideas, will contribute to a truly extraordinary and innovative celebration. 
As you embark on the journey of planning your beach-themed wedding, you'll discover a wealth of possibilities to transform your vision into a breathtaking reality. Beach wedding decorations hold the key to setting the stage for an awe-inspiring experience.
Delicate seashells, starfish accents, nautical elements like anchors and dolphins, and even tropical foliage can be artfully incorporated to create a sense of a seaside wonderland. These carefully chosen beach wedding decorations will transport your guests to a world where the sand meets the shore and the ocean's beauty unfolds before their eyes.
For the most beautiful beach, and wedding cakes click here!
Also, check out: 
To complement a beach wedding theme take a look at the 'Message in a Bottle' wedding invitation idea here, which will form the perfect mood from the outset. 
Here are some beach wedding decoration ideas from seashell wedding bouquets​ to starfish wedding invitations which are perfect for destination weddings:
Beach Wedding Cakes
A beach wedding cake is an edible masterpiece that serves as a centerpiece at your reception. Capture the essence of the ocean by opting for a cake design that reflects the beauty of the beach.
Consider incorporating delicate waves, seashells, coral patterns, or even a mini sandcastle atop your confectionary delight. Adorn it with edible pearls or sugar seashells for an extra touch of elegance.
The beach wedding cake will not only delight your taste buds but also visually enhance your overall beach wedding theme.
See more ideas for beach wedding cakes here!
Beach Wedding Bouquet
Beach wedding bouquets are a vital component of a bride's ensemble, adding a touch of elegance and natural beauty to her overall look. When it comes to choosing the perfect bouquet for a beach-themed wedding, there are various factors to consider. The first is the selection of flowers that capture the essence of the seaside, such as tropical blooms, soft-hued roses, or delicate orchids. These choices evoke a sense of tranquility and romance, mirroring the coastal ambiance of the wedding setting.
Incorporating natural elements like seashells, starfish, or delicate pearl accents can add a unique touch to the bouquet, evoking the spirit of the beach.
Beach Wedding Favors
When it comes to beach weddings, unique and thoughtful favors can serve as lasting mementos for your guests. Consider beach-themed wedding favors that encapsulate the spirit of the seaside celebration.
Shell-shaped trinket boxes, mini beach pails filled with candies, or personalized seashell keychains are just a few ideas to consider.
These tokens of appreciation will leave your guests with a lasting impression and a reminder of the beautiful moments shared on your special day.
See more ideas for beach wedding favors here!
Beach Wedding Inspiration from the Middle East
Nestled between the glistening shores of the Arabian Gulf and the captivating landscapes of the Mediterranean, the Middle East presents a remarkable canvas for romance and celebration.
With its rich cultural tapestry and timeless traditions, this region offers an alluring backdrop for couples seeking a unique and enchanting beach wedding experience. From the azure waters of the Red Sea to the golden sands of the Persian Gulf, the Middle East effortlessly combines natural beauty with centuries-old customs, creating a setting that is both opulent and intimate.
There are plenty of stunning weddings that take place by the sea, here are some beautiful ones that you should check out:
Nadia and Ibrahim's Beach Wedding in Lebanon
A Seaside Pink Wedding at The Dead Sea