Best Hotel Ballrooms in Cairo Along the Nile
Getting married soon?
Looking for a Wedding Venue?
Let's help you find the right one.
Get Offers Today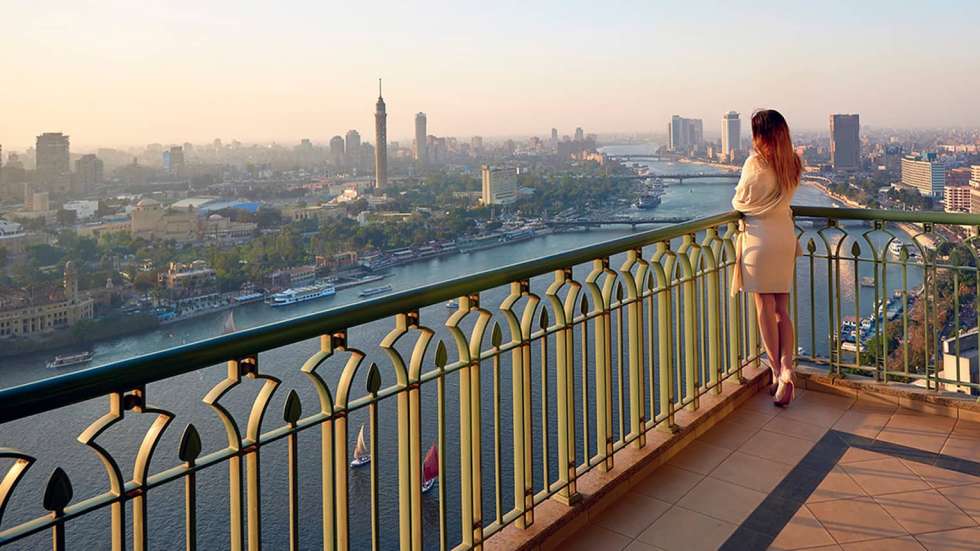 Cairo, the capital of the Arab Republic of Egypt, is a popular tourist destination and a charming location for Arab and international weddings as well. With its moderate climate most days of the year, it is an ideal destination for weddings throughout the year.
The Nile River in Cairo is a particular highlight that offers a distinctive backdrop to wedding pictures and a wonderful view for your wedding guests to enjoy.  If you are searching for the perfect venue in the heart of Cairo overlooking the Nile corniche, you are in the right place.
We have prepared an excellent list of the top hotels in Cairo with great banquet halls and stunning views of the Nile for a romantic wedding. Here is a list of the Best Hotel Ballrooms in Cairo along the Nile:
The stunning Conrad Ballroom at Conrad Cairo is undoubtedly the highlight of the hotel. The 2800 sqaure meter pillar-free ballroom offers a private foyer leading into the ballroom, creating a sense of harmony and ensuring privacy for your event. The wide marble staircase and impressive fountain ensure a dramatic entrance and spectacular photograph opportunity. Host a magnificent reception for up to 1,000 guests or divide it into smaller sections for more intimate occasions.
At Conrad Cairo, they specialize in designing unforgettable menus which are sure to make a lasting impression. Indulge in a delicious buffet for your wedding meal and dine on a selection of hot and cold food, fresh salads and fruits, as well as, tempting main courses and desserts.
When it comes to creating a wedding that exceeds expectations yet retains the uniqueness of your personality and preferences, Four Seasons Hotel Cairo at Nile Plaza triumphs every time.
The hotel's highly professional team of wedding planners, chefs and hospitality staff will work with you to create the wedding of your dreams, ensuring your special day is enhanced with only the finest products, services and venues available. You can choose between these wedding venues:
Fairmont Nile City luxury hotel in Cairo offers a delightful series of offers. Equipped with the most advanced design and technology to serve you at your wedding. With sweeping panoramas of the Nile River, and views of the Pyramids in the distance, Cairo's natural beauty and ancient history are always in sight from your luxury accommodations in the luxury Cairo hotel.
Wedding specialists and valued partners offer the guest the highest level of service to create the day of your dreams. Whether your style is softly romantic, trend-setting modern or show-stopping elegance, Fairmont Nile City is there for help.
Whether you wish to celebrate your wedding with a close circle of family and friends or with a larger number of joyful well-wishers, Grand Nile Tower understands that with so many personal details to look after, you want to have as few hassles as possible when planning your big day. It is for this reason that Grand Nile Tower's skilled wedding planners are always available to discuss your detailed wedding requirements. Its fantastic Nile views, elegant, shimmering ballrooms, magnificent table settings, fresh flowers and sumptuous celebratory menus are at your disposal to make your wedding the event of your dreams. 
This hotel has a variety of wedding halls to choose from. This is a list of the halls of the Grand Nile Tower Hotel:
Farhaty Ballroom: which can accommodate up to 800 guests.
King Tut Ballroom: which can accommodate up to 180 guests.
Laylaty Ballroom: which can accommodate up to 220 guests.
Kempinski Nile Hotel creates an unforgettable atmosphere for your wedding in Cairo. The best service, the finest delicately prepared dishes, the freshest flowers and wonderfully tasteful decorations are guaranteed at Kempinski Nile Hotel. Kempinski Nile Hotel provides an elegant and unique setting for wedding celebrations, combined with impeccable service and a banquet of award-winning cuisine.
However large or small you wish to make your event, the hotel offers you a magnificent venue to suit the occasion. Each of its venues is an exceptional space, from the elegant Shah, Hope and Orlov Rooms, all the way to one the largest ballroom in Egypt, the Excelsior Ballroom, where up to 2,500 people can be accommodated.
Cairo Marriott Hotel is located in the Zamalek District, overlooking the Nile River. Nearby sites include Cairo Tower, the Egyptian Museum, Cairo Opera House, Museum of Islamic Art, the Sphinx and the Pyramids of Giza. Where you can set the stage for an unforgettable Cairo wedding or social event in one of the Marriott's luxury venues.
Host a lavish wedding reception in Egypt in Aida Ballroom, which can accommodate 900 guests. You can also enjoy the view of the Nile from the hotel's rooftop, one of the wedding and events venues, Almaz Outdoor Wedding Reception.
Aida Ballroom
Almaz Outdoor Wedding Reception
A former cruise ship docked on the River Nile, this relaxed hotel is a 13-minute walk from the Cairo Opera House. Have your wedding in an elegant venue that offers amazing services for newlyweds looking for a unique location to host their wedding.
Ritz-Carlton Hotel is distinguished for adding modern touches inspired by an elegant past. The wedding venues at Ritz Carlton Cairo can host any celebration, from bridal showers to farewell brunches, and include downtown Cairo's largest ballroom, which can host a banquet for more than 1,000 wedding guests. The hotel's view of the Egyptian Museum is the backdrop for outdoor venues, where couples can make their grand entrance under the stars.
Weddings at The Ritz-Carlton, Cairo can be hosted indoors or outdoors in the hotel's stunning collection of venues. Here is a list of the banquet halls at The Ritz:
Alf Leila Wa Leila: Cairo's most popular wedding ballroom, the who's who of Egypt has celebrated their nuptials over the past half-century at the hotel's magnificently restored Alf Leila Wa Leila ballroom. The ballroom features 924 square meters of banquet space and can accommodate up to 600 guests. For smaller celebrations, it can be divided into 3 rooms.
Al Qahira: From the dramatic fountain at its dedicated entrance to its spacious foyers, exquisite chandeliers, upholstered walls and unique lighting sconces, the signature Al Qahira Ballroom is the essence of elegance on a grand scale. Al Qahira is the largest ballroom in Downtown Cairo featuring 1,700 square meters and can accommodate up to 1200 guests. For smaller celebrations, it can be divided into 5 rooms.
Garden City: This outdoor wedding venue is simply a one of a kind venue in Downtown Cairo as it overlooks exclusively at the Egyptian museum. The lavish gardens are designed to create an ultimate romantic wedding set up that can easily accommodate up to 1,000 guests.
Ramses Hilton offers tailored packages to suit your style and budget. The hotel's experienced team will be delighted to help you plan a memorable day.
The finest menus designed by the hotel's executive chef, paired with its exceptional service, will be sure to delight you and your guests. Complement your day with various entertainment options and decoration packages that can be customized to your needs.
Ramses Ballroom: with capacity for 500 guests.
Standing on the site of the historic Semiramis hotel, guests can enjoy modern luxury on the River Nile with the Nile Terrace offering stunning views of the sunset over the Nile. Located in the heart of the city center this hotel offers you many ballrooms that suit your wedding.
Here is a list of the wedding halls of Semiramis hotel:
Cleopatra: which can accommodate up to 1170 guests.
Teeba: which can accommodate up to 280 guests.
Nefertiti: which can accommodate up to 90 guests.
Babylon: which can accommodate up to 130 guests.