A Celestial Engagement Party in Amman
Getting married soon?
Looking for a Wedding Venue?
Let's help you find the right one.
Get Offers Today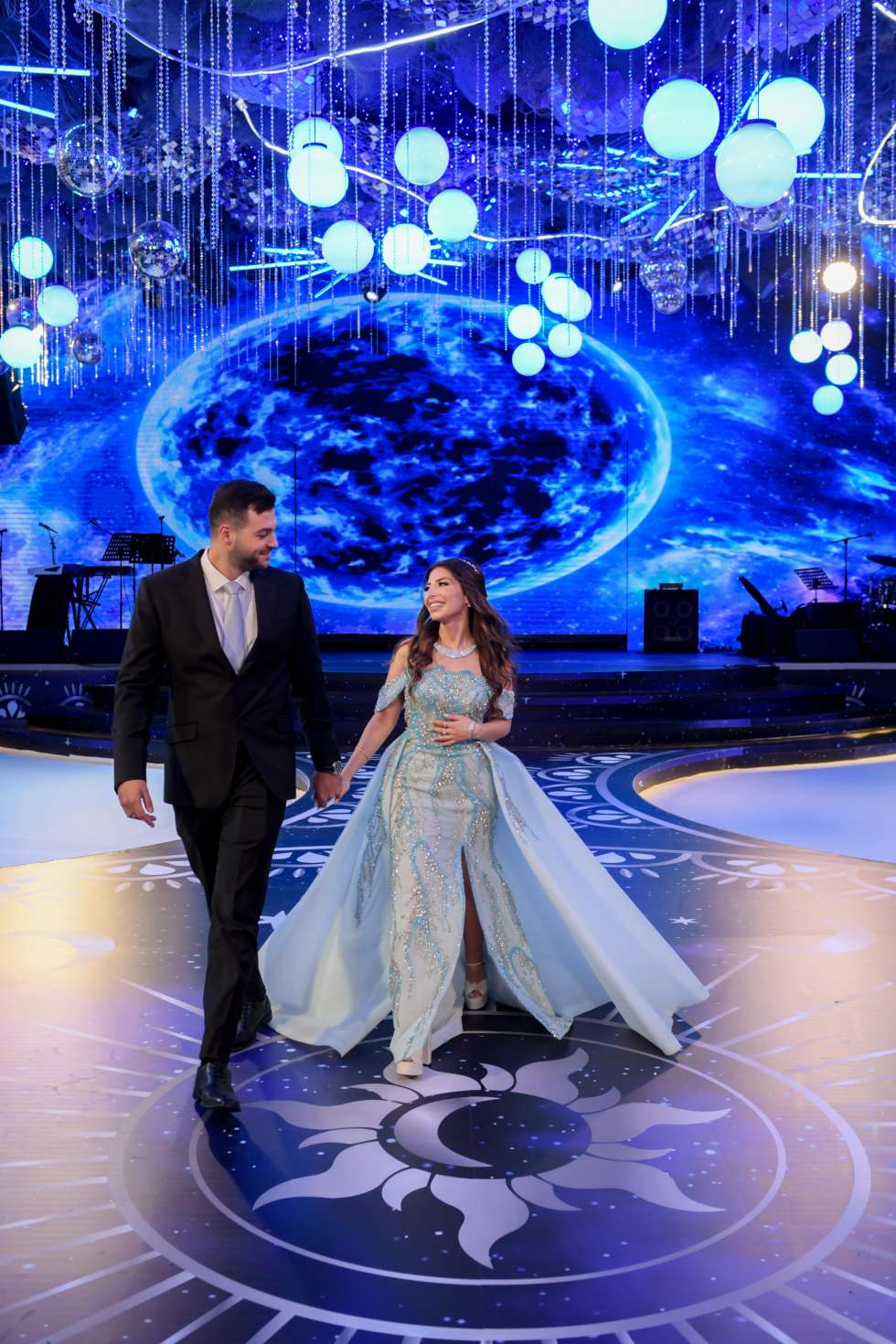 A celestial engagement took place in Amman, Jordan in April 2022 for Zain and Faisal who wanted to take their guests on a trip to the stars.
This engagement party had all the cosmic flair you can imagine; all the details at the event were inspired by astronomy, stars, and the sky!
The bride-to-be wore a magnificent gown designed by Jordanian fashion designer Nour Muhtaseb which was inspired by precious geode stones to complement the special night.
The romantic engagement of Zain and Faisal was designed and planned by the amazing team of Elan Events who made sure that this celestial engagement theme was perfect in every way possible. The theme can be described as being a little bit moody with dark navy blue hues, and whimsical in its design details. 
The ceiling of the St. Regis ballroom in Amman was decorated and covered with beautiful details to make it look like the guests were dancing under majestic planets with sun and moon details cascading from the ceiling.
For a more electric vibe, disco balls were dangling from the ceiling adding a lot of sparkle to the night. The guests were presented with regal trinkets and place cards adorned with constellations.
As for the sweetest part of the night, the dessert buffet was entirely inspired by the stars and the galaxy, fitting perfectly with the theme.
The guests and the happy couple danced the night away with amazing performances by Farah Nakhoul and Joseph Attieh.
It was indeed a magical celestial night no one will ever forget.
---
Venue: The St. Regis Amman
Designing and Planning: Elan Events
Setup Photography and Cinematic: ParAzar Production
Flowers: Masaya Flower
Photography and Videography: Farras Oran
Furniture: Class Events
Ceiling and Decorations: The Designer Guys
Printables: Mamoon Sharia
Curtains: Ehab Al Nasser
Sound and Light: Hi Class
Design Production: Elan Atelier
DJ: Ammar Zahran
Wedding Dress: Nour Muhtaseb
Bridal Makeup: Makeup by Bassem
Bridal Hairstylist: Alaa Hair