An Elegant Classic Outdoor Wedding in Cairo
Getting married soon?
Looking for a Wedding Venue?
Let's help you find the right one.
Get Offers Today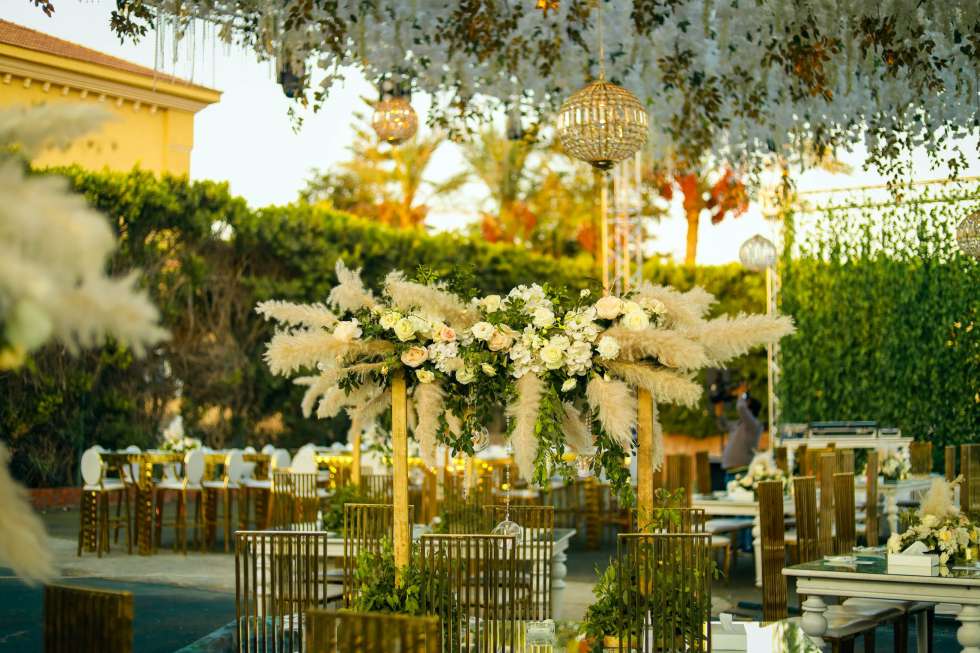 Despite the difficulties imposed by the COVID19 pandemic, Lina and Mahmoud celebrated their wedding with family and friends in a beautiful wedding setup designed and planned by Cairo-based​ wedding planner​ Flower Tag.
After moving the dates and venues around a couple of times, to comply with the changes in regulations, they settled on Arabella Country Club in the heart of Qatamiya in Cairo ​and had the wedding ​on 14 September 2020. Th​is elegant​ outdoor wedding was attended by 150 ​guests ​of the​ couple's​ close friends and members of both families.
The main color scheme was gold and white - elegant and grand. A mix of high and low ​mirror-top ​tables ​were used ​decorated with centerpieces made of white flower arrangements, greenery and pampas​​. Golden chandeliers added richness to the beautiful floral ceiling installations that covered the entire area. A huge​ frame​ ​was built to ​mount the rich floral ceiling ​on covering ​large​ seating areas​, ​​and not just the dance floor.  
Walking into the wedding venue, guests passed through a purpose-built entrance that was lined by wall panels decorated with flower columns mixed with greenery and topped with beautiful white and green flower ceiling with hanging lit birds.
​Guests were then greeted by a lovely ​c​andy buffet filled with mini desserts, sweets and beautifully-decorated cakes displayed in front of a 'let's party' neon sign setting the mood for a fun-filled night ahead. 
A beautiful backdrop decorated with flowers, pampas and greenery in the shape of two wings was a center of attention at the wedding. ​A huge 'love is in the air' sign ​played a focal point for guests to mingle​ in front​ and take pictures together. 
​The details of the stage and kosha were carefully executed, a beautiful floral arch and golden metal frames added structure and depth to the wedding design. 
The wedding was filled with lovely details including thank you notes left for each guest on the tables, the bride's and groom's monogram initials printed on the dance floor,​ a​ digital photo guest book ​with QR code ​to s​nap and s​hare wedding photos with personalised messages and lots more. 
---
Wedding Venue: Arabella Country Club
Wedding Planner: Flower Tag 
Photographer: Momen Mostafa  
DJ: Nader Sadek 
Candy Table: Candy Couture  
Dress and Headpiece: Iman Saab
---
Take a look at the beautiful wedding pictures below: