Honeymoon Destination: Go Greece!
Getting married soon?
Looking for Honeymoon packages?
Let's help you find Tour Operators to work with.
Get Offers Today
Greece is one of the most beautiful countries in the world. If you are looking for a romantic honeymoon destination or adventurous experience, a honeymoon in Greece is definitely a perfect choice.
Greece is characterized by its geographical location and enjoys a beautiful Mediterranean climate. The weather in Greece varies according to the season, the cold and rainy winter season, which lasts from mid-October until the end of March, and the hot and dry season lasts from April to October.
Greece is one of the most beautiful countries in the world. We recommend you visit it if you want to go on a romantic holiday or adventure trip and it is the perfect place for a honeymoon. You will find everything you expect to find in Greece, whether you love art, food, coffee, or just lounging by the beach, you will find everything you could possibly think of in this magical country.
Also check out: The Top Wedding Venues in Athens!
Greece has many tourist attractions, fascinating islands, and fascinating civilizations, many tourists are willing to travel to Greece for a spectacular holiday in the dazzling Greek islands.
For food lovers, Greece is known for its delicious cuisine. It is also known for its pleasant hospitable people who love coffee, food, and having a fun time. Feta cheese and olive oil are the essentials of every kitchen, so be sure to taste their famous dishes such as Tzatziki and Grilled Souvlaki.
Facts you should know:
Population: 10 million
Language: Greek, English widely spoken
Visa: All travellers will need a passport valid for at least 90 days following their departure date from Greece
Currency: Euro
Also, check out:
Here are a few spots you should definitely visit if you're planning on going to Greece for your honeymoon: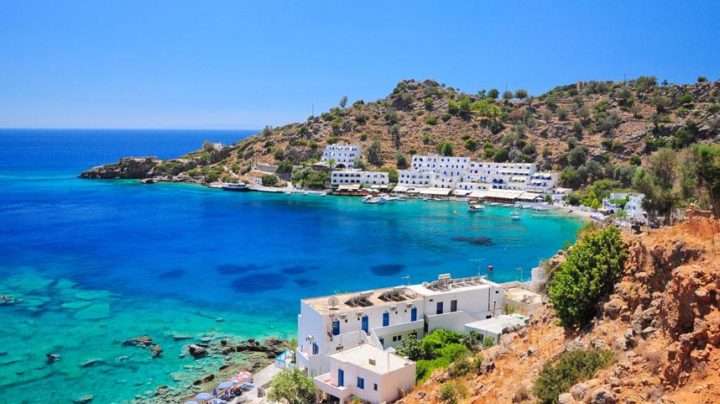 Crete
Crete is the largest and most populous of the Greek islands, the 88th largest island in the world, and the fifth largest island in the Mediterranean Sea, after Sicily, Sardinia, Cyprus, and Corsica. It's bustling enough to host a lively harbor from a sidewalk café but big enough to offer secluded mountain retreats, private beaches, and romantic solitude. 
Lounge on beaches and stroll through the old towns, here are the top places to visit in Crete:
Minoan palace of Knossos
The Venetian fortresses of Rethymno
The old mosques and Byzantine monasteries
The legendary cave birthplace of Zeus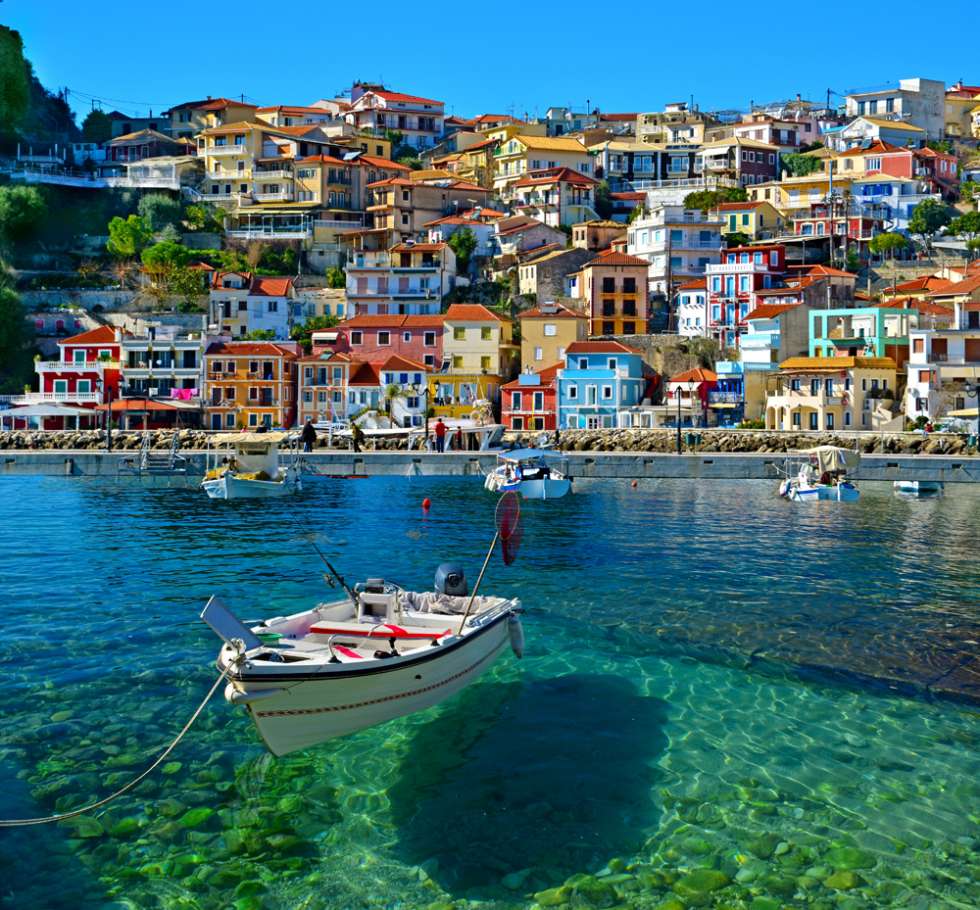 Corfu
Nicknamed the "Happy Isle" and the "Emerald Isle," Corfu is blessed with lush mountains and wildflowers. It also has amazing beaches, where you can sit and relax or enjoy many water games and activities.
Being the second largest of the Northwestern Ionian Islands, Corfu is active all year round. 
With a unique mix of Venetian-style architecture, lush green nature, sparkling turquoise waters that form some truly idyllic honeymoon spots, and an abundance of activities, this Greek island is perfect for those looking to relax and have some fun. 
Check out: Corfu Points of Interest for Honeymooners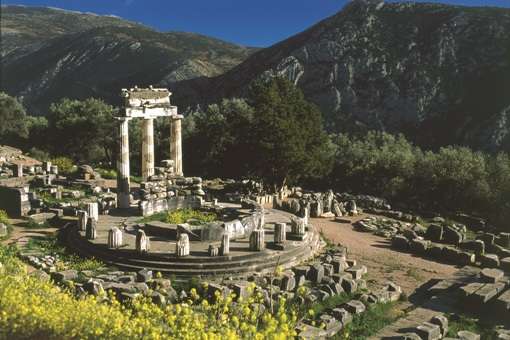 Delphi
Located on a cliff's edge, Delphi is one of the most popular tourist attractions, as it has the Sanctuary of Apollo and many other historic sites.
The modern town of Delphi is situated immediately west of the archaeological site of the same name. The town was created as a home for the population of Castro, which was relocated to allow for the excavation of the site of ancient Delphi.
Discover wonders of the ancient world such as the Temple of Apollo, once home to a legendary Oracle, and the Theatre of Delphi, and see ancient treasures at the archaeological museum.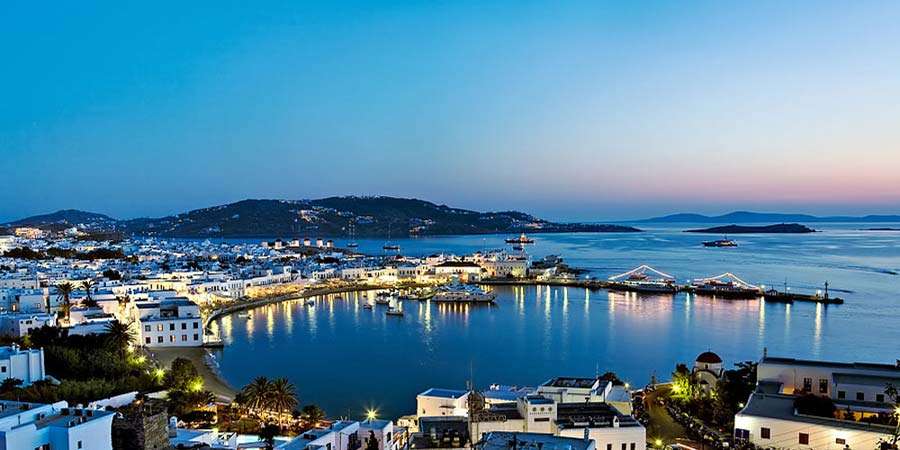 Mykonos
Mykonos is the center of entertainment, nightclubs, and events. You will enjoy the buzzing life on its streets, a place where most fashionistas and celebrities spend their time in. 
You can find the best beaches on the Greek island of Mykonos on the south coast, which is very crowded during the high season.
If you are looking for the most beautiful beaches in Greece, specifically on the island of Mykonos, get to know them here!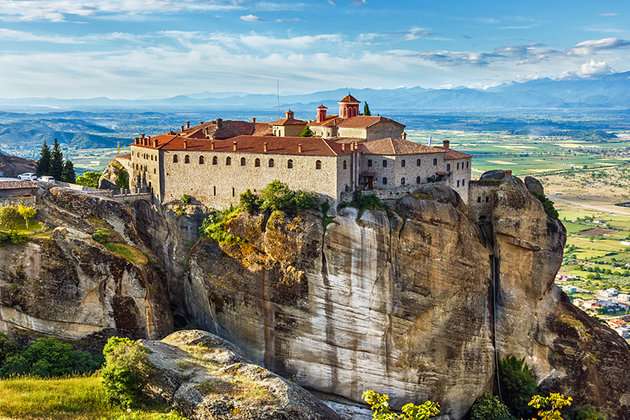 Meteora
​For some quiet time and solemnity, Meteora is the place to go! You will absolutely fall in love with its historic feel. According to Lonely Planet, The monasteries of Meteora are one of the most extraordinary sights in mainland Greece. 
Built into and on top of huge pinnacles of smooth rock, the earliest monasteries were reached by climbing articulated removable ladders.
Later, windlasses were used so monks could be hauled up in nets, a method used until the 1920s.
Paros
Paros is a Greek island in the Aegean Sea best known for its beaches and traditional villages. A Paros Honeymoon is a lifetime experience! 
Paros is an island of the Cyclades with many attractions, settlements, beaches, luxury hotels, good food, and stunning views. Keep in mind that the peak holiday period in Paros is from the beginning of July.
Enjoy sunbathing and swimming in the turquoise waters, walk around and visit the magnificent historical and environmental sights, and much more.
Paros offers many different options when it comes to accommodations, from luxury resorts to beautiful hotels.
Some places to visit while on your honeymoon in Paros:
The church of Panagia Ekatontapyliani.
The Archaeological Museum.
The Venetian Castle.
The Sanctuary of Asclepius and Pythian Apollo.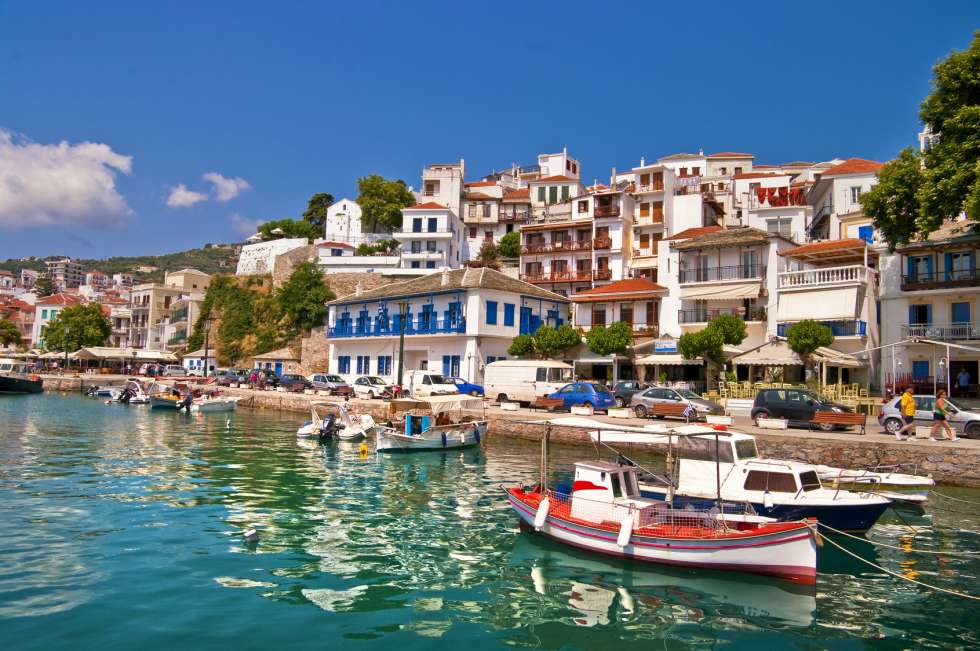 Rhodes
The capital of the Greek islands, Rhodes is one of the largest islands around. It lies outside and within the walls of a very well preserved Venetian castle, built by the Knights of Saint John, so you will be looking at one of the finest examples of medieval architecture.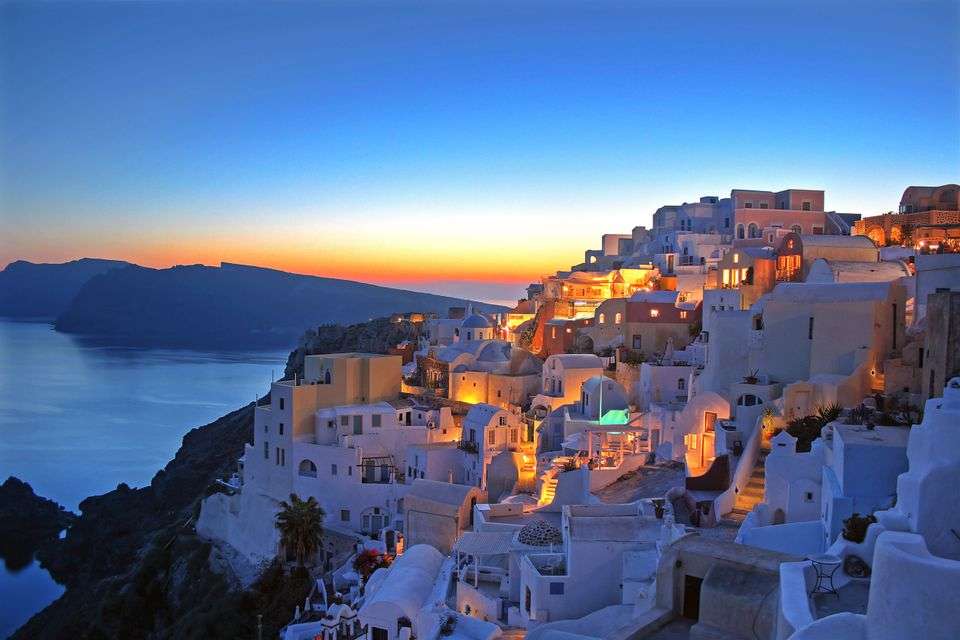 Santorini
Known for its beautiful black and red rock cliffs, white washed houses and blue domes, Santorini is a magical place. 
Santorini is famous for its spectacular sunsets. The village of Oia on the northern tip of the island is a hugely popular sunset viewing site because there is an uninterrupted view of the sun as it finally sinks below the horizon.
Read: 10 Best Things To Do in Santorini on Your Honeymoon
Syros
You will not find white villages in Syros, the colorful 19th-century city of Ermoupoli is built on twin peaks, one Orthodox, the other Catholic - the heritage of a long Venetian occupation.
The city has a beautiful Italian vibe with marble piazzas, and a miniature replica of La Scala. 
Syros also hosts festivals of animation, dance, digital art, film, classical music, jazz, and rembetiko (urban Greek music), the Greek blues popularised by local musician Markos Vamvakaris. 
Sifnos
The best island for delicious Greek feasts! Sifnos is popular among foodies who love to enjoy Greek cuisine.
Sifnos' good food reputation is owned to its most famous descendant, Nicholas Tselementes, who wrote the first Greek cookbook in 1910.
In Sifnos, you will find potteries that produce the earthenware casseroles used for revitháda (baked chickpeas) and mastello (lamb with red wine and dill).
Make sure you try the traditional dishes that are slow-roasted in a wood-fired oven at To Meraki tou Manoli; a local institution on sheltered Vathy bay. While you're there, invest in some timeless tableware from Atsonios pottery, in business since 1870.
Scorpios
Skorpios or Scorpios is a private island in the Ionian Sea off the western coast of Greece, and just to the east of the island of Lefkada. 
Skorpios is also known as the island of Onassis. It is a green and wooded island with some hilly areas going up to 81 meters above sea level.
It is considered to be an ultra-luxury VIP resort. It has sandy beaches, most notably East Beach. All the fresh water on Skorpios comes from the side of a mountain on a nearby island.
Skorpios was also the place of Onassis' wedding to former United States First Lady Jacqueline Kennedy on 20 October, 1968.