Le Fate Milano Bridal Concept Place Opens in Milan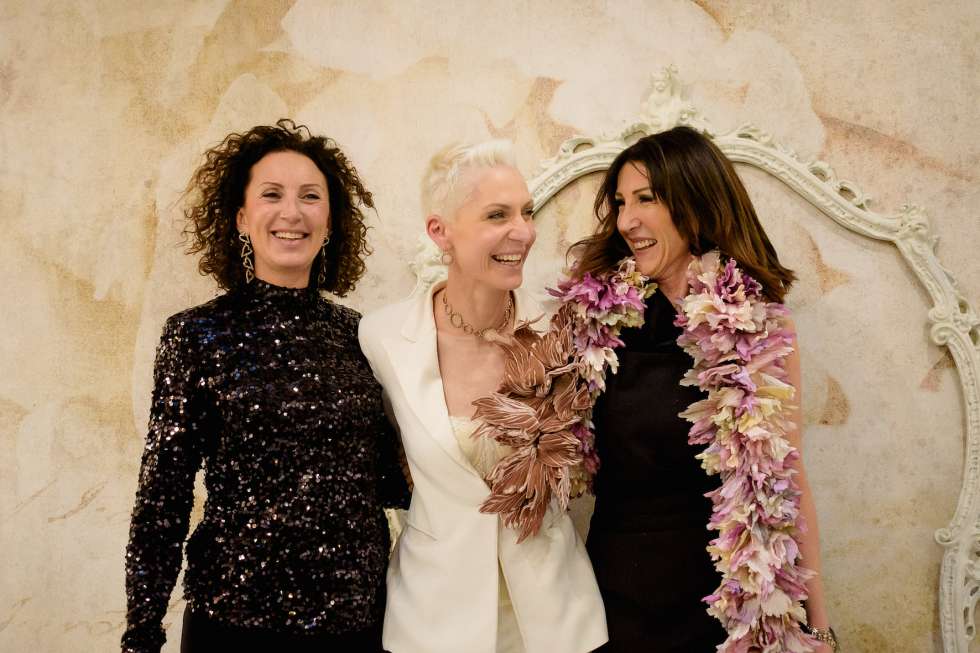 Le Fate Milano, Sarah and Corinna, the company's fashion managers and television wedding stylists, presented on 2 April 2022 their new innovative space, Concept Place, characterized by avant-garde collections, collaborations with selected partners and exclusive services creating the perfect combination of innovation and tradition.
There was a great participation by many professionals from the bridal world, as well as, wedding planners and the press who were able to appreciate and discover the new Milanese bridal atelier. For the event Caterina Maurini, flower designer, set up the entire space and created an impressive aerial installation inserted in the center of the skylight to give an aura of magic to the open space. The event was attended by Arabia Weddings. 
During the event there was a live experience by artisan, Alessandra Broggiato in which she made, hand-cut and painted silk flowers. Inside the style office, an area has been set up dedicated to the narration of how the natural collections of Le Fate Milano are born.
The evening was also attended by the famous artist Andrea Radaelli, customizer, photographer and interior designer who oversaw the renovation, redevelopment and all the furnishings of the new space, Elena Della Vedova, for the glamorous shoes by Miss.D, Karin Brettemeister, German designer of Ritual Unions and Rosanna Perrone, stylist and entrepreneur of the famous Made in Italy brand.
The collections of the two sisters, Sarah and Corinna, are dedicated to a bride willing to interpret the dress in an original and versatile way. There are two main lines: the first Shiny line, is inspired by the metropolis, by sober, sophisticated cuts and uses embroidered, exclusive, impalpable and luminous fabrics. A combination of great charm with an effect of refined elegance. The second line, Natural Choice, is dedicated to nature, using eco-sustainable materials and floral motifs, elements that are celebrated with extreme poetry, designed in collaboration with Alessandra Broggiato.
Inside the new showroom there are the Ritual Unions collections, the Cortana brand created by the designer Rosa Esteva, the Rosanna Perrone collection, and finally the Chic Nostalgia dresses designed by the designer Hamber He and "last but not least" splendid jewels by Daniela De Marchi.
"For us, the opening of Le Fate Milano Concept Place represented a very important milestone, we are proud to be able to do it with partners of great depth to finally offer Milan a complete service for bridal and evening outfits." said Sarah and Corinna, the company's fashion manager and television wedding stylist.
See more images from the event below.