A Micro Wedding Photoshoot in Jordan
Getting married soon?
Looking to hire furniture & decor?
Let's help you find the right supplier.
Get Offers Today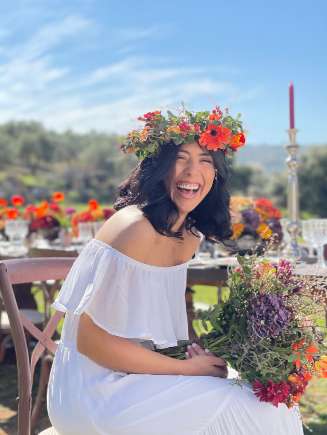 A beautiful and fresh wedding photoshoot was held in the mountains of Jalaad in Salt - Jordan. The wedding setup was inspired by micro weddings that became a huge trend during the Covid19 pandemic.
The concept for the setup revolved around a long wooden table that was beautifully decorated in natural flowers and blooms to seat 40 wedding guests. The details were largely inspired by the countryside. The photoshoot was designed and planned by the talented and creative team of Lina Dakkak.
Lina chose to combine beautiful flowers in orange and purple with natural greenery. The bride's floral crown and wedding bouquet were all in the same colors and flowers exuding natural beauty and wilderness in sync with the natural suurounding. 
The bride's look was kept simple and minimal inspired by a boho-chic style, perfect for this wedding setup.
The rustic chic wedding theme was perfect in every way for a micro wedding during the pandemic. Take a look at the pictures below.