Top 10 Wedding Venues in Muscat
Getting married soon?
Looking for a Wedding Venue?
Let's help you find the right one.
Get Offers Today
Most brides and grooms look for the perfect wedding venue that suits their personality and wedding style, and finding the right wedding venue is always the top task on every couple's list.
Finding your wedding venue can be stressful and can take a lot of time, this is why we have a list for you of the Top Wedding Venues in Muscat if you're getting married in Oman's capital.
Most venues in Oman also have luxurious spas to help the bride relax and pamper herself before the wedding day. 
Check out these beautiful wedding venues in Muscat: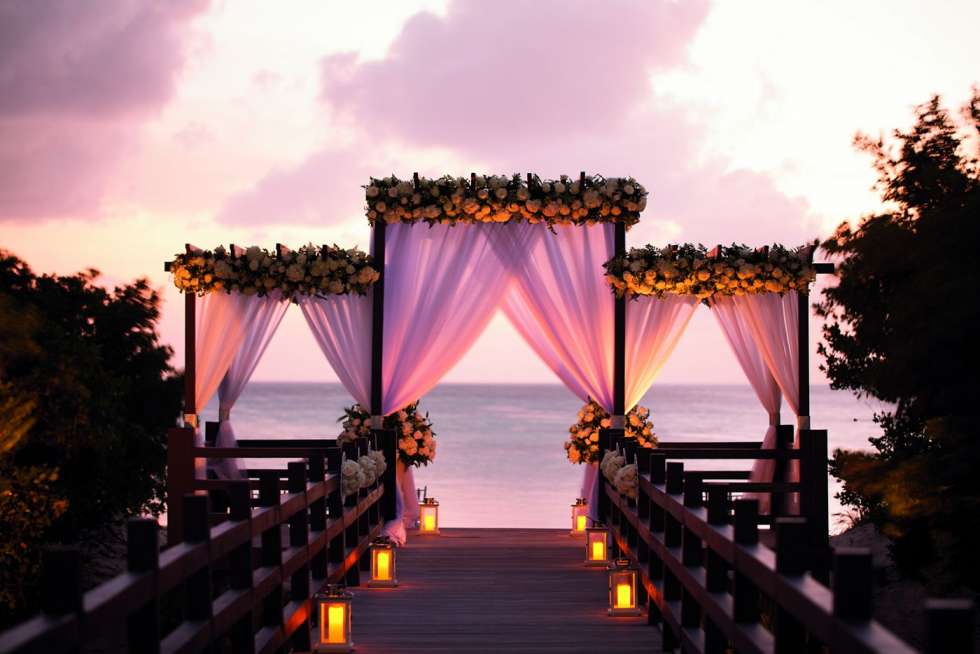 Set within a former palace, Al Bustan Palace, A Ritz-Carlton Hotel presents an opulent setting for a wedding reception. Beautiful venues include the largest ballroom in Muscat, where up to 2,000 guests can mingle with cocktails in hand, and a lushly landscaped garden framed by mountains and overlooking the sea. A dedicated planner will oversee every detail, working alongside the resort's experts to organize flowers, décor, catering, and the cake.
Few places rival the romance and beauty of an Arabian palace. Find your happily ever after within the decadently designed spaces of Al Bustan Palace, a Ritz-Carlton Hotel. Choose from traditional wedding venues like the Majan Ballroom for the reception, and explore the hotel's other event spaces – including lush gardens and a private beach on the Sea of Oman – for celebrations like bridal showers and morning brunches.
For a romantic and dreamy wedding, this wedding venue is perfect! Al Bustan Palace offers you and your groom a fancy and romantic dinner after your wedding and 2 free nights in a luxurious suite with a delicious breakfast.
It also offers a beautiful 3 tier wedding cake decorated to suit your wedding theme. For a unique entrance, the hotel offers a fancy red carpet to welcome your guests, as well as a lit dance floor.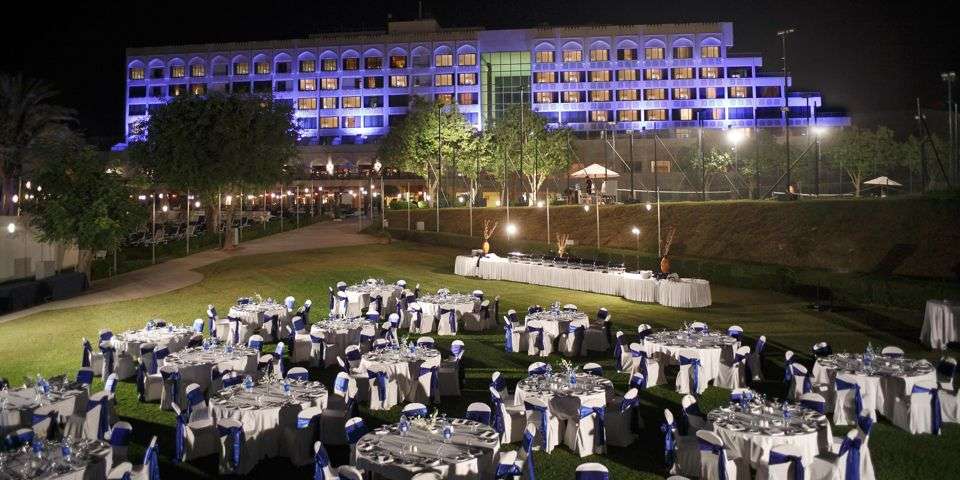 The Crowne Plaza Hotel in Muscat is located near the ocean and is far away from city traffic. You can have your wedding outdoors in their beautiful garden or choose the indoor ballroom which is also a great option in colder weather. Al Sindibad Ballroom can seat up to 400 wedding guests.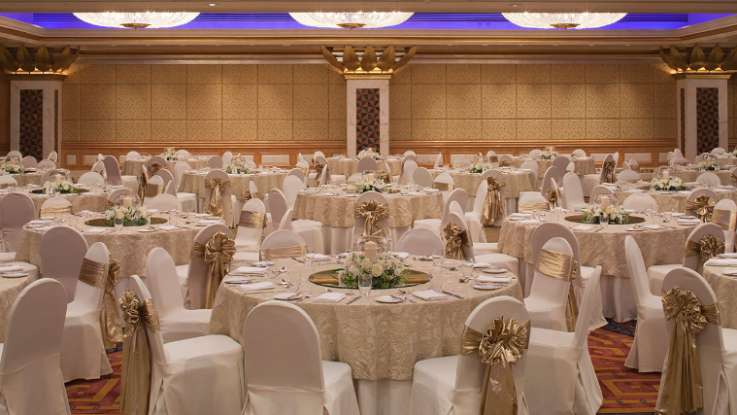 The main ballroom (Afrah Ballroom) is located on the ground floor with a private entrance and parking and takes up to 500 wedding guests. The ballroom can be divided into 3 smaller ballrooms depending on the number of your wedding guests. It has 3 projection screens and on-site technicians that can adapt the built-in audio-visual system to virtually any requirement. The ceiling is decorated with crystal chandeliers.
The team at Grand Hyatt Muscat makes sure to pay attention to every detail of your wedding to make it a unique night.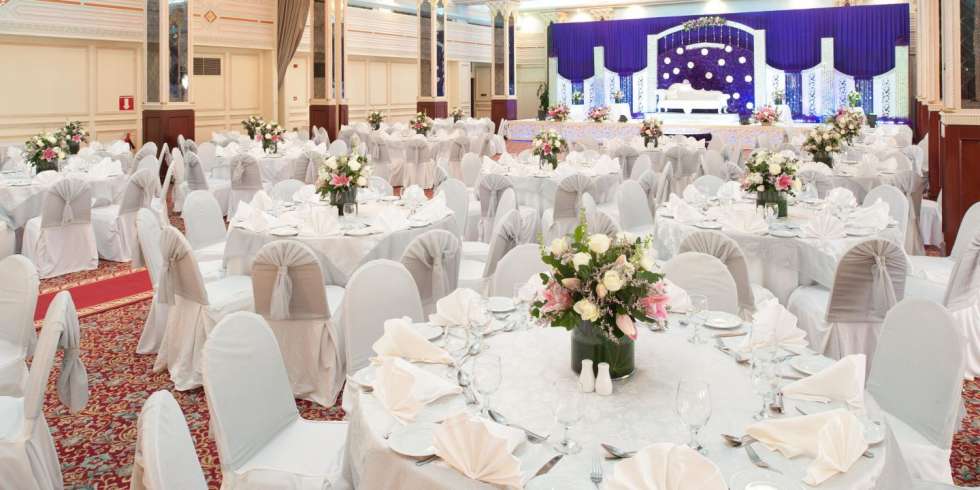 The ballroom of the InterContinental Muscat takes up to 500 wedding guests with round tables.
The ballroom dimensions are: 21 x 30 meters with 4m ceiling height. It has a garden view and easily accessible from the parking area.
Other than the food and beverages, the hotel also offers wedding planning services.
Their halls and venues are customizable to your wedding, reception, banquet, or other events.
Select from one of their tailored menus and personalized, bespoke wedding services
Let the team of multilingual and experienced event planners help you create a dream wedding in Muscat
From lavish buffets to intricately designed multi-tier cakes, their team will ensure your wedding feast is everything you dreamed it would be.
Creating an elegantly timeless setting for your special day, the Pearl Grand Ballroom features a bridal room ideally located across the venue. Allow their team to curate your special day to perfection.
The Pearl Grand Ballroom can be divided into three sections and features a stunning terrace overlooking the Gulf. The Lawn offers an ideal outdoor venue for an intimate ceremony against an unforgettable backdrop.
The Grand Pearl Ballroom can hold upto 1,000 guests while The Lawn can accommodate upto 100 guests.
If you are looking for a magical destination and an extraordinary venue to mark the most important day of your life, Kempinski Hotel Muscat is the location to choose as one of the newest wedding venues in Oman.
Kempinski Hotel Muscat is the perfect place to host your nuptials, thanks to its elegant event spaces, luxurious accommodations, and exceptional dining, fit for weddings of every size. The team of wedding experts provides extraordinary personal service and attention to detail to guarantee everything goes as planned.
The pillarless Muscat Ballroom can accommodate up to 700 guests in complete comfort and up to 2000 guests in a reception style. It is a particularly magical venue with a setting for romantic and lavish weddings.
Eat, drink and rejoice on your wedding day with Radisson Blu Hotel, Muscat. Their experienced professional team is ready to handle every aspect of your occasion. The team will help you create your wedding the way you want in a fun and creative atmosphere.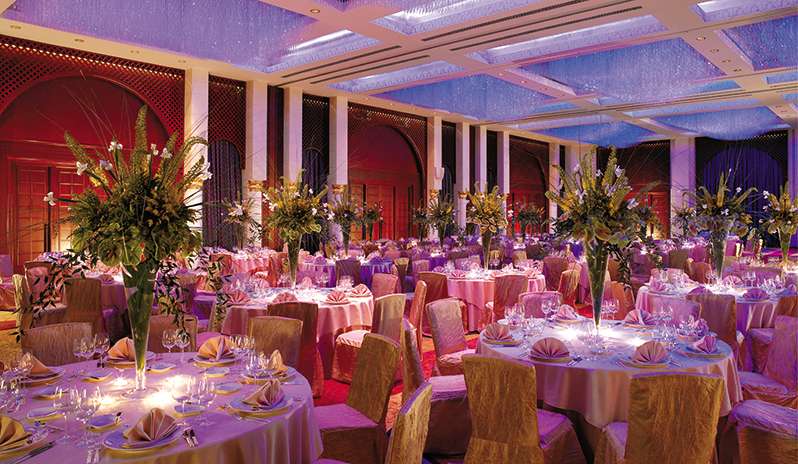 The Shangri La Resort is one of the most luxurious hotels in Oman. The hotel offers luxurious ballrooms with crystal chandeliers that add a touch of richness to the venue.
The 1008 square meter Barr Al Jissah Ballroom can accommodate up to 700 wedding guests seated in banquet style. 
The Resort also offers a beautiful outdoor wedding venue with a stunning sea view. The food and bevarages are created by some of the most talented chefs in the Middle East, who will create a special menu just for your wedding.
Discover a 5-star luxury haven with an idyllic location in one of Muscat's tallest buildings at the Sheraton Oman Hotel. 
Experience your dream wedding in Muscat with the beautifully appointed 1,800-square-meter wedding hall at Sheraton Oman Hotel. Their versatile Ballroom venue can accommodate over 1,250 wedding guests with a wide range of catering packages and a dedicated team of specialists to ensure that your wedding is an affair to remember.
Let the expert team of event specialists help you create your dream wedding in Muscat, Oman. Select from both indoor and outdoor wedding venues to host your special day with friends and family.
Dream weddings don't just happen, they're planned. Marriott Certified Wedding Planners are trained to help. After completing demanding coursework, each Marriott Certified Wedding Planner is qualified to coordinate weddings of all types, including ethnic and military weddings. Relying on experience, training, tradition, and old-fashioned intuition, Marriott Certified Wedding Planners can help you determine an overall vision for your wedding and help you execute each detail. That includes setting an event budget; deciding on a menu; arranging table settings; and finding florists, photographers, a band, and other entertainment for the big day.