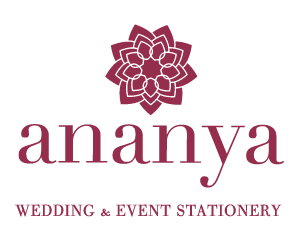 ---
About
Sophisticated wedding and event stationery for momentous celebrations rich in personality and culture.
Ananya is an award-winning wedding and event stationery business established in 2006, owned and run by Vaishali Shah.
With bases in both Dubai and London, offering an impeccable experience from design to delivery, Ananya is known for creating stunning culture-led designs with materials of the finest quality.
We specialise in fusing and blending cultures, where appropriate, bringing a contemporary and cosmopolitan twist to cultural wedding stationery while also providing design-led, exclusive designs to suit all cultures and backgrounds.
Working closely with our clients, we provide a stress-free and truly personalised service from design to printing, leaving you the time to focus on other aspects of your wedding planning.
Ananya translates to 'without equal' in the ancient language of Sanskrit, and it is this sentiment that forms the foundation on which the business is built, and with which every single collection is lovingly crafted and curated.
You can rely on our 16 years experience to offer additional guidance and suggestions you may require along the way, from the first save the date design until the last thank you card has been sent.
Using only the highest quality materials and with a dedicated focus on customer service, Ananya creates luxurious stationery marked by craftmanship, attention to detail, and a discerning taste for the extraordinary. It's this expertise, creative flair and professionalism that have earned us glowing reviews from couples getting married, from 5-star hotels and Michelin star restaurants to marquees at country manors and palaces in India.
It has always been very important to Vaishali that her business be run in a way that is sustainable, ethical, and that gives back to society. Since day one, Vaishali has donated 10% of profits to charity, and will continue to do so. An advisor and trustee for a number of charities around the world, Vaishali endeavours to find new ways to get involved. Philanthropy being one of the core values of her businesses, Vaishali has created a 'Plant Grow Sustain' initiative where for every wedding and event stationery order placed at Ananya, she has trees planted on behalf of her client, so together they can help to protect the planet.
Vaishali is regularly called upon for industry comment and featured in numerous global publications, blogs and media including BBC, Forbes, Huffington Post, The Sunday Times, Hello Magazine, SheerLuxe.com, WedLuxe, Asian Wealth Magazine, 5 Star Wedding Directory, Khush Magazine and Asiana Magazine.
Vaishali is also a Judge for The Wedding Industry Awards (TWIA) in the UK.
---
Address
Dubai Silicon Oasis, DDP, Building A2