The Best Chocolate Shops in Doha
Getting married soon?
Looking for Chocolates?
Let's help you find the right supplier.
Get Offers Today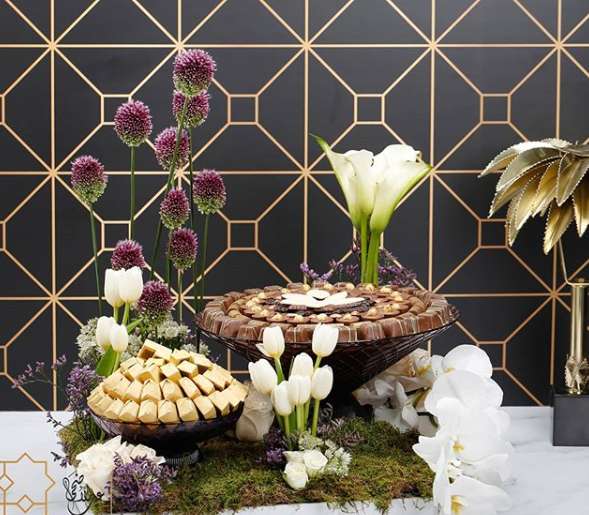 Choosing your wedding cake, your wedding menu, and your wedding chocolates are considered to be some of the fun tasks that brides enjoy doing.
When you finish choosing your wedding menu and cake it is time to choose your wedding chocolates!
Your wedding chocolates can be added on the dessert table or presented to your wedding guests as wedding favors. Especially in the Middle East, brides like to serve chocolates for their guests, and the prefer the chocolates to be custom-made to go with the wedding colors and theme.
Brides to be in Qatar have many options to choose from, there are many amazing chocolate shops in Qatar that create delicious high quality chocolates for every occasion.
So if you are getting married in Qatar then you will find this list of the best chocolate shops in Doha very helpful.
Check out the best chocolate shops in Doha for your wedding.
Buono Qatar strives to provide unique floral designs and delicious chocolate using carefully sourced ingredients. Each day, they are working passionately to exceed the expectations of their customers, so that they can enjoy our products and the happiness they create for their family and friends to the fullest.
Their chocolate is made using the finest Ecuadorian cocoa beans and Belgian cocoa mass. Using their unique blend of Arabian and European fusion to deliver an innovative and simply breathtaking chocolate selection.
Dulce Chocolate company's philosophy is simple: Excellent quality and innovative product line at a reasonable price. The company has strict rules on what will be included in the product line. Only the best and highest quality chocolate and flowers will make it in.
Most of the Chocolate items are hand-made from the highest quality single-originating cocoa, resulting in rich flavors not commonly found in commonly available chocolate items.
Fine dark or milk chocolate cover that pretends to resist under the tooth to better languish in the mouth later. Then comes the melting of an unctuous ganache and the crunchiness of a naughty praline. The epitome of delicacy by Fauchon. Their assortments of chocolates in cases or boxes can be offered as a gift to be enjoyed voluptuously. You will also discover their chocolate and confectionery composition: elegant mini-calissons, delicate fruit pastes, pulpy and rich in taste, refined caramels, with salted butter or fruit pieces.
Godiva Chocolatier is a chocolate maker that is jointly owned by Turkish conglomerate Yıldız Holding and MBK Partners. Their chocolates combine legendary chocolate craftsmanship with creatively modernized techniques and recipes. Their exceptional chocolates are guaranteed to delight with every bite! The flavors are uniquely Godiva and are irresistibly delicious.
A family company rooted in tradition, and have the freedom to live the values at the heart of their company at all levels. Läderach's authenticity is also recognized by all its partners, customers, and consumers. 
Läderach means noticeable freshness that you can feel, taste, and enjoy. Only absolutely fresh, carefully selected ingredients are good enough for their enticing creations. Läderach also stands for warmth and joie de vivre expressed in direct, personal contact with customers, partners, and consumers.
Läderach Chocolatiers employ creativity and enthusiasm as well as all the arts of confectionery in their daily work. Their passion is lovingly handcrafting miniature masterpieces using carefully selected ingredients from the best sources. This artisanal passion defines Läderach.
Since 1947 LEE chocolate is a market leader in the Middle East confectionary industry producing top quality real chocolate. Over the last score of years, LEE chocolate became a local household brand with more than 200 patisseries showrooms, 120 outlets. 
LEE Chocolate produces up to 1200 Tons yearly, reflecting the art of mixing first-class cocoas with pure cocoa butter to obtain the LEE flavor, and offer the market a wide range of bulk chocolate, chocolate gift boxes, bars and slabs as well as pastry goods.
Innovation. Trendsetting modernity seamlessly balanced with heritage. A true passion for premium chocolate. Savoir-faire. Remarkable experiences. The sharing of exquisite moments. A celebration of quality and handmade craftsmanship. Patchi is all this and much more.
A melting pot of 45 years of chocolate love and experience. Here gourmet high-end desserts and drinks are made in-house by our chefs who innovate and modernize tradition using exclusive recipes, Patchi's premium chocolate, and fresh natural ingredients. Classic and exotic flavors from across the globe such as combo and raspberry unite in sensory pleasure.
Since their creation in 1978, a quest for perfection, combined with an originality of design, has made Panache the ultimate specialist in gifts for all occasions. Seamlessly blending items of only the highest quality, along with breath-taking designs and the finest sweets, allows them to craft bespoke creations which time and again go beyond their clients' expectations.
Selling the finest handmade French chocolates, available exclusively in the UK, they combine these divine chocolate indulgencies with their flair for design to create unique gift ideas.
Yazi is a Qatari-owned and managed chocolate and flower shop, established in Qatar.
"Yazi" team gained an unrivaled experience of over 20 years throughout the Gulf region. After opening the first branch in 2013, "Yazi" has gained exceptional experience in providing high quality and fresh madly sweets and savory goods.
"Yazi's" most important priority is to make food with great care to achieve the desired level of the Qatari and the Arabian Gulf societies. In addition to the superb chocolate, the range is made by the finest chocolatiers in Belgium and Switzerland.