The Most Romantic Marriage Proposals in Dubai
Valentine's Day is just around the corner, and if you're planning on proposing to the love of your life, you will need to do something very special! Nothing is more romantic than a Dubai proposal, as Dubai offers many beautiful locations for this special moment.
Recently Arabian Business shared some of the top Dubai proposals that took place in Dubai, and some of those marriage proposals are so romantic you will definitely get a big YES! All you need is some proposal ideas in Dubai to get inspired.
Proposal Boutique and The Big Proposals are Dubai's only marriage proposal planners who have become pretty popular, especially, among men who are planning on proposing to their girlfriends.
Want a unique marriage proposal at one of the outdoor wedding venues in Dubai, such as beach venues in Dubai, with one of the best wedding photographers in Dubai or talented musicians? They can plan all the proposal ideas in Dubai you have in mind.
So, to give you some inspiration here are some of those amazing Dubai proposals we have come across:
---
Check out: 20 Great Locations for Your Pre-Wedding Photoshoot in Dubai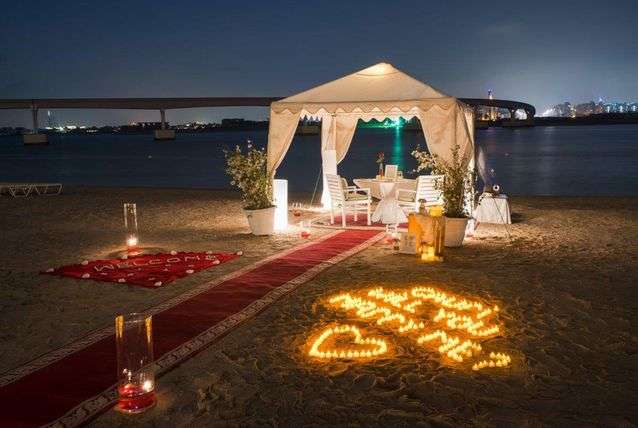 The Beach Proposal
This proposal took place at the Atlantis, The Palm. While the lucky lady was out with her friends, a fake photographer approached her and asked to have some photos taken by the beach for a local magazine. There she was surprised with a red carpet and candles that spelled, "Gauri, Will you marry me?"
Click here for the The Top Beach Wedding Venues in Dubai.
A Surprise Proposal at Shangri-La Dubai
High above the streets and positioned with magnificent views of Burj Khalifa and the Arabian Sea, the 42nd floor of the Shangri-La Dubai is the most romantic place to make a truly extraordinary proposal. And there, one romantic proposal was done captured by the talented Italian photographer Serena Genovese.
Surrounded by beautiful roses and the magical sunset as a background, Peter proposed to his loved one who was taken by surprise when he knelt on one knee with the ring in his hand.
A Romantic Proposal at Melia Desert Palm
Here's another romantic proposal in Dubai captured by Serena Genovese and planned by The Big Proposals.
Melia Desert Palm was the perfect spot for the nature-loving gentleman who wanted a completely private proposal, whilst also appealing to his lady who loves horses. To create a romantic ambiance there were floor candles, flowing table linens, pretty tableware, and stunning blooms with strikingly vibrant, hot pink neon signage that read 'Marry Me', suspended above the table setting.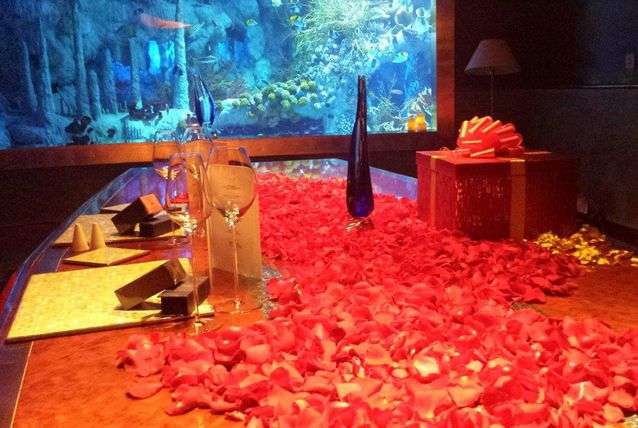 Burj Al Arab Proposal
This couple spent their holiday snorkeling and diving, so the team chose an underwater dining room at the Burj Al Arab, where 1,000 fish were the only witnesses to this unique proposal.
The bride-to-be was given a red box, and when she opened it she found a video of the couple's relationship, followed by a marriage proposal.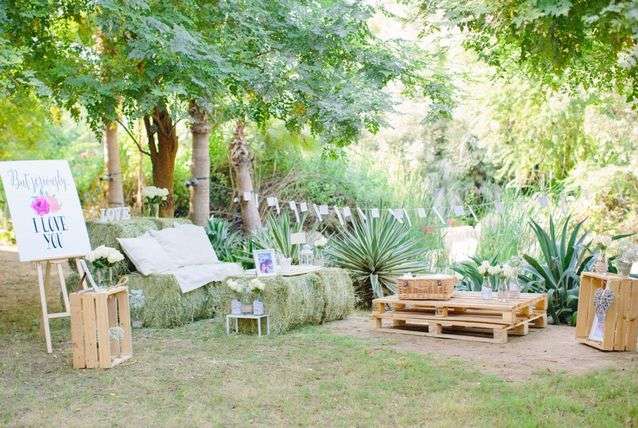 An Outdoor Proposal
Al Barari is considered to be a romantic place in Dubai; the outdoor restaurant is located amidst hundreds of plants and water features.
So this bride-to-be got a marriage proposal while on a picnic with her partner.
The boutique set up hay bales, vintage stands, lemonade in mason jars, and red velvet cupcakes. It also connected two trees with a timeline of photographs of the couple's relationship, alongside a list of all the things her partner loves about her.
Click here for some Beautiful Outdoor Wedding Venues in Dubai.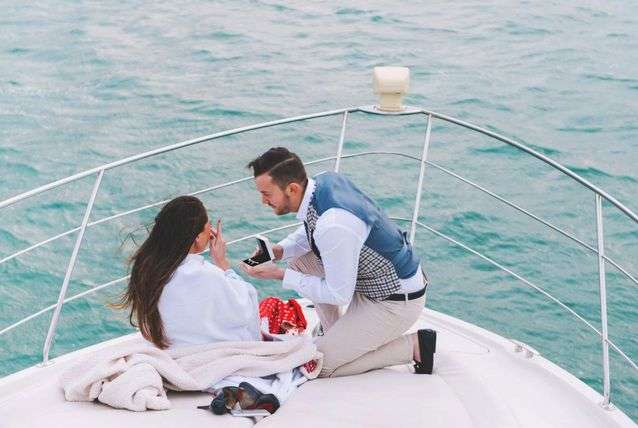 A Yacht Marriage Proposal
This man wanted to propose to his partner in a luxurious way! So, he hired a luxury yacht and musicians for a sunset proposal. Before proposing at sunset, he had the musician play all of his lover's favorite songs. The yacht stopped in front of Burj Al Arab, and he proposed!
For a list of wedding planners in Dubai who can help you pull off the perfect Dubai proposal click on 'wedding planners in Dubai". 
Click here for a list of yachts to rent in Dubai.  
The Camaro Proposal
The bride-to-be was driving down the road when she spotted her friends holding different signs!
The Radio Proposal
During one of Dubai's most well-known radio hosts, Priti Malik, co-host from The Kris Fade Show gets engaged live on air in front of thousands of listeners.
The Flash Mob Proposal
A surprise marriage proposal with a flash mob at The Above Club in Dubai.