Best Wedding Venues in Jbeil
Getting married soon?
Looking for a Wedding Venue?
Let's help you find the right one.
Get Offers Today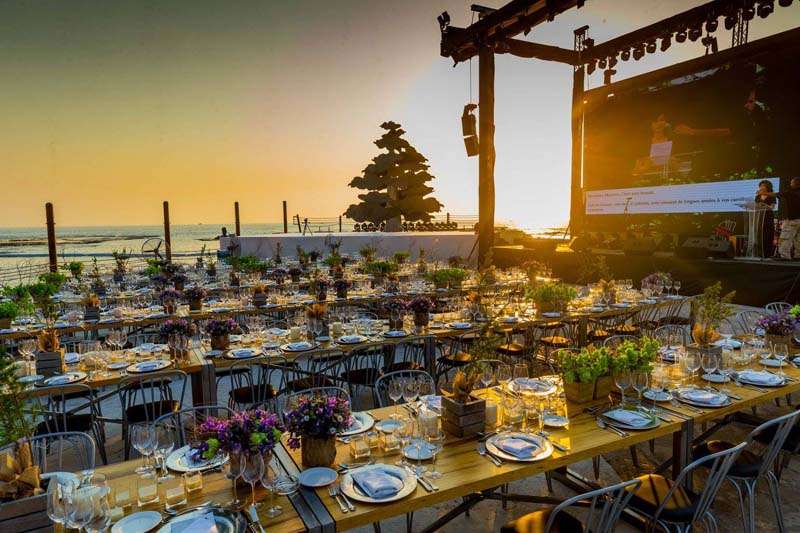 Planning a wedding has many tasks and one of most important one is finding the perfect wedding venue. If you are getting married in Lebanon, you are lucky to have some of the most breathtaking wedding venues around you. See the top wedding venues in Lebanon here!
Byblos, also known as Jbeil, is a city in the Mount Lebanon Governorate of Lebanon, it's one of the oldest continuously inhabited cities in the world and a UNESCO World Heritage Site. 
This beautiful city has become an upscale touristic hub, known for its ancient port, Phoenician, Roman, and Crusader ruins, sandy beaches, and picturesque mountains. The city is also known for its fish restaurants, open-air bars, and outdoor cafes. 
Jbeil is loved by many Arab and international celebrities, ever since Marlon Brando and Frank Sinatra visited the city. 
If you are looking for hotels and wedding venues in Jbeil, here is the list of the more popular ones that are particularly suitable for outdoor and beach weddings. 
There's no place more perfect to celebrate Love than Byblos, mythical site of the romantic legend of Adonis and Aphrodite. Byblos Sur Mer offers all the makings of a truly romantic and unforgettable wedding with 3 different venues to celebrate your special day.
Byblos Sur Mer is pleased to offer the wedding couple:
Complimentary Night in a Honeymoon Suite with in-room breakfast and special wedding amenities
Complimentary bottle of Champagne
Complimentary beach membership for the season
Byblos Palace response to a stylish resort and wellness center to see and be seen at.
Located on the Mediterranean Sea, next to the ancient city port of Byblos, at a convenient distance of 35 km of the Lebanese capital, Only minutes away from the vibrant Byblos Central district, close to the famous "Casino du Liban", a walking distance from the beach and 40 minutes drive to Beirut International Airport.
Nestled by the Mediterranean Sea, in a small village, 15 minutes from the beautiful Byblos city, Castel Mare is a little heaven on earth, especially for beach lovers. At Castel Mare, you will find the perfect combination of luxury and comfort.
Located on the beautiful sandy beaches of the Eastern Mediterranean Sea and open all-year-round, Edde Sands Hotel and Wellness Resort is the perfect haven for relaxation and well-being in winter and Lebanon's favorite party destination in summer. 
Edde Sands offers a diverse range of menus and venues giving a wide choice to our privileged clientèle. Guests will be privy to exotic gardens, an immaculate view of beautiful pools, and the golden sandy beach of the Mediterranean. their professional banquet team will be fully at your disposal to make your whole experience unique and memorable.
Jardin de Vie was founded in 2006 as one of the first venues in Lebanon, where it is nestled on the Hill of Mastita, Byblos. The Exceptional architecture, natural landscaping, and beautiful surroundings will ensure an inspirational, romantic, and memorable wedding experience. Their unique venue offers a panoramic sea view that oversees the Ancient Byblos ruins for memorable photos. Every stone at Jardin de Vie was built with love and every tree was planted with care.
Weddings at Jardin de Vie are all about you, your vision, your love story, and your special guests. 
It is the place where you can turn your dream into an astonishing reality: it has been carefully created to meet your deepest desire and highest request.
This very place combines in a dignified way the four essential life elements: Earth, Fire, Water, and Wind. You shall discover a magical space out of the bountiful gift of nature: it is a haven of peace where space itself makes you feel the life-giving universe sense. In this infinite landscape, you enjoy the great panoramic view of the horizon defining the borderline between heaven and earth.
Orizon is conceived with your needs and desires in mind, and is, thus, the perfect getaway and event setting where every natural element conspires to please you. Located on the main road of Hboub, four minutes away from the heart of Byblos city.
Orizon is a romantic, tranquil resort that highlights Lebanon's surreal beauty and stimulates the senses. It consists of indoor and outdoor facilities that opened their gates on the 15th of June 2013 to welcome you throughout the year.