The Most Beautiful 2020 Wedding Dresses by Lebanese Fashion Designers
Getting married soon?
Looking for a Wedding Dress?
Let's help you find it.
Get Offers Today
With 2020 just around the corner, it is time for 2020 brides to start looking for that dream wedding dress! International and Arab fashion designers have already released most of their 2020 wedding dress collections, and we have them all in one place for you.
Many Lebanese fashion designers have taken over the world with their fabulous and breathtaking wedding dress designs and collections, making them top names in bridal wear around the world, such as Elie Saab, Zuhair Murad, and Reem Acra.
Of course, a bride to be should start looking for her wedding dress as soon as she gets engaged; the earlier you find your wedding dress the better. You will have time to alter it, and time to order it if it is not readily available at the boutique. If you are looking for a luxury couture bridal gown by a famous Lebanese fashion designer then you must start looking ahead of time.
Before going shopping and trying on different wedding dresses, you should, of course, look for some inspiration. Take a look at what wedding dress styles you might like and even those you think might not suit you.
Keeping up with all the latest wedding dress collections is not easy, but we have a special section for you to keep you up to date with the top 2020 wedding dress collections. We also have for you here a selection of the most beautiful luxury wedding dresses designed and carefully crafted by some of the top Lebanese fashion designers.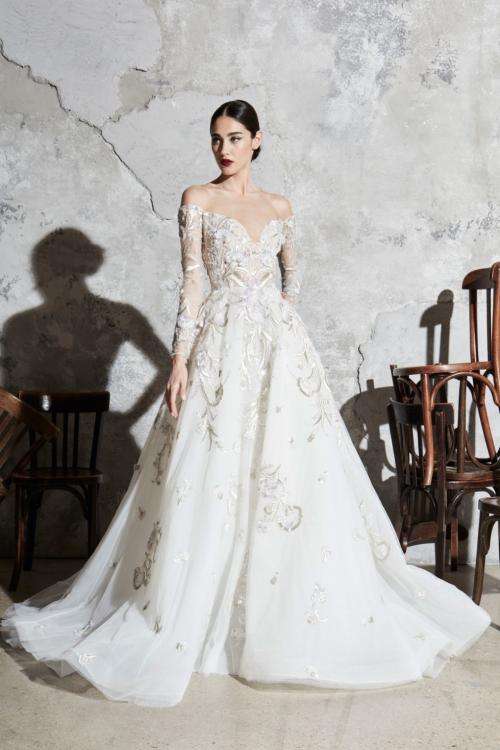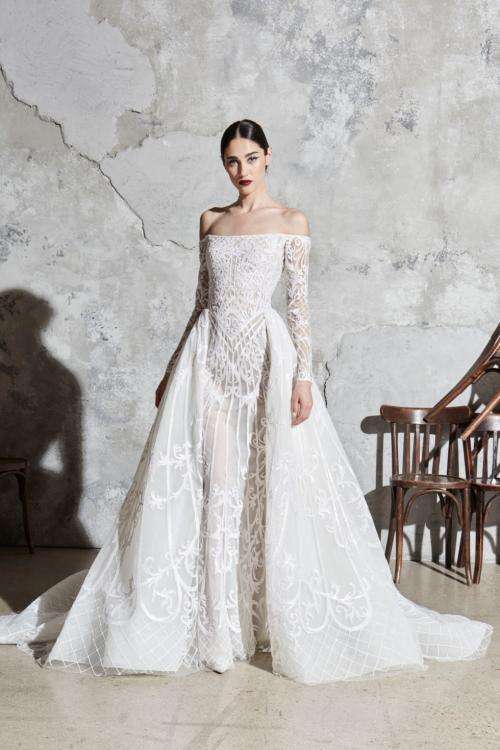 Zuhair Murad
Zuhair Murad created a unique wedding dress collection for the bride of 2020!
The Zuhair Murad bridal collection tells the story of Iberian culture, the beautiful and elaborate beading was inspired by the ornate embellishments of a bullfighter's suit, and the needlework on a few dresses revealed outlines of tiny fans.
The wonderful 2020 wedding dress collection by Zuhair Murad featured long-sleeved dresses, Swiss-dotted tulle, and pleated ruffle trim. 
Gemy Maalouf
Gemy Maalouf has released her 2020 bridal collection, and it is the perfect combination of femininity and modernity.
The 2020 wedding dress collection by Gemy Maalouf is perfect for the woman who dreams of a modern fairytale wedding. 
The collection features delicate lace, tulle, organza, chiffon, and embroidery that enhance the bride's silhouette. 
Georges Hobeika
International and Lebanese fashion designer Georges Hobeika was inspired by the authentic celebration of love and the exaltation of emotion for his 2020 wedding dress collection.
The 2020 Georges Hobeika bridal collection was created with the most luxurious fabrics, such as seductive and dazzling lace for some delicate feminine silhouettes, this wedding dress collection is all about romance and passion.
Gracy Accad
This is how Gracy Accad described her 2020 spring bridal collection: "My Spring 2020 Bridal Collection centers on the dichotomy of structure and craftsmanship and the ephemeral romanticism of nature. This merging of tradition, construction, and romanticism comes together in an elegant and classic look for a modern, fashionable bride."
The wedding dresses all feature unique designs and cuts, to make the collection even more unique Gracy Accad designed adorable ankle-length cocktail dresses, and beautiful silk and wool full T length dresses, and floral embroidered tulle ball gowns.
Reem Acra
The 2020 wedding dress collection by Reem Acra is titled  The Thank You Collection, and it blends global inspirations, evoking wonder, excitement, and sophistication. 
Infusing both old and new world elements, the collection blends historical references with modern aesthetics. Reem Acra's vision is transpired through the incorporation of cultural elements from around the world, highlighting both tradition and modernity. Drawing inspirations from East to West and everywhere in between, the visual impact of the collection brings together a festival of emotions.
Tony Ward
Lebanese fashion designer Tony Ward was inspired by the name "Felicity" for his 2020 wedding dress collection! Felicity, the state of feeling that inspired Tony Ward for his La Mariée Fall 2020 collection, presented in New York during Bridal Week.
For his 2020 wedding dress collection, Tony Ward played with shimmering fabrics and bright detailing, ranging from pure white to golden hues.
The collection featured fitted waists and cathedral trains as well as sheath silhouettes with detachable overskirts.