The Top Jewelry Stores in Oman
Getting married soon?
Looking for Bridal Jewelry?
Let's help you find the right jewelry store.
Get Offers Today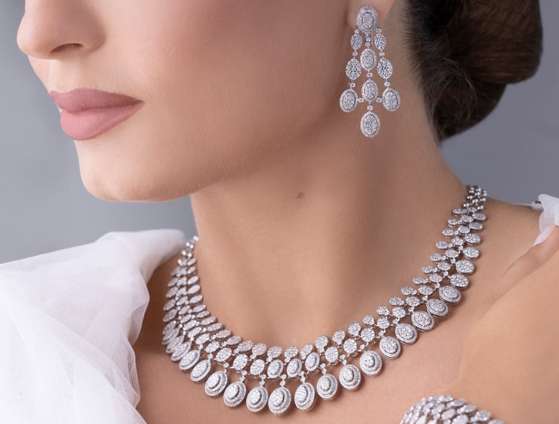 Your bridal look is never complete unless you put on some beautiful jewelry, and because Arab brides are known for their love for luxury and sophistication, they are always looking for the most beautiful and unique jewelry pieces to complete their look.
When it comes to jewelry stores in Oman, brides are faced with many options, some stores are amazing local brands while others are famous international names we've all heard of.
No matter what jewelry store in Oman you go to you will definitely find the perfect pieces to wear on your wedding day.
Check out our bridal jewelry section for the latest jewelry tips and trends!
If you are in Oman and don't know which jewelry stores to visit, here is a list of the top jewelry stores in Oman for you to check out:
Cochin Gold & Diamonds
The story of Cochin Gold & Diamonds begins three decades ago. Cochin Gold & Diamonds is a well-established jewelry firm that has grown from a small initiative to establishing a retail gold and diamond jewelry brand in Oman.
Cochin Gold & Diamonds is committed to making every customer feel satisfied with their personalized service and their exquisite designs. They offer unique designs and create custom work, and ensure that you get the product you desire and consider the value for your money.
House of Jewellery Design since 1907 their story began over 100 years ago; they have since become the leading and most recognized jewelers in the Middle East. 
Their name is synonymous with the ever-sought-after, the unparalleled luxurious Arabian aesthetic. Invention, craftsmanship, and design integrity remain at the heart of what they do.
Devji
Devji since 1950; the name that stands for gold, has earned a formidable repute in the GCC for providing the best in jewelry to its loyal clientele. Built on a solid reputation that spans more than half a century.
Every Devji product is accompanied by the four invisible labels of purity, quality, craftsmanship, and value. At Devji they strive to give their valued clientele the best.
Jewelry crafting is revered as a rare art form at Devji since 1950 The jewelry collections on display at Devji since 1950 capture the essence of this philosophy.
Be like Diamonds precious and rare, Diamonds in their rarity and beauty, are a representation of clarity and honesty, of love and devotion. Celebrate your special day with their captivating bridal sets which were crafted with gorgeous and bright natural diamonds.
The Abdullah family started the jewelry business in 1907, the time when craftsmanship, culture, and innovation became a tradition. The passion to create modern and traditional jewelry designs for the region unifies the four (4) generations for over a hundred years.
Their designs are manufactured and responsibly sourced from the best international alliances located in Italy, Turkey, Hong Kong, China, Thailand, India, Bahrain, and Lebanon. 
Joyalukkas is one of the largest jewelry retail chains in the world which offers a scintillating choice of over one million exquisitely designed jewelry in gold, diamond, precious stone, platinum, polki, and pearl.
Designed by master craftsmen under the best quality standards, every piece of jewelry is created to cater to the dreams and desires of all jewelry lovers around the world.
The 'Joyalukkas' brand today has earned the tag of the 'world's favorite jeweler' by ensuring the widest choice, best price, excellent service, and 100% assurance.
Discover Liali's outstanding jewelry collection. Witness an exceptional selection of timeless and contemporary designs. There is a unique Liali piece to suit everyone's taste. Browse through an array of rings, bracelets, earrings, etc. in pearl, gold, and diamonds.
Started in June 1999 by Raed Ahmad Baker and Anuraag Sinha, today Liali boasts 11 outlets in most UAE & Oman landmark locations. The company specializes in certified diamonds, pearls, precious & semi-precious stones, 18k gold, and customized handcrafted jewelry. Liali takes pride in bringing innovative concepts in jewelry and consistently endeavors to keep up with the latest trends around the world. 
Malabar Group was founded in 1993 by a team of enterprising entrepreneurs, led by the visionary genius of Mr. M P Ahammed when he explored beyond his immediate circle in the agri-corp industry to establish a jewelry trading company in a historical city called Kozhikode.
Malabar Gold & Diamonds is one of the largest gold and diamond jewelry retailers globally with over 280 stores spread across 10 countries. 
Majliya
Majliya is the story of an extraordinary Omani icon with big aspirations: To inspire its customers to be true to themselves and discover a unique Middle Eastern luxury brand with global reach.
At a time when Oman's famed jewelry makers were slowly disappearing, Majliya was conceived to continue the legacy of preserving past culture by creating contemporary luxury jewelry and gifts that capture the essence of the Sultanate's traditions – yet express pure individuality.