12 Best Ideas for a Bachelorette Party
Getting married soon?
Looking for a Wedding Planner?
Let's help you find the right one for you.
Get Offers Today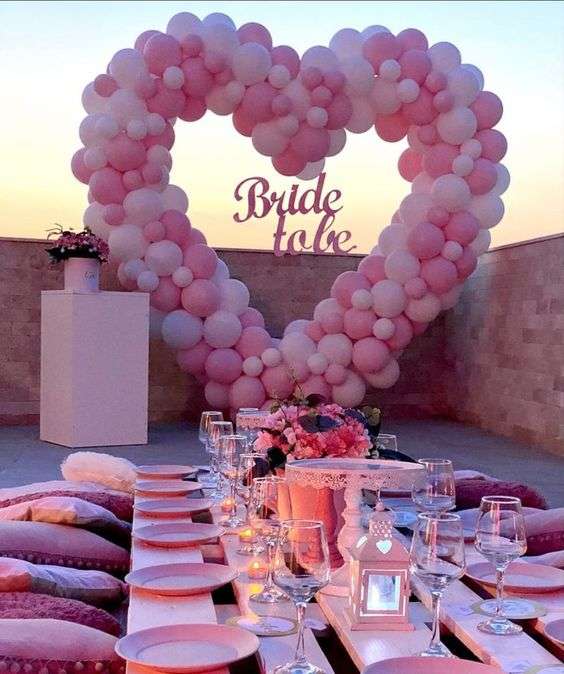 What to do when gathering friends for a bachelorette party? Go to a cafe? Walk around the city together in the company of a photographer. Rent a table at a bar or karaoke?
Get ready for an unforgettable bachelorette party filled with laughter, excitement, and memories to last a lifetime. Whether you're the maid of honor, a bridesmaid, or a close friend, we've got you covered with a plethora of bachelorette party ideas, themes, and decor that will take this special occasion to the next level.
When it comes to bachelorette party ideas, the options are endless. Picture a glamorous night out on the town, dancing the night away at trendy clubs and sipping on exquisite cocktails. Or perhaps a relaxing spa retreat, where you can indulge in pampering treatments and enjoy quality time with the bride-to-be. If adventure is on your agenda, consider a thrilling outdoor excursion like a weekend getaway filled with hiking, zip-lining, or even a beachside bonfire.
To elevate the ambiance of the bachelorette party, consider carefully curated decor that reflects the chosen theme. Whether it's a classy and elegant affair or a fun and playful celebration, the right decorations can transform the venue into a festive haven. From personalized banners and balloons to themed table settings and creative centerpieces, the decor sets the stage for an unforgettable night of celebration.
Bachelorette party themes add an extra layer of excitement to the festivities. Explore themes like a glamorous Hollywood-inspired soirée, a retro 80s dance party, or a tropical paradise complete with Hawaiian shirts and fruity cocktails. Themes can bring a cohesive and fun element to the bachelorette party, creating a memorable experience for everyone involved.
So, get ready to embark on an unforgettable bachelorette party adventure filled with laughter, love, and lifelong memories.
Remember to stay creative and keep an open mind when planning a bachelorette party, bridal shower, or henna night.
1. Spa Day
Every bride-to-be needs to relax before her wedding day, so a great idea is to have a spa bachelorette party.
It's time to pamper the bride-to-be and her closest friends with a day of rejuvenation, tranquility, and well-deserved self-care.
From blissful massages and revitalizing facials to luxurious body treatments and soothing aromatherapy sessions, each experience will leave you feeling rejuvenated and renewed. The expert therapists and aestheticians will cater to your every need, ensuring a truly indulgent and personalized spa journey.
A spa day for a bachelorette party is not only about relaxation but also about bonding and creating lasting memories. Share laughter and heartfelt conversations with the bride-to-be and her closest friends as you lounge in plush robes and sip on refreshing herbal infusions. Toast to love and friendship, celebrating this special milestone in the bride's life.
2. Picnic
Get ready to embrace the beauty of nature, bask in the warm sunshine, and create unforgettable memories.
The best thing you can do in the warm season is to have a fun picnic in the park or in nature. Dress up in summer dresses, and bring your camera, blankets, and champagne with food in wicker baskets.
Picture a picturesque outdoor setting, delicious food, and the company of your closest friends, all coming together for a celebration that combines relaxation and joy in the most delightful way.
Soft blankets spread on the lush grass, vibrant cushions and pillows providing cozy seating, and delightful floral arrangements adorning the surroundings, all contribute to an inviting and idyllic atmosphere.
Indulge in a delightful spread of picnic-style treats that will tantalize your taste buds. From gourmet sandwiches and artisanal cheeses to refreshing salads and a variety of finger foods, the picnic menu will be a feast of flavors and culinary delights.
3. Rooftop Party
This is a great idea for a city bachelorette party before a summer wedding. Just imagine a pink sunset, cold drinks in glasses, groovy music, and the whole city in front of you in the palm of your hand!
Picture yourself surrounded by stunning city views, a vibrant atmosphere, and an unforgettable night filled with laughter, dancing, and celebration. Get ready to raise a glass and toast to the bride-to-be in style!
As you step onto the rooftop venue, you'll be captivated by the panoramic vistas that stretch as far as the eye can see. The twinkling city lights create a magical ambiance, setting the stage for an evening of glamour and excitement.
Indulge in a delectable selection of gourmet appetizers, signature cocktails, and delicious treats specially crafted to tantalize your taste buds. From handcrafted canapés to artisanal desserts, each bite will be a culinary delight that complements the elegance and sophistication of the rooftop setting.
But note that you shouldn't forget about safety rules: go only to those roofs where it is allowed to be and remember the probability of an accidental fall.
4. Sports Bachelorette Party
If you are a team of sporty friends or the bride has a certain hobby, then why not have a sporty-themed bachelorette filled with activities?
Whether you're a sports enthusiast or simply looking to infuse some energy and excitement into the celebration, this event is bound to be a winning experience filled with laughter, camaraderie, and unforgettable moments.
The sporty-themed bachelorette party takes the traditional concept of a bachelorette gathering and adds a dynamic twist that brings out the inner athlete in all of us. It's a celebration that combines fitness, fun, and friendly competition to create an energetic and memorable experience.
Embrace a range of sporting activities that suit your group's interests and preferences. Whether it's a friendly game of soccer, volleyball, basketball, or even an adventurous round of paintball or go-kart racing, the choices are endless. Engage in friendly rivalry, cheer each other on, and enjoy the thrill of the game as you bond and create lasting memories.
5. Eco-friendly Bachelorette Party
For the environment-conscious bride-to-be, there is only one way to go! Have an eco-friendly bachelorette party.
Embrace the beauty of Mother Earth while honoring the bride-to-be in a way that leaves a positive impact on our planet.
From the venue to the decorations and activities, every aspect of the party will be thoughtfully designed to minimize waste and promote environmental responsibility.
Choose a venue that aligns with the eco-friendly theme, such as a beautiful outdoor location surrounded by lush greenery or a sustainable venue committed to eco-conscious practices. Celebrate amidst nature's embrace, connecting with the earth and appreciating its beauty.
Embrace sustainable and locally sourced decor that adds a touch of natural elegance to the celebration. Opt for biodegradable or reusable materials such as bamboo plates, recycled paper decorations, and organic floral arrangements. Let the beauty of nature shine through, creating an ambiance that reflects the harmony between celebration and sustainability.
For example, clean up in the nearest park or on the lake shore, and let those same reusable mugs become gifts for girls.
6. Charity Bachelorette Party
Ecology doesn't attract you, but you still want to be useful? Think about charity and how you can help vulnerable categories (lonely old people, orphans) in your city.
This unique and meaningful celebration combines the joy of honoring the bride-to-be with the spirit of giving back to the community and supporting a worthy cause. The charity helps bachelorette party is an opportunity to make a difference in the lives of others while creating cherished memories that will last a lifetime.
Choose a cause or charity that resonates with the values of the bride-to-be and the group. You can ask your guests to donate any amount of money to a certain charity instead of getting you gifts. Or ask them to bring any clothes they don't need and donate them together to those in need.
Engage in hands-on volunteer work or fundraising activities that directly benefit the chosen charity. You could organize a bake sale, a charity run, or a silent auction, with all proceeds going toward the cause.
Incorporate elements of the charity into the bachelorette party celebration. For example, instead of traditional party favors, consider providing guests with tokens or certificates that signify a donation made in their honor. This serves as a reminder of the collective effort to make a positive change.
7. Hello School Party
Let's go back in time and celebrate some beautiful memories. Throw a bachelorette party in the style of the 90s or 2000s, which fell during the school years.
It's time to bring out your inner schoolgirl, dust off your old yearbooks, and celebrate the bride-to-be's upcoming union with a blast from the past. 
Embrace the iconic fashion trends of the 90s or 2000s, from plaid skirts and knee-high socks to denim overalls and statement graphic tees. Don't forget to accessorize with scrunchies, jelly sandals, and choker necklaces to complete the look.
Hang colorful paper lanterns, string up locker-inspired photo displays, and adorn the venue with yearbook-style signage. Set up a snack bar filled with nostalgic treats.
Capture the memories with a dedicated photo booth area featuring props such as oversized glasses, feather pens, and inflatable boomboxes. Pose with school-themed backdrops and yearbook-inspired frames, creating snapshots that will become treasured mementos of this throwback celebration.
8. Hiking
Get ready to lace up your hiking boots, embrace the great outdoors, and embark on an adventurous bachelorette party that combines the beauty of nature with the celebration of love.
This hiking-themed bachelorette party is perfect for the bride-to-be and her closest friends who appreciate the serenity and thrill of exploring scenic trails.
Celebrate the bride-to-be's journey with special hiking-themed touches. Provide personalized water bottles or hiking gear as party favors, and create a photo opportunity at a scenic spot along the trail. These thoughtful details will serve as reminders of the shared adventure and the celebration of love.
The hiking bachelorette party offers a unique opportunity to connect with nature, challenge yourselves, and create unforgettable memories amidst breathtaking landscapes.
9. A Dream at a Summer Night Party
Get ready for a fairytale-themed bachelorette party that will transport you and the bride-to-be to a whimsical realm of fantasy and wonder. This celebration is a tribute to love, fairytales, and the bride's own happily ever after.
Choose a venue that exudes fairytale charm, such as a castle-inspired venue, a lush garden, or a magical woodland setting. Transform the space with twinkling lights, ethereal decorations, and touches of glitter and sparkle.
Encourage guests to embrace the fairytale theme by dressing as their favorite characters from beloved tales.
Indulge in a feast fit for royalty with a fairytale-inspired menu. Serve delicacies like mini sandwiches, dainty pastries, and colorful macarons. Don't forget to include a whimsical signature cocktail or a magical mocktail that adds a touch of enchantment to the celebration.
10. Travel to Another Country
You can organize a party involving foreign culture as a theme to your party, but you can also delve into it yourself by traveling to another country with your group of friends. Even small trips remain in our hearts for life.
As you set off on this exciting journey, choose a destination that holds special meaning for the bride-to-be or a place she has always dreamed of visiting. Whether it's a bustling city, a tranquil beachside retreat, or picturesque countryside, let the chosen location become the backdrop for your bachelorette party adventure.
Incorporate travel-themed elements into the celebration, such as passport-inspired invitations, luggage tag place cards, and a world map guest book where attendees can mark their names and leave heartfelt messages. Embrace the wanderlust with decorations that reflect the destination's charm and culture, incorporating colors, patterns, and motifs that evoke a sense of wonder and exploration.
Slumber Party Bachelorette Theme
You have probably seen many fun movie scenes of sleepover parties with girls in baby dolls or hair rollers putting manicures or pedicures on each other. 
Take your girlfriends back to when you were kids with no worries! Ask your friends to come for a sleepover, watch some movies, eat delicious food and treats, play some dare or truth games or even your favorite board games, stay up late, and have a yummy breakfast the next morning.
A Crafty Party
If you're a bride who loves to work with her hands, why not enjoy what you like to do most at your bachelorette party? We have gathered a few ideas for you to pick what suits you best.
Mad Hatter: Let your guests create their own crazy headpieces and hats for your party, so you can all wear them after and take lots of pictures. All you need to do is write a list of everything you need to get for the hat-making process and provide a cool space where your friends can work.
Cupcake Master Class: If you love baking, have your own cupcake class and enjoy the sweet treats with your friends. You can even find a professional baker who can come and help give the class as well.
Cooking: Take your friends to a cooking class where you can enjoy the meal you cooked later on. (For those of you in Jordan, we recommend BeitSitti).
Jewelry: Book yourself and your friends a jewelry-making class and enjoy learning how to make your own beautiful pieces.
Makeup Class: Ask a professional makeup artist to come over and give you and your friends makeovers as well as tips and makeup techniques.
Pottery Painting: Take your friends to a pottery class, and let them have fun painting their own mugs, plates and bowls.