The Best Bridal Headpieces in Lebanon
Getting married soon?
Looking for a Wedding Dress?
Let's help you find it.
Get Offers Today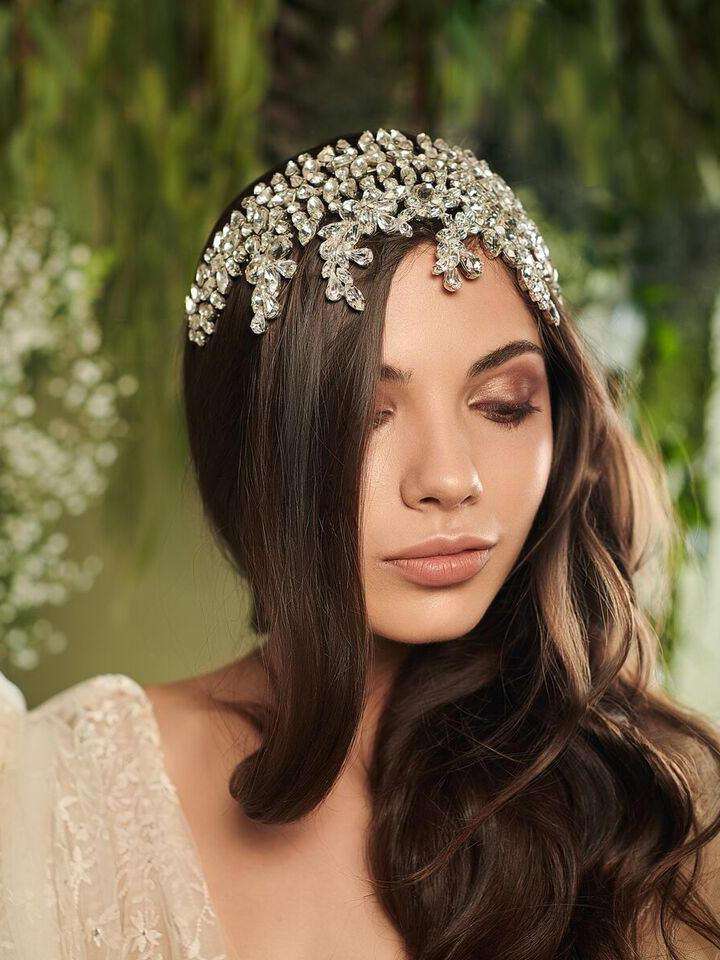 Among the myriad of reasons that make Lebanon enchanting, its bridal fashion industry stands out as a beacon of creativity and elegance. At the forefront of this industry are the exquisite bridal headpieces Lebanon has to offer, capturing the essence of Lebanese beauty and refinement.
The Lebanese bridal headpiece has, for generations, played a pivotal role in this narrative, transcending mere accessories to become symbols of tradition, identity, and personal style. Rooted in the region's history and deeply embedded in its culture, these headpieces have evolved over time, seamlessly blending age-old customs with contemporary influences.
For more bridal headpieces inspiration click here!
Lebanon, offers ab array of hair accessories Lebanon brides proudly adorn on their special day.  The allure of Lebanese bridal headpieces lies not only in their intricate designs but also in the stories they tell. These headpieces often incorporate elements like delicate lace, shimmering crystals, handcrafted beads, and intricate metalwork – all meticulously brought together to celebrate femininity and grace.
Today, we embark on a captivating journey through the world of headpieces Lebanon brides have treasured. Whether it's the timeless elegance of a classic Lebanese headpiece or a fusion of East-meets-West in a more contemporary design, the options are as diverse as the landscapes that characterize this beautiful country.
Here you will find the most popular places for bridal headpieces Lebanon has to offer:
A timeless hair jewel, utterly romantic, a true labor of love, created with artisanal craftsmanship inspired by Oriental Botanics, filled with a lot of passion and meticulous attention to detail, handworked by women for women on the most beautiful day of their life.
Aura Headpieces are presented as hair jewels, inspired by hand-sketched leaves and flowers from the local and oriental flora. A pure celebration of artisanal craftsmanship. 
Highly reputable as Headpiece Designers, these talented 3 sisters with a passion for art, with different perceptions of style making their skills complimentary. Their workshop started as a space to enjoy their hobby and ended up in a fully operating business.
Custom and handmade fashion accessories for brides and for all your occasions. You can customize your crown tiara headpiece for your special day
Interior designer Léa Farah graduated with honors, but she was not as passionate about interior design as she was about jewelry. Instead of designing the roof over our heads, she now designs the jewelry we wear on our heads. Her passion took her to London where she majored in Gemology and mastered the art of making people glow.
When she came back to her beloved home country, Lebanon, Léa took the step she had been waiting for - She founded Centimes Bourgeois.
Bridal headpieces are their specialty. Rest assured that they will help you decide on the headpiece that best suits your dress, hairstyle, and complexion. They can even help you customize and design your own headpiece.
Collaborating with the best local and international brands, Esposa offers an exclusive selection of bridal and evening dresses that showcase the works of worldwide fashion designers. From the classy taste of Carolina Herrera to the modern twist of J'Aton and the dazzling creations of Rosa Clara, Marchesa, Lazaro, Esposacouture, Viktor&Rolf, La Sposa, Monique Lhuillier, and much more, the brand promises unique diversity in its stores, they also offer all bridal accessories needed to complete your bridal look.
Elodie's Headpieces
For brides who are looking for luxurious ready made headpieces for all occasions, Elodie Headpieces offers elegant and timeless bridal headpieces for every bridal look and style.
Yara Headpieces
Yara Headpieces Couture makes artisanal, custom, or limited edition headpieces, hats and clothing accessories which make every one of their clients stand out. Each one is designed and made by Mireille Yaacoub who is a Graphic designer and artist. Mireille is inspired by all of her surroundings when creating her pieces: cinema, street style, kids, nature…and also by the retro, including personalities. Her continuous work, her perfectionism when it comes to the finishing touches, her attention to detail and color as well as the unique, high-quality materials used in her creations.