Best Wedding Floral Pieces for Your Hairstyle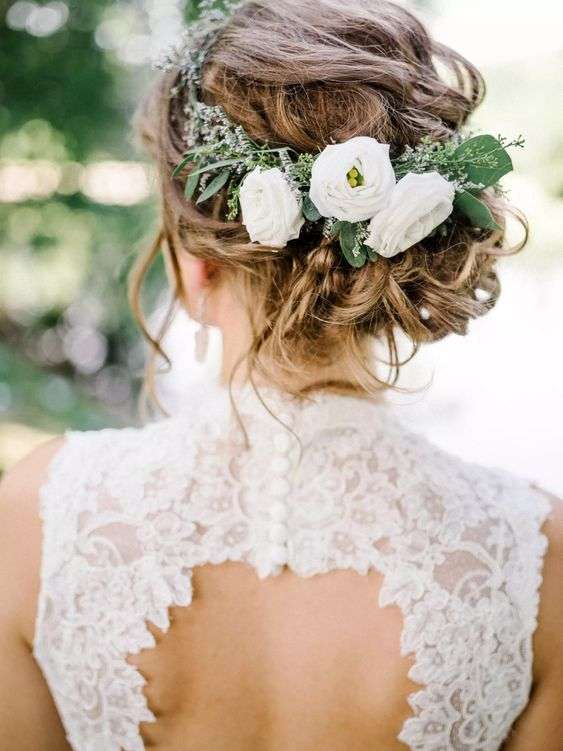 For most weddings, flowers are an important part of the ceremony. It is hard to envisage a wedding without flowers. As part of a personal wedding grooming, you can have a floral hairstyle.
Adding flowers to your hair is just the final look for your big day. Your hair should be perfectly done. However, adding flowers to the hair is optional, and you can still look glamorous without one.
Take a look at some bridal floral crown ideas here!
But, if you would like to look a little extra, you can add floral pieces to your hair. The following are the best floral hairpieces for brides:
1. Haloed Floral Elegance
The style involves adding flowering thin branches to create a crown. The clusters of blossoms add elegance to your hair.
2. Floral Updo
If you fancy a Floral Updo for your wedding, you should consider getting budget-friendly flower packages. Although it is a beautiful hairstyle, it will be almost a whole bouquet to achieve the look. 
3. A monochrome Flower Crown
You can opt for a monochromatic flower crown that matches the colors of your bouquet. For instance, if you choose a scarlet floral headband, ensure that your bouquet's main color is red.
4. Boho-Style with Plants
Besides the brightly colored flowers, you can opt for succulent and sage plants for your headband or crown. The use of plants gives you an elegant bohemian style.
5. Woven Flores
The style involves weaving the buds directly into the Updo hairstyle. You can add ferns and leaves for a fresh and organic touch.
6. White Flower Crown for a Messy Bun
You can perfect your imperfect messy hairdo with a perfect crown of white flowers on your head. The style gives the bride a fancy yet simple look.
7. Pulled-back Floral Grace
The style involves a chic wavy hairstyle. To add the flowers to the hair, pull back the hair and attach your favorite flowers where you have tied back the hair. 
8. Ear Tucked Florets
Tuck your favorite flower behind your ear to add elegance and beauty to your bridal hair style. The style is easy and quick and will accentuate any hairstyle. 
9. A Brightly Colored Tropical Flowers Crown with Large Blooms
If you love bold color details, then you wouldn't mind this type of crown. If you are having a beach wedding, a brightly colored floral crown will add to the magic. Additionally, this type of crown is perfect for a tropical destination wedding.
10. Beautiful Buds Tucked on a Messy Bun
The buds are tucked all over the hair, making it looked like they have naturally sprouted from there. The style gives a boho and whimsical romantic look for your big day.
11. Trail of Baby's Breath
The style brings home an enchanted forest style. It involves baby breath vines intricately woven down your flowing hair.
12. Flower-Adorned Fishtail
The style involved tucking little flowers of baby breath down your fishtail braid. The buds should be minimum to bring out the fairy tale with style perfectly.
13. Bouffant Ponytail
If wearing both faux and fresh flowers on your hair does not suit your wedding theme, you can try to enhance your bridal look with a glitzy and jeweled floral accessory.
14. Lose Side Braided Ponytail
A loose-side braid with your favorite blooms will have you looking like a fairy princess on you big day. Try a few hacks to make the side braid seem looser and wider.
15. A Peony-Adorned Updo
Brightly colored peonies on your hair up do will enhance your bridal look. The look is perfect if the theme of the wedding is brightly colored. In addition, if you prefer a simple hairstyle for your wedding, adding peony will add magic.
16. Accentuate Hair Texture
For brides with curly hair, you can choose to add a few blooms here and there. It gives the bride a more enhanced bridal hairstyle look. You can add blooms of different sizes to achieve a more complex look.
17. A Simple Pony Tail and a Touch of Femininity
If you would love a simple ponytail hairdo, you can elevate it by adding a few buds into the hairstyle. This simple floral gives you a cool girly look in the most effortless way.
18. The Frida Kahlo Braids
A Frida Kahlo Braids is a little sophisticated hairdo for your wedding. You can top up this look by adding your favorite flowers such as orchids or roses. The hairstyle is suitable for destination wedding and perfect for nightly bridal dance. The style can withstand movements such as dancing. You can hold fast the flowers using the pins to avoid shifting.
19. Floral Headband
Beaded headbands are commonly adorned by many brides. Other than the beads, you can use flowers to make a headband for your wedding. Also, you can combine the flowers with the beads to make the headband even more sophisticated. With the headband, you can let your down. The headband will keep your hair away from the face.
20. A Foliage Adorned Hairdo
For this look, you will need a few foliages and a bit of greenery. If you are looking for an extraordinary floral hairdo, you can choose this one. It is neither too formal nor traditional. It showcases a simple yet a sophisticated look.
21. Pinned up Waves
If you are looking to wearing a wavy hairstyle for your wedding, you can loosely pin up the waves to achieve a soft and romantic hairstyle for your big day. To give this style more elegance, you can a few small intricate flowers such as the baby breath.
22. Simple Roses
Rose is inexpensive and loved by almost everyone. Tucking a few roses to your bridal hairdo will simply make you more beautiful. For oversized blooms such as roses, chose pastel colors to achieve more femininity.
Conclusion
Flowers are beautiful, and they make your wedding day glamourous. Having a floral hairstyle for your wedding makes the bride even more stunning. The choice of flowers on hair depends on the venue of the wedding and the flowers on your bouquet. If you chose to go with a bold floral hairstyle, pick one type of flower as too many colors and types will overpower the look.