Top 12 Hotel Ballrooms in Qatar
Getting married soon?
Looking for a Wedding Venue?
Let's help you find the right one.
Get Offers Today
Qatar might be a small country, but it definitely does not lack luxurious hotel ballrooms for your dream wedding.
If you're having a wedding in Qatar, the last thing you need to worry about is finding the wedding venue!
Qatar, especially its capital city Doha, offers so many elegant hotels that have stunning ballrooms perfect for luxurious weddings.
Qatar also has many talented wedding planners to plan your wedding day.  Take a look at "The Top Wedding Planners in Qatar".
Here are the top hotels with wonderful wedding venues in Qatar:
From productive meetings to engaging celebrations, your event has a mission and their teams are here for you to achieve it. With the extensive outdoor spaces and large ballrooms with high ceilings, Al Messila Resort & Spa offers a wide array of indoor and outdoor versatile venues in Doha. Lean on the resort's professional event team to be with you and provide you with customer service at every phase of the process while making sure that every detail is as enchanting as you envisioned it.
An oasis destination by heart, Al Messila Resort & Spa offers wide spaces for outdoor events in Doha that will keep your guests in awe.
Celebrate love in enchanting settings and make the most of your special day as you walk into timeless luxury. Step into indigenous gardens and join your lives forever in unrivaled romance in a natural oasis with five different outdoor areas for you to choose from and accommodate up to 1,190 guests.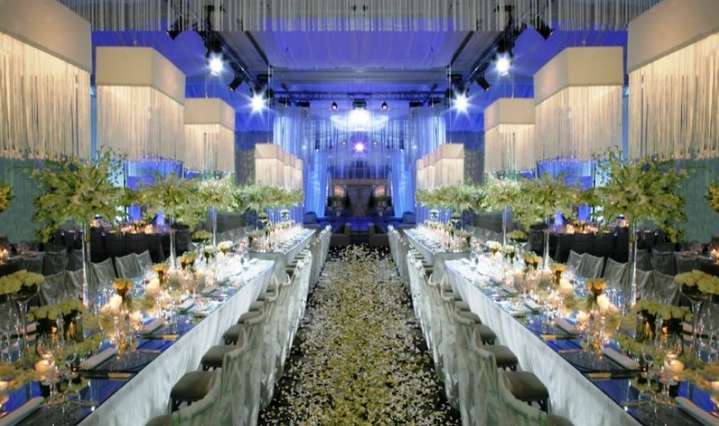 A prestigious waterfront setting for wedding celebrations in Doha, the Four Seasons welcomes guests with a beautiful resort-like ambiance. From the grand Al Mirqab Ballroom to the beachfront Garden Terrace, the hotel's indoor and outdoor settings are flexible for every style of event, including ladies-only wedding celebrations. 
Al Mirqab Ballroom can accommodate up to 450 guests as one large ballroom, or it can be divided into 3 smaller halls. 
This luxurious hotel does not only offer glamorous ballrooms, but it also offers wedding planning services to help you with the little details from wedding cakes to flower decorations.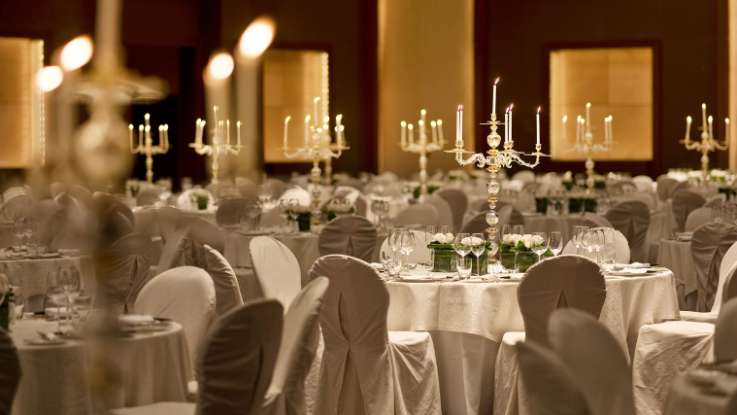 Grand Hyatt Doha offers flexible indoor and outdoor function spaces, making it an ideal wedding venue in Doha whether in the immaculate gardens of the hotel, the outdoor poolside and lush lawns, or at Al Silia grand ballroom. 
For up to 1000 guests, Al Silia ballroom is 1500 square meter in area and can be partitioned into 3 sections as required by the wedding to ensure a spectacular event.
The poolside is an elegant venue that overlooks the shimmering pool and Arabian Gulf. Offering guests immaculate views, this space can accommodate from 70 to 200 guests.
The garden can take from 100 to 250 guests and is ideal in the beautiful weather starting October to April.
 Grand Hyatt Doha also offers wedding management services that will help you plan your wedding.
From elegant ballrooms to intimate outdoor settings, Hilton Salwa Beach Resort & Villas will transform their spaces to create fairytale venues for couples. With impeccable menu options, exceptional customer service, and a stellar events team; Hilton Salwa Beach Resorts & Villas will help you celebrate love in a unique way and make your dreams come true. With unique interiors marrying brilliant blue and calming white colors, every corner you turn is picturesque; providing a perfect backdrop to capture beautiful memories during your special celebration.
Hilton Salwa Beach Resort & Villas also offers a diverse collection of extraordinary venues and versatile spaces for events and meetings that host between 90 to 1,200 guests. The meeting rooms are equipped with state-of-the-art AV technology, high-end facilities, and other personalized services perfect for celebrating luxury occasions, intimate private parties, and social gatherings.
At InterContinental Doha, your dream wedding is never too far away. With the help of their experienced Wedding Manager and World of Weddings promise, you will be able to realize the perfect destination wedding tailored to your heart's desire. Celebrate your union in our grand ballroom with luxurious surroundings as they ensure your preparations for that special day are seamless and relaxing, so that you may focus on the things that truly matter to you.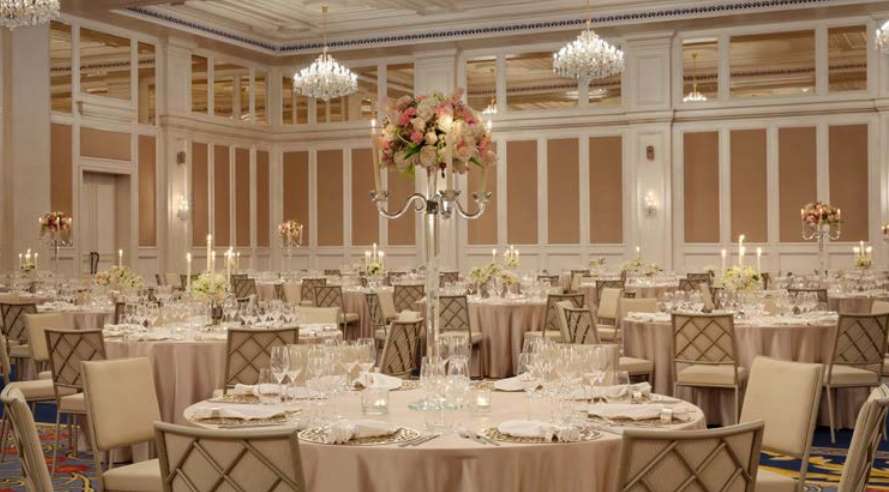 JW Marriott Marquis City Center Doha offers the bride and groom the help specialists to plan their big day.
The Ballroom has a pillarless, open floor plan, and high ceiling. It can be converted into 3 smaller spaces for intimate celebrations.
The ballroom features a bridal room and is accessed easily through a private entrance.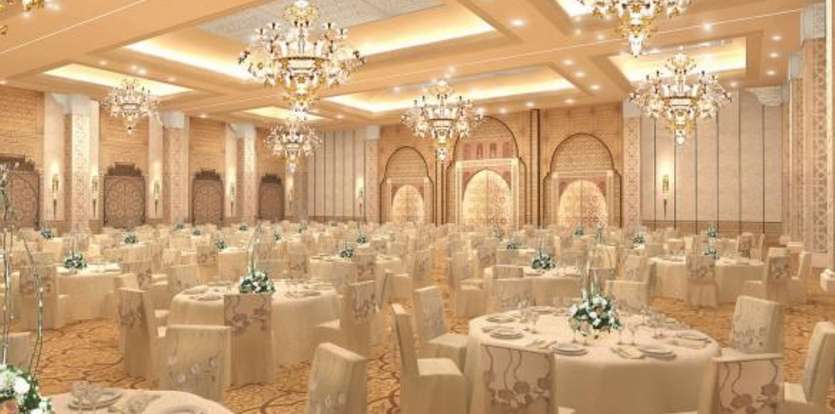 Picture a breathtaking ballroom setting, blending timeless architectural features with modern design, set against a backdrop of sparkling pools and the azure ocean. 
Marsa Malaz Kempinski at the Pearl offers the Palazzo Ballroom which is able to host between 250 and 450 guests and the Venezia Ballroom for your wedding. The Palazzo Ballroom comes with its own attached, private VIP suite offering you some privacy. The Venezia Ballroom is a smaller ballroom with a dedicated entrance on the Lower Ground floor.
Mandarin Oriental, Doha offers one of the most beautiful wedding and event locations in Doha. A stunning decor fusing contemporary design with elements inspired by Qatari heritage combined with Mandarin Oriental's legendary service will make your wedding or special occasion truly unforgettable.
When you hold a wedding or event at Mandarin Oriental, Doha, you and your guests are guaranteed an unforgettable experience. 
A range of elegantly presented expansive spaces is available at The Park Hyatt Doha Hotel. Choose from a 35 sq. m intimate study lounge to a luxurious 297 sq. m pillar-less ballroom.
When that moment counts, and the memories are bound to last forever, having the surroundings of your choice is critical. At Park Hyatt Doha, they view every wedding as a work of art that requires meticulous attention to detail. A dedicated event manager is always available to ensure that every detail is planned carefully and executed with absolute precision.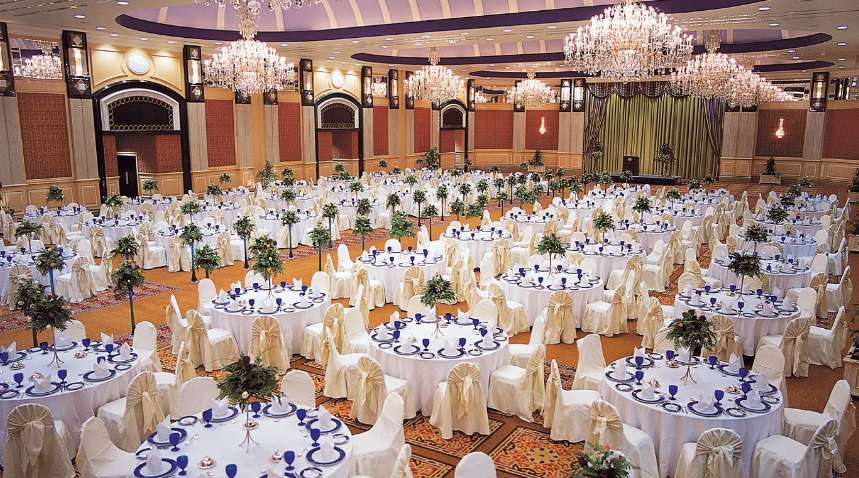 The Ritz Calrton Doha, offer a great venue for all your events, from bridal showers at afternoon tea to a luxurious wedding, The Ritz-Carlton, Doha offers the most comprehensive wedding accommodations and services and specializes in creating uniquely perfect wedding experiences.
The Fountain Courtyard offers an outdoor space for ceremonies and celebrations with 3 splendid fountains and 300 palm trees.
The Ritz Calrton also offers a wonderful ballroom, Al Wosail Ballroom, which can be divided into 4 separate venues.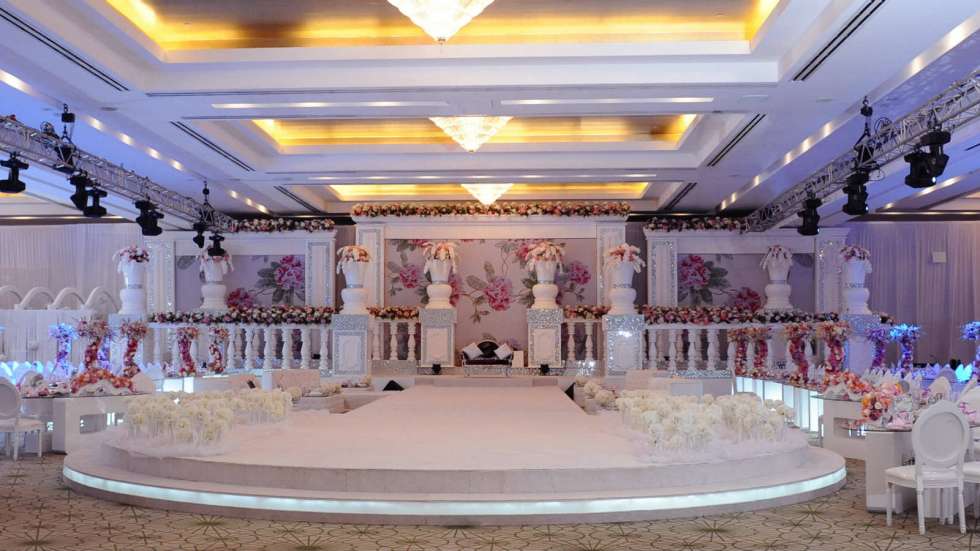 The Grand Ballroom at The St. Regis is the largest 5-star ballroom in Doha that offers natural day light and a terrace with extensive views over the Arabia Gulf. It can accommodate up to 1800 guests.
The St. Regis Doha is part of the Al Gassar Resort located in the heart of West Bay, adjacent to the Pearl Island.
Allow The Westin Doha Hotel & Spa to play the gracious host to your dream wedding. They offer beautiful reception venues, a thoughtful wedding specialist, on-site catering, and comprehensive packages. They'll do everything possible to manage your special day in Doha flawlessly, from ensuring that your reception hall is set up perfectly to crafting a delicious banquet for your guests to enjoy.