The Top 20 Countries for a Honeymoon
Getting married soon?
Looking for Honeymoon packages?
Let's help you find Tour Operators to work with.
Get Offers Today
Every couple dreams of their honeymoon because your honeymoon is one of the few trips where you will really get the chance to bond, relax and have all the free time you want to do all the activities and visit all the places you want.
With all the breathtaking places in the world, choosing the right honeymoon destination is not easy, but when you decide to book for your honeymoon there are so many things to take into consideration such as the season you are traveling in, your honeymoon budget, and the style of honeymoon you want, do you want to spend time on a beautiful relaxing island? Or would you rather visit a lively city that has plenty to offer? It is all up to you and your partner.
Whether you are a couple who is looking for adventure, exciting nightlife, delicious food, or just a relaxing time on beautiful beaches, we have something that suits everyone.
Your honeymoon is the best time to enjoy quality time with your partner, and no matter where you end up going we are sure you are going to have a great and wonderful time together.
Don't forget to check out our honeymoon packing checklist to help you pack for your honeymoon!
We are sharing with you today the most amazing, unique, and popular honeymoon destinations of the year, no matter what style of honeymoon you are looking for, there is something to suit every couple.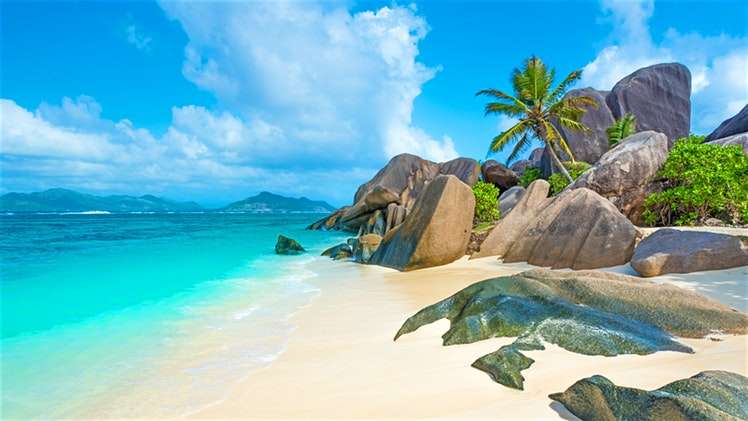 The Seychelles
The number one choice for a honeymoon this year is Seychelles. This is a collection of beautiful islands off the east coast of Africa. The rise in popularity for this destination is partly due to the royal honeymoon. Prince William and Kate Middleton spent their honeymoon at the exclusive North Island resort. The location has been described as an "Indian Ocean paradise" by the Guardian newspaper. Seychelles boasts many world-class resorts including the Banyan Tree and Fregate Island.
Want to spend a magical honeymoon at Seychelles? Check out this amazing guide!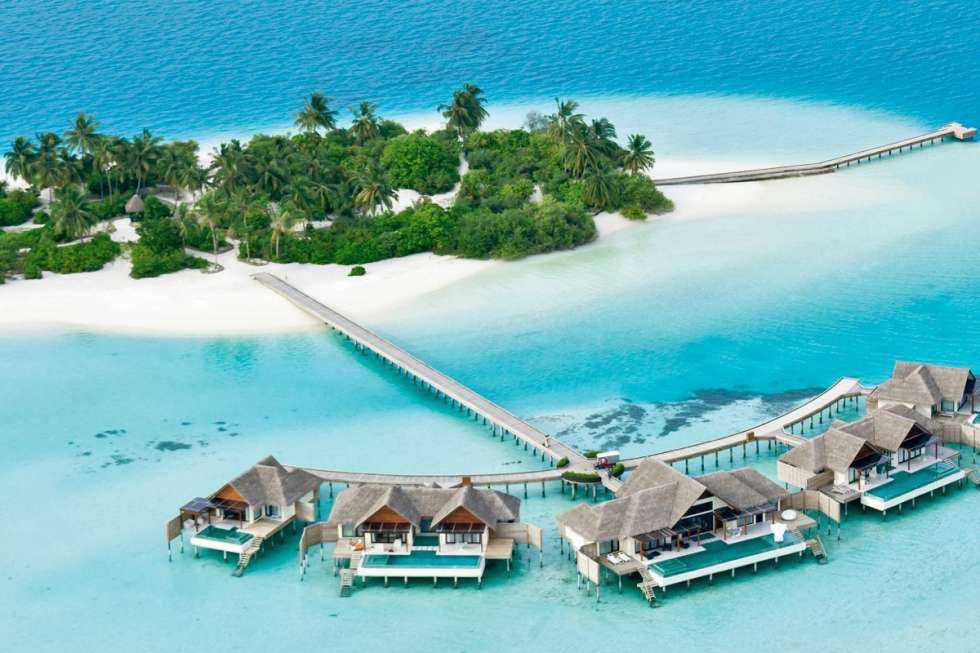 The Maldives
The Maldives is number 2 in the top 5 honeymoon destinations list this year. This is also a collection of tropical islands in the Indian Ocean. The Maldives has always been famous for perfect white sand beaches and remote, romantic getaways. There are even more resorts in the Maldives which are suitable for a luxury honeymoon. Some of the more popular ones include Soneva Fushi by Six Senses, Huvafen Fushi and Soneva Gili, also by Six Senses. Read more about Maldives Honeymoon here.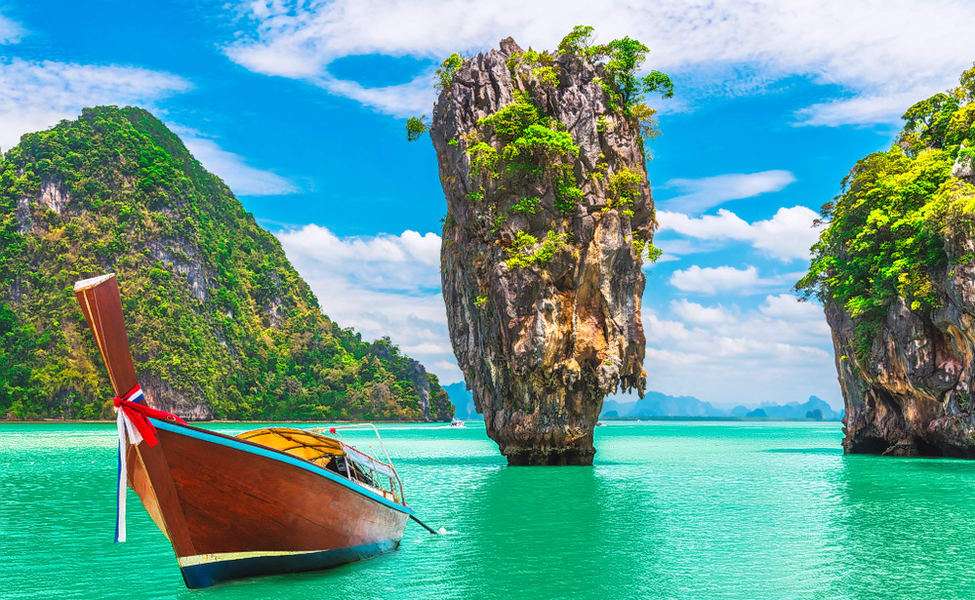 Thailand
Thailand is the fourth most popular honeymoon destination. It is easy to see why people love it so much. The country is rich in exotic culture and features some of the finest tropical islands in the south. Thailand in recent years has seen the emergence of many 5-star spa resorts. This is the perfect romantic holiday for a couple who want to be pampered with world-class spa services. Resorts like Soneva Kiri and Yao Noi have become very popular in recent years with honeymooners. Read more about Thailand Honeymoon here.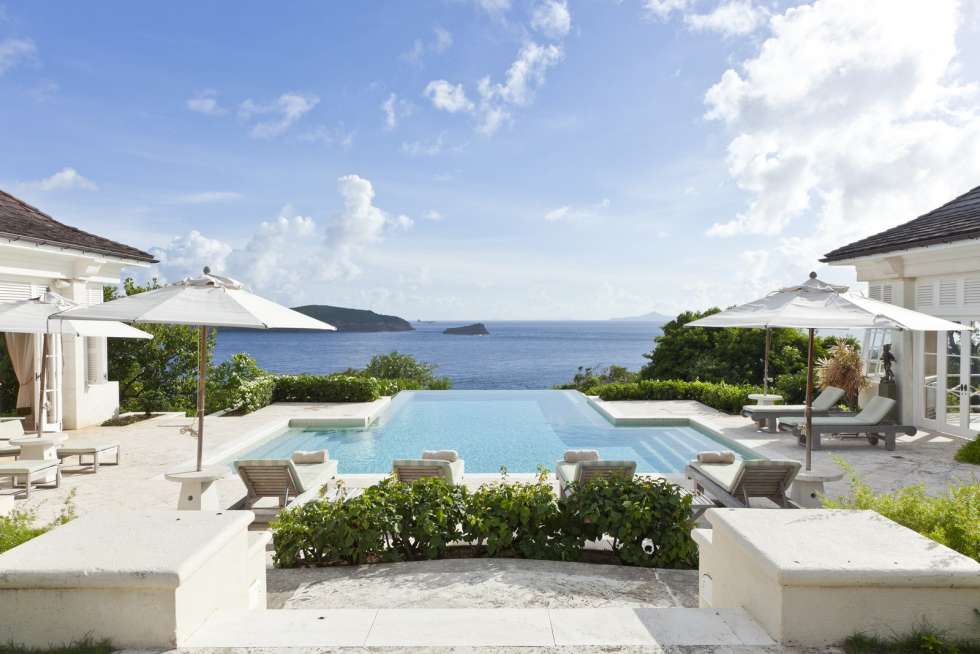 Mustique
Last but by no means least in this list of great honeymoon destinations in Mustique in the Caribbean. There is an old fashioned architecture in this part of the world which is charming and romantic. Luxury resorts like The Exclusive Villas of Mustique combine local designs with modern comforts. The beaches are world-class and the service is world-famous because of the friendly nature of the local workers.
Morocco
If you are looking for adventure and to experience a unique and rich culture then Morocco is for you.
Morocco, is a country in North Africa, bordering the Atlantic Ocean and the Mediterranean Sea, Morocco has a rich culture and it is culinarily delicious, naturally stunning, and a favorite among honeymoons.
Zanzibar
Zanzibar is a small island that will be making big headlines this year among honeymooners. Zanzibar is filled with high-end hotels and resorts that will make your honeymoon trip a luxurious experience.
Kendwa Beach is one of the most beautiful beaches, and it is becoming one of the best beaches in Zanzibar.
Experience a wonderful snorkeling journey in Tumbatu Island, and discover the island capital of Stone Town.
Philippines
If you're looking for a honeymoon filled with sun, beaches, and water activities, Boracay in the Philippines is a great choice! 
Located in the West Visayas Region, Boracay is one of the islands of the province of Aklan. The area is located in the center of the Philippines. The island boasts over 300 resorts and hotels ranging from budget to upscale.
Columbia
Colorful Colombia is perfect for couples who want to relax on stunning beaches but also want to experience a vibrant nightlife. 
The Caribbean coast is the most popular destination for honeymooners considering Colombia. Cartagena, in Colombia, is known for its pastel buildings and in the old city house are some of Colombia's best dining options.
Visit the Rosario Islands off the coast where you can see the small coral islands with white sand beaches and enjoy your stay overnight in a bungalow. 
Pass by Parque Nacional Natural Tayrona, a popular national park with beautiful beaches and rainforest. 
Colombia's Coffee Country is the perfect place for couples to relax and enjoy the coffee farms and production process.
Iceland
Iceland, a Nordic island nation, is defined by its dramatic landscape with volcanoes, geysers, hot springs, and lava fields. See geysers spout from the ground and bathe in geothermal pools across this North Atlantic nation.
You will fall in love with Iceland's cosmopolitan capital Reykjavik.
Don't forget to make time to see the Northern Lights, a natural miracle, your best chance of seeing the Northern Lights is from September to April.
For whale watching, the best time to go to Iceland is between  April and October.
Indonesia
A honeymoon in Indonesia is the perfect combination of laid back and fun, Indonesia has over 13,000 large and small tropical islands, can you imagine all the stunning beaches?
Magical Indonesia is the world's largest island country, with more than seventeen thousand islands. Indonesia is located mainly in Southeast Asia with some territories in Oceania. Situated between the Indian and Pacific oceans.
There are so many magical places to visit in Indonesia that you really can't name them all at once.
What is great about Indonesia is that you don't have to stay in one place, visit different islands, and have the full Indonesian experience. Some of the most popular places are the stunning Bali, it is a very popular honeymoon destination, popular for its resorts and beaches.
Ubud, Bali is one of the most romantic honeymoon destinations, and it ranks on the top on the list of world's affordable yet most romantic places. The town of Ubud, in the uplands of Bali, Indonesia, is known as a center for traditional crafts and dance. Retreat to harmonize together in the lush hills of Ubud.
Visit the villages and temples in Ubud and get to meet the locals and know more about their culture, cuisine, and traditions.
Other popular islands in Indonesia are Java, Komodo, and Lombok.
Resorts in Indonesia are some of the most beautiful and luxurious resorts in the world, so why not enjoy your time and experience a trip that you only dreamt of?
Chile
For a very unique honeymoon, we advise you to consider Chile! Chile is a long, narrow country stretching along South America's western edge, with more than 6,000km of Pacific Ocean coastline. Diverse landscapes take over a 4300km stretch: dry deserts, green valleys, volcanoes, forests, and massive glaciers.
Whether its adventure, romance, relaxation, or city life, Chile will not disappoint you.
Sri Lanka
A Sri Lanka honeymoon is the best destination to have an adventure, relax, and have a romantic time together. The tropical climate of Sri Lanka makes it a big hit among honeymooners.
From stunning beaches to a wonderful tea plantation, you will be amazed by Sri Lanka's magical nature.
A honeymoon in Sri Lanka is all about exploring nature and relaxing in the warm weather, and white sand of turquoise beaches. You can't miss the experience of sunset watching and dolphin watching, it will simply take your breath away.
Make sure you cruise down the Mahaweli River, the longest river flowing across Sri Lanka is one of the top attraction for couples on their honeymoon.
Some of the top honeymoon places in Sri Lanka include  Ella, Bandarawela, Nuwara Eliya, and Habarana, along with Mirissa, Tangalle, Trincomalee, and Bentota.
South Africa
You will want to explore all the cities and towns of South Africa because each one is unique and more beautiful than the other, you will fall in love with Cape Town and the beaches of Clifton.
Known as the rainbow nation, South Africa has a mix of everything, from vibrant cities and beaches to stunning wilderness and rural beauty.
Capetown is one of South Africa's most beautiful cities, don't miss out on the stunning nature of  Table Mountain National Park. Capetown is also known for its fabulous beaches which are very popular among honeymooners.
Another experience not to miss is a fun road trip along the Garden Route, a stretch of road along South Africa's southeastern coast.
You will also not want to miss Addo, Kruger, or Sabi Sands national parks.
Greece
Another very popular honeymoon destination is magical Greece, popular for its one of a kind islands; Greece is a great romantic honeymoon destination.
Greece is not only a romantic honeymoon destination, but it is also filled with cultural and ancient places for you to see and discover.
What are the most popular islands you must visit in Greece? Let's start with Santorini, with its pretty white and blue villages, Santorini is considered to be one of the most popular islands in Greece for honeymooners. Santorini is actually a cluster of islands formed by a catastrophic volcanic eruption that took place centuries ago.
For high-end shops, beautiful cafes, and hip bars, you must visit the island of Mykonos.
Rhodes Island has some of the most stunning beaches, with golden sands and turquoise waters. It also has some of the most famous landmarks such as The Palace of The Grand Master, Archángelos, Mt. Atáviros, and the Ancient City of Lindos.
Other popular islands in Greece include Naxos, Milos, and Serifos.
Costa Rica
If you are looking for a place with lush jungles, stunning beaches, and lots of adventures, Costa Rica is the place for you!
Costa Rica is the perfect destination for couples looking for an adventure-beach mix. Costa Rica offers magical rainforests, several nature preserves, biological reserves, and national parks. The country is also famous for its coffee, which is rich in both quality and caffeine, so if you are a coffee lover you will love Costa Rica.
Costa Rica offers all sorts and ranges of hotels and resorts, from budget-friendly hotels to luxury results such as Four Seasons Resort, Papagayo Peninsula, Nayara Springs Resort, Arenal, and Westin Playa Conchal, Guanacaste.
Ibiza
Ibiza is one of the Balearic islands, an archipelago of Spain in the Mediterranean Sea.
Ibiza is one of the honeymoon destinations known for its fun nightlife and parties, but not to forget about its luxury villas, boutique hotels, crystal clear waters and white beatiful beaches.
Ibiza has a mix of everything, from amazing nature, beaches, and farmlands, to fun water activities and lively nightlife. Not to forget about the delicious food and cuisine such as paella, tapas, and sopressata.
Once in Ibiza don't forget to visit its charming villages and historic sights such as the Ibiza Town's historic walled city of Dalt Vila. 
Fiji
For a one of a kind honeymoon you may want to consider Fiji, a country in the South Pacific is an archipelago of more than 300 islands. 
For the couple looking for the ultimate romantic experience, Fiji has everything to offer you, as it is home to many romantic resorts where couples can relax on secluded sandy beaches.
Fiji offers luxury resorts and stunning hotels, beautiful beachfront, and lush green nature, and the people of Fiji are known for their warm hospitality. 
There are so many beautiful and fun places to visit in Fiji such as The garden island of Taveuni, and  Bouma National Heritage Park.
You can also visit many islands in Fiji including Yasawa Islands, Mamanuca Islands, and Qamea Islands.
Cuba
The beautiful Caribbean island of Cuba! Known for its white sandy beaches and tobacco fields, this honeymoon destination is all about fun and adventure. Cuba is fast becoming one of the hottest travel destinations in the world.
If you love old historic buildings, and great music, Cuba has the most beautiful old fashioned colonial buildings, live music, and exquisite beaches.
One of the places you must visit in Cuba is Havana, the capital city of Cuba, which is rich in culture and history, stroll the Malecon boardwalk, take a tour of the cigar factory, ride in a classic vintage car, attend a jazz performance and much more.
Santiago de Cuba is Cuba's 2nd largest city after Havana. And it has a great Spanish colonial feel to it. Make sure to pass by Cespedes Park, and the Casa de la Trova to listen to the most beautiful ballads.
Other places to visit in Cuba include Trinidad, Vinales, and Varadero which has many great seaside resorts offering all-inclusive packages for honeymooners. 
Turkey
Turkey is a beautiful mix between Asia and Europe, located on the Mediterranean, with the Black Sea to the north and the Aegean Sea in the west and the Mediterranean Sea to the southwest.
The perfect time to visit Turkey is from September to mid-November when temperatures are pleasant and the skies are clear. Turkey is a beautiful country with blue beaches, colorful bazaars, and historic sites.
Istanbul, the capital, is one of the most beautiful cities in the world, it is a place where east meets west, it has a beautiful culture, historic sites, and vibrant nightlife.
While in Istanbul make sure to visit Blue Mosque, Süleymaniye Mosque, and Hagia Sophia.
Turkey is known for its stunning Bosphorus where you can take a fun cruise and enjoy the magical views.
There are many stunning cities and villages in Turkey, for example, Antalya, known for its historical ruins and beaches, Oludeniz and Fethiye have the most beautiful blue coasts.
Kusadasi is a cosmopolitan resort town, with great beaches, and great shopping and fun nightlife.
Other places to visit in Turkey are Marmaris, Bodrum, Cappadocia, and Cesme.
Egypt
Egypt is one of the most beautiful and unique destinations that can be chosen to spend a special honeymoon time, as it has everything that any couple can dream of, and the most important thing about a honeymoon in Egypt is that it suits different tastes and budgets.
Choosing a honeymoon destination is an important matter for every couple, as every couple wants to spend a romantic and quiet time together.
Egypt has so many places to visit and things to do on your honeymoon, there are so many different activities to enjoy as well, some of the activities available to honeymooners in Egypt include safari trips, boat rentals, diving, fishing, Nile cruises and many more.
Read more about honeymoons in Egypt here.