The Top Chocolate Shops in Abu Dhabi
Getting married soon?
Looking for Chocolates?
Let's help you find the right supplier.
Get Offers Today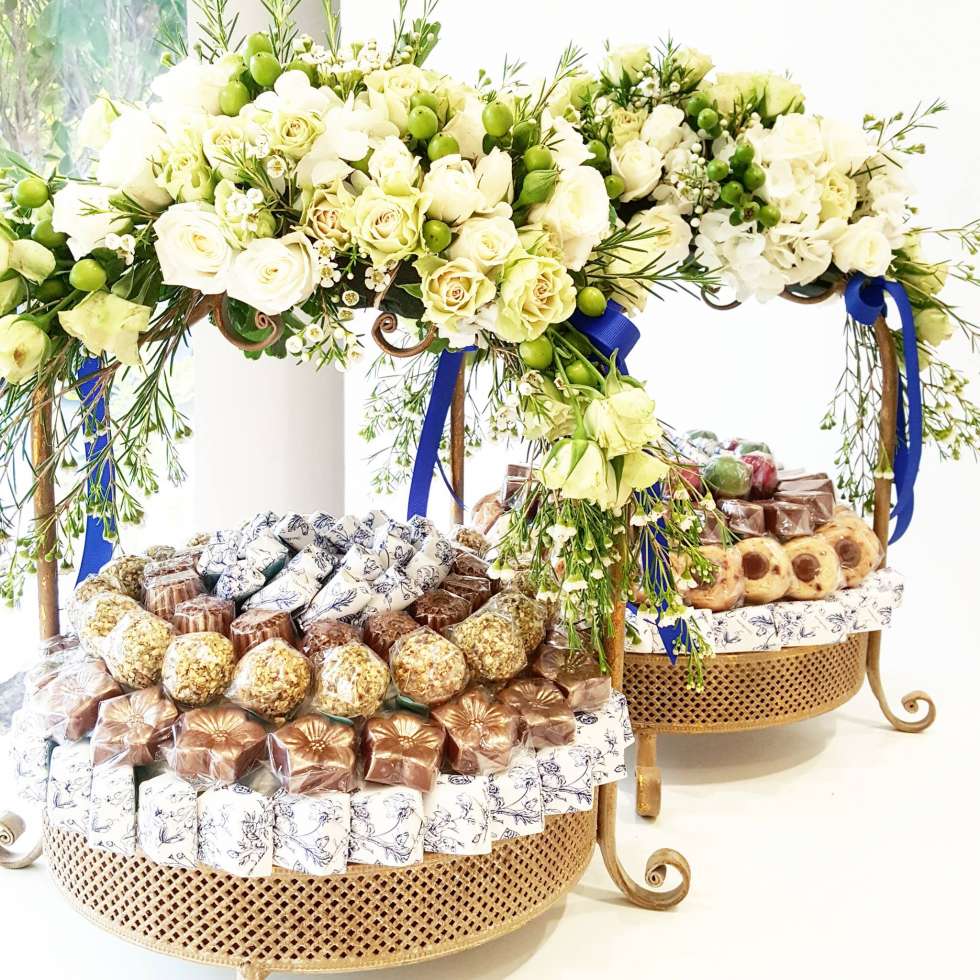 Chocolates are a major part of every celebration, especially in the Arab world, where chocolate is presented to guests on every occasion to celebrate happy moments.
There are many catering companies in Abu Dhabi that offer amazing and unique services to suit every wedding theme and style.
That is why some of the world's best chocolate shops are based in the Middle East. You will find the most beautiful, unique, and luxurious chocolate arrangements, chocolate trays for different occasions made from high-quality chocolates at these chocolate stores. You can also order customized chocolate wedding souvenirs in Abu Dhabi and giveaways to present to your wedding guests from these shops. 
In Abu Dhabi, there are some amazing chocolate boutiques and shops that create the most beautiful chocolate arrangements, chocolate trays, and wedding souvenirs, such as Godiva in Yas Mall, Laderach in Yas Mall, and Patchi in Abu Dhabi Mall and Yas Mall.
There are also some great chocolate shops in Dubai, but if you are looking for some of the best chocolate shops in Abu Dhabi here is a list to help you out.
"RAQY" is superlative of elegance and class, Emarati chocolatier ARAQY sweetens your life with a unique range of premium artisan chocolates presented in a modern universe.
Add unique charm and romance to this exceptional event with Araqy's wedding collections of artistically built podiums, chocolate souvenirs, and well-trained staff to help celebrate your special day. 
Bostani offers a full range of chocolate delights, they offer a rich assortment of high-quality chocolates that can be customized to suit your event.
Shaped chocolate for your occasions promotional chocolates that can be carved and shaped into anything you want for your wedding.
Each one of their chocolates is dreamt up and handcrafted by expert chocolatiers. They also offer a wide variety of dates filled with delicious nuts and flavors.
Chocoblooms chocolatier is a  new concept of chocolates and gifting, blooming in the heart of Abu Dhabi with beautiful chocolate arrangements made delicious ingredients.
Nearly 100 years after being founded in Brussels, they continue to honour their Belgian roots by ensuring that every piece of Godiva chocolate is bursting with quality, Belgian craftsmanship, and wonderful ingredients. 
Godiva continues to build its worldwide presence and footprint through expansion into new and wonderful creations, innovative new tastes and plans to launch 2,000 Godiva cafés around the world.
Their chocolate is created from a very special recipe, and scour the globe to find incredible cocoa.
They offer the best chocolates to suit every taste and style, from traditional to modern chocolate arrangements. They are also famous for their famous Omani desserts.
They care about every little detail when it comes to making chocolate, they have chosen the best cosmopolitan team who is expert in making chocolate, a team that receives constant training and development, and always have a positive attitude towards customers.
Many elements meet to reach the same goal, best international ingredients, the state-of-art manufactory, modern sale-shops all around the country, reasonable price, and beautiful packaging, all combined to present tempting delicious chocolate for all chocolate lovers.
The chocolate family has stood for top-quality handcrafted Swiss chocolate and confectionery specialties since 1962. The family company has more than 1000 employees and is headquartered in the canton of Glarus in Switzerland. Since September 2012, Läderach has been producing its own chocolate mass. This means that they are one of the few premium producers that can guarantee sustainable quality from the cocoa bean to the end product.
The company produces exclusively in Switzerland. Their artisanal products are currently sold in over 80 Läderach chocolates in Switzerland, Germany, the UK, the USA, and Canada, as through sales partners in the Middle East and Asia.
Introducing the taste of Arabia. They are keeping the high quality and pure contents of ingredients. The chocolate creating by very experienced hands from their own factory. The riches of taste will attract you again to their showrooms all over the Middle East. They use their own special ingredients giving them a variety of taste. 
Designed for the production process to be transparent, you can experience every aspect of chocolate making at their chocolate factory, from roasting the cocoa beans to hand wrapping each bar. Their single-origin collection is crafted from beans originating from Vietnam, Indonesia, Madagascar, Papua New Guinea, and India.
Create the perfect touch to your celebration, graduation, wedding, baby shower, anniversary or just to celebrate life.
Innovation. Trendsetting modernity seamlessly balanced with heritage. A true passion for premium chocolate. Savoir-faire. Remarkable experiences. The sharing of exquisite moments. A celebration of quality and handmade craftsmanship. Patchi is all this and much more.
Celebrations are simply better with Patchi. Share the joy of life's milestones with handmade chocolates and luxury chocolate gifts. Assortments that paint a picture. Vast collections of trays, hampers, and boxes. Sublime design and decorative touches united with premium milk and dark chocolates and souvenirs.