The Top Chocolate Shops in Swefieh Amman
Getting married soon?
Looking for Chocolates?
Let's help you find the right supplier.
Get Offers Today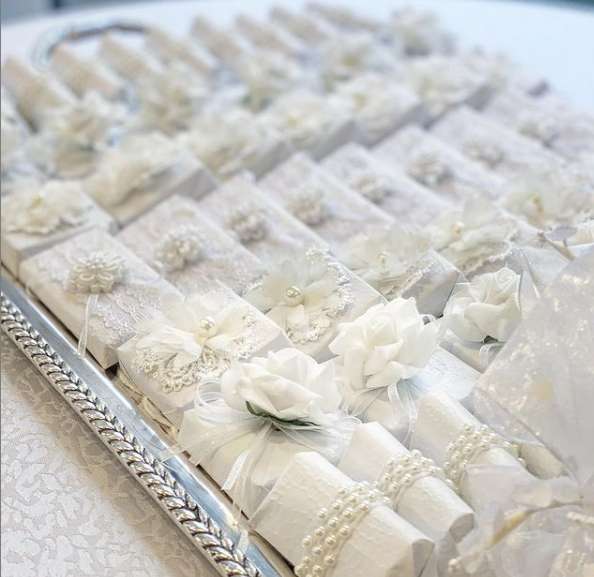 Food and dessert are a very important part of every wedding and celebration, brides are always making sure they choose the best menu and catering for their wedding, and most brides like the part where they get to choose their wedding desserts and chocolates, these days brides love to get creative with their wedding desserts and wedding chocolates.
Some brides like the idea of having wedding chocolates as wedding favors, while others prefer having them served throughout the wedding on trays, another idea is to have your chocolate places on the dessert table for your guests to pick and choose from.
Amman the capital of Jordan is filled with the most talented and creative places for wedding chocolates and there is also plenty of amazing wedding favors shops in Jordan.
But because we know how brides are always busy and don't have time to look for wedding suppliers and vendors, we are here to help you out, if you are looking for some amazing chocolate shops in Amman, there are many that offer you top quality chocolates for all your events.
Swefieh is a very popular area in Amman and it is considered to be one of the areas filled with shops, boutiques, and shopping centers, so it is only normal that Swefieh has many chocolate shops as well.
Here you will find the best chocolate shops in Swefieh, Amman.
Located in Sweifieh Ali Nasooh Al Taher Street, Al Baraka Farms is a family-owned and operated business.  Since 1989, the Naber family has been growing premium quality dates and this passion has been transferred from father to his children, continuing to be the working foundation for Al-Baraka Farms' success.
Al Baraka offers dates and chocolate arrangements they also offer delicious dates covered in chocolates for all your events.
Al Fursan is one of the most popular and oldest chocolate shops in Amman, they also have beautiful home accessories and gifts for every occasion.
Bousheyeh Chocolate is the cultivated efforts of the founders to meet the needs of you to share with you, your occasions and happy moments with chocolate that melts to give you the best feeling to match your occasions.
Bousheyeh was founded in 1980 by Abdelhadi group, with its 2 branches in Sweifieh and Gardens.
Bousheyeh moved from importing its chocolate from Lebanon to having a self-owned factory that serves Bousheyeh Stores and serves for private labeling for big companies and industries.
Their chocolate is customized to match your taste and occasion. A variety of samples are available and we are more than happy to work with their designers to help you choose the best chocolate to represent your company.
Chez Hilda is a family run and operated business since 1987.
Chez Hilda is your one-stop-shop for all things delicious. They specialize in handcrafted cakes, pastries, chocolates, and much more!
La Roche is proud to let you enjoy its treasure of  Forty Years of Experience in chocolate manufacturing.
Qura Chocolate factory, La Roche was established in Jordan as a family-owned business in 1993 by Mr. Yacoub Qura.
Following a differentiated strategy that focuses on offering world-class quality chocolate, innovative services, and competitive offers tailored to meet its customers' needs. 
Innovation. Trendsetting modernity seamlessly balanced with heritage. A true passion for premium chocolate. Savoir-faire. Remarkable experiences. The sharing of exquisite moments. A celebration of quality and handmade craftsmanship. Patchi is all this and much more.
Patchi is a refined mix of exclusive know-how in chocolate arrangements, trustful qualitative premium taste chocolate, and a refined selection of valuable items, with dedicated attention for every occasion and celebration.
Royal Chocolate came to satisfy a niche market, one that is looking for unique chocolate designs and home accessories.
At Royal Chocolate, they listen to your needs and work hard to ensure that the final end product is according to your requirements. They create fabulous wedding chocolates that will leave a lasting memory for everyone to remember.
From Arabic sweets, delicious chocolates, Turkish delights, to dried fruits, dates, and cookies, Samiramis has it all in one place for you.
Located in Park Plaza Swefieh, Venchi Chocolates has many different delicious chocolates for all your events.
Establish in 1878 Venchi Chocolates also offers delicious gluten-free, sugar-free chocolates.
At Victorian Chocolates they believe that every occasion is special, they know that sharing these occasions makes them unforgettable and extra special, and they want to be there to help you crown your special occasions.
Victorian is committed to providing a royal selection of high-quality Belgian chocolate, favors, and gifts as well as unique customer service so that every celebration can be a once-in-a-lifetime event. 
White Chocolatier offers chocolate decorations for all occasions, and souvenirs for your loved ones as well.
Zalatimo Sweets Company established itself in Amman, Jordan in 1986 and has since.
Their mission is to create and sell high-quality gourmet products offering value for money with excellent customer service
Zenbarakji has been known for decades for their delicious sweets and chocolates, they use high-quality ingredients to create the most delicious desserts and chocolates.