Beach Wedding Bouquets Ideas
Getting married soon?
Looking for Florists?
Let's help you find them.
Get Offers Today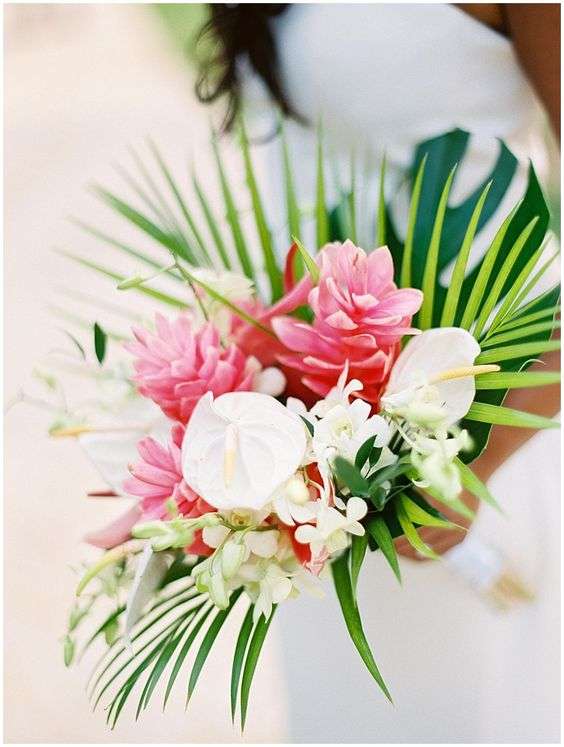 Are you planning on saying 'I Do' on the beach? If you do, then you should choose a bridal look that compliments your wedding venue.
Beach weddings have one amazing advantage, and that is that they already have a magical backdrop, be it white sand, blue clear waters, or beautiful nature, the beach offers a more relaxed feel to weddings.
If you are planning a beautiful beach wedding, you will find here some beautiful Beach-Inspired Wedding Decoration Ideas!
Now a beach wedding means you need to look for beach wedding ideas. Other than the wedding decorations and theme, you will need some ideas for a beach wedding cake, and beach wedding centerpieces, and consider your wedding bouquet as well.
For brides who are looking for ideas for beach wedding bouquets, you can find inspiration in all the beautiful details at the location you are getting married to - the dreamy sunsets, the blue waves, or perhaps the green palm trees lining the beach. 
For the style of your beach wedding bouquet, you can select one from these vibrant tropical bridal bouquets, or go for a modern bouquet, or a nautical bridal bouquet, but in general, you need to keep it simple and more casual. See Bridal Bouquets for The Minimal Bride.
For the ultimate beach wedding bouquet, feel free to add some beach-inspired details such as seashells or starfish.
So get creative with your beach wedding bouquet, and let us help you out by giving you some inspiration. Take a look at these fabulous beach wedding bouquets we love:
Fresh Greenery
For a simple and fresh beach wedding bouquet go for fresh greenery and some white florals, keep it small and easy to carry to go with the relaxed theme of your beach wedding.
Take a look at the wedding of Nadia and Ibrahim's Beach Wedding in Lebanon.
All White Bouquet
You can never go wrong with an all-white wedding bouquet no matter what wedding theme you are having, especially if you are having a beach wedding, a white wedding bouquet is not only beautiful and timeless, but it also compliments the white sandy beach, your beautiful wedding dress, and the clear waters.
See more from this Minimalistic Wedding at The Dead Sea!
And make sure you check this Lovely Wedding at The North Coast in Egypt.
A Boho Chic Bridal Bouquet
Nothing suits a beach wedding more than bohemian vibes, that freestyle and relaxed theme are perfect for a beach venue, we love the idea of a beautiful bohemian-inspired wedding bouquet for brides getting married at a beach venue.
Check out this charming Egyptian wedding in Cyprus!
Unstructured Wedding Bouquet
For that natural effortless look go for an unstructured wedding bouquet! A beautiful freely-styled bridal bouquet is perfect for a beach wedding.
See more from this romantic beach wedding in Cyprus!