How to Choose Your Wedding Songs
Getting married soon?
Looking for a DJ or Entertainers?
Let's help you find them.
Get Offers Today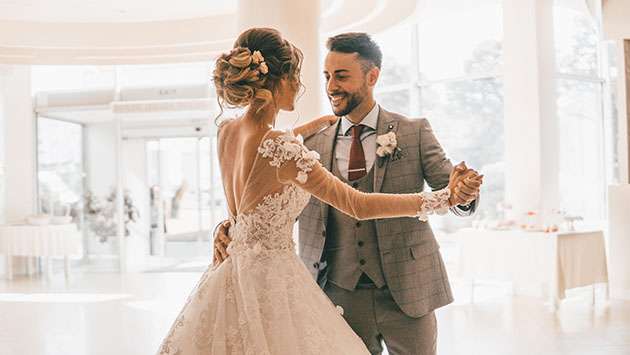 Music is what makes or breaks any party, your wedding songs are a very important part of your wedding.
When you are done with the main wedding tasks, such as the location, food, guest list, and even your wedding dress, it will be time to pay some attention to your wedding playlist.
When it comes to weddings, music is one of the most important elements there is. A wedding with bad music is a lifeless boring one, so make sure you don't fall into that trap.
But how can you choose your wedding songs and make sure everything goes as planned? Make sure you give enough attention to your wedding songs and work with your DJ to create a list of wedding songs that you approve of.  And to make sure everything goes as planned try to give your DJ some last-minute details and plans at least 2 weeks or less before your wedding day
Music is very important to set the atmosphere at your wedding, so to help you make the best choices, follow these tips we have for you from choosing the perfect wedding songs and dealing with your DJ.
Take a look at these helpful tips to make sure you have the perfect wedding playlist.
Pick The Perfect Song
Pick your main songs: Don't forget to pick songs for your wedding entrance, first dance, wedding cake cutting, and even a father-daughter dance.
Hear them out: If you are planning on booking a singer or band, make sure you hear them play live. Don't book a singer or band based on recommendations only.
Ask your friends and family to give you ideas for songs to play as well.
Details to Give Your DJ
Your 10 most important plays: List the 10 most important songs you want to be played at your wedding.
Your 10 do not plays: This will help you avoid dancing to songs you hate.
A-List of the major moments along with their songs: Your first dance songs, your bouquet toss song, your cake cutting song, and all the moments you want to focus on.
Your traditions: If you want a certain traditional dance that requires a special song, then please provide it to your DJ ahead of time.
 Think of booking your DJ one more hour than your wedding is supposed to take. You need to discuss this with him, as some DJs ask for expensive fees if the wedding takes longer than expected.
Plan Early: Book your DJ early enough before your wedding, and start writing a list of songs you want, which you can keep adding to whenever a song comes to your mind. Check our song selections here.
Wedding Music Mistakes to Avoid
Not meeting the DJ: Some couples book their DJ but don't meet him until their wedding. Meeting the DJ before booking him will give you a chance to feel more comfortable and reassured, it will also give you a chance to explain exactly what you want.
Not checking the venue: Some venues have restricted sound levels and end-time policies.
Placing the DJ far away from the Dance Floor: The DJ needs to be placed next to the dance floor. It will help him stay in contact with the bride and groom and feel the guests' vibe.
Not writing a list of songs: Sit with your partner and write a list of songs you want to be played during your wedding and make sure your DJ plays them between songs throughout the wedding. You should even write a "Do Not Play" list of songs you don't want to be played at your wedding, it's your wedding after all!
Playing one kind of music: A perfect wedding playlist should have a mix of English and Arabic, both old and new songs so that all different age groups and tastes can have fun.
Choosing a long song for your special dance: A long song can be boring to your guests, so consider having a shorter song for your first dance.