Outdoor Wedding Venues in Abu Dhabi
Getting married soon?
Looking for a Wedding Venue?
Let's help you find the right one.
Get Offers Today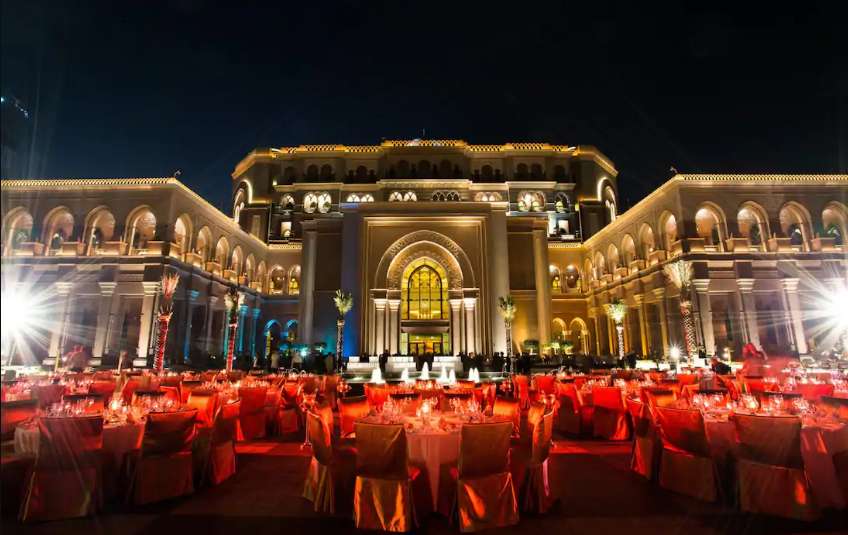 Brides and grooms in the Middle East are always looking for the most unique wedding venues to have their wedding in, and most couples prefer outdoor wedding venues.
Outdoor wedding venues are romantic, fresh, and beautiful in every way, and they are always fun to decorate and create a setup that brides dream of.
You will find different outdoor wedding venues for you to choose from, such as garden wedding venues, and beach wedding venues, it all depends on what you are looking for.
If you are a bride having a wedding in Abu Dhabi, UAE, then you will find many stunning wedding venues there.
Take a look at these top lists:
Abu Dhabi has many beautiful wedding venues to suit every style and budget; from grand ballrooms to intimate beach venues, Abu Dhabi has endless options to choose from. But if you are looking for something more specific such as an outdoor wedding venue in Abu Dhabi, here you will find a list of the top outdoor wedding venues in Abu Dhabi.
Situated along the shores of the Arabian Gulf, the Al Raha Beach Hotel is ideally located to cater to both corporate and leisure travelers alike, with its proximity to the international airport and easy access to the city center and 40 minutes only from Dubai.
The hotel represents the charm of contemporary Arabic décor perfectly blended with the traditional warmth of Arabian hospitality.
Choose from their meeting, conference, and special event facilities located both indoors and outdoors. Enjoy personalized service, attention to detail, and state-of-the-art technology facilities. 
Host your wedding ceremony or celebration at any of their properties, and their flexible indoor and outdoor spaces feature stunning scenery and a welcoming atmosphere.
A beautiful location on a private beach along the Abu Dhabi Corniche overlooking the stunning UAE's landmark, Presidential Palace, is just one of the highlights at the 5 star Bab Al Qasr - Beach Hotel and Resort Abu Dhabi. In addition, imposing architecture and Arabesque interiors complement the magnificent setting where luxury and contemporary comforts reign.
Bab Al Qasr means "gateway to the palace" and the statement Arabic doorway feature of this gleaming copper-tone hotel is just one architectural nod to its heritage.  Numerous elements combine to reflect the essence of Arabia – including accents reminiscent of Bedouin tents and the interlaced geometric designs of Islamic art, as well as a welcoming oasis in the luxurious lobby with palms and a falaj-like water feature.
Guests can unwind with cocktails by the infinity swimming pool and a large private beach. Bab Al Qasr Hotel & Residences features a set of stunning views – a choice of either palace or sea – highlighted by modern, arabesque interiors based on a Moroccan theme and inspired food and beverage concepts. The options for your event here are vast and varied.
Choose your Abu Dhabi wedding setting, from ballroom to savannah to beach.
Desert Islands is unmatched in natural beauty and picture-perfect settings. Exchange vows as the sun set over the Gulf, with resident wildlife wandering by to take a peek at the ceremony. Tailor the perfect wedding package for your Abu Dhabi wedding, from flowers to food to tiered wedding cake. A dedicated wedding planner is on hand to bring your vision to life. 
Your dream beach wedding unfolds on a wide stretch of golden beach. Dine and dance on soft sands into the night. Ideal for up to 1,000 guests.
The lush savannah plays host to your unique wedding. Venture into the wadi for a traditional ritual beneath the stars, or banquet amidst free-roaming gazelle. Ideal for up to 200 guests. 
The beach at Al Yamm lends a rustic feeling to your ceremony. Make your way down a sandy aisle, the sound of ocean waves your wedding march. Ideal for up to 500 guests.
Located in a dazzling natural bay, Emirates Palace is the perfect destination offering a pristine private beach and marina. With its stunning Arabian interiors and legendary five-star service, the resort brings a new experience of luxury to the heart of Abu Dhabi.
Every wedding is uniquely special, but an Emirates Palace wedding is exceptional. Picture a breathtaking ballroom ornate with marble and gold, blending timeless architectural features with modern design, or 85 hectares of manicured gardens and elegant terraces offering the most glamorous venues for weddings in the UAE.
Those looking for an outdoor venue are spoilt for choice. With 85 hectares of beautiful gardens, manicured lawns, and regal terraces, and 1.3 km of pristine private beach, find the perfect spot for your special day.
All outdoor venues boast the backdrop of the spectacular façade of Emirates Palace.
Perched on a collection of more than 200 islands, their cinematic capital city isn't afraid to stand out – and that's just the way we like it. With its distinctive exterior of vertical lines inspired by the colorful textiles of the souks, you'll find our 34-story Hotel on Al Maryah Island a high-end playground for business, shopping, and entertainment. 
Imagine celebrating your wedding in a place that feels like the center of the world. Four Seasons Abu Dhabi delivers the most modern design and indulgent amenities from its setting on the Arabian Gulf – a spot full of beauty and romance. 
Host an intimate meeting, a conference, or even a concert in their 25 world-class event spaces. Their grand ballrooms can accommodate up to 1,200 guests, while their superb outdoor venues include sea-view terraces and a beachfront area able to welcome 700.
Inspired by the glistening Arabian Gulf, Rosewood Abu Dhabi is a palatial luxury hotel delivering peerless extravagance and service to the United Arab Emirates. 
Where the desert meets the sea, a stunning backdrop welcomes couples to plan an unforgettable wedding of a lifetime, exuding true luxury and elegance with deeply rooted local traditions.
Whether you wish to celebrate with an intimate dinner or grand gala, Rosewood Abu Dhabi offers a plethora of refined ways to create that unforgettable occasion.
Dreaming of celebrating your special day in a spectacular setting with magically sweeping views?
Saadiyat Beach Club with its iconic wedding and events venue -which comfortably accommodates up to 300 guests- and a highly experienced team will look after your needs from flowers, decorations, cakes, accommodation, food, and music, to make-up artists, photographers, celebrants, and hairdressers.
Every last detail of your wedding will meticulously be taken care of to bring your dream to life. Much more than just a venue, they appreciate that no two couples have the same requirements and pride themselves on making your day truly special and memorable.
The Ritz Carlton Grand Canal
Escape to a world of Middle Eastern opulence at The Ritz-Carlton Abu Dhabi, Grand Canal. From sunrises over Al Maqta Creek to sunsets that illuminate Sheikh Zayed Grand Mosque, every moment reawakens the senses.
Amid the Venetian-inspired hotel grounds and overlooking the canal and Grand Mosque, weddings at this Abu Dhabi hotel elevate romance to new heights. The journey begins with guidance from the hotel's team of experts.
A dedicated wedding specialist assists with planning and coordination, while the executive and pastry chefs meet personally with every couple to create truly customized menus. In preparation for the big day, brides and grooms can bring out their inner and outer beauty with treatments at the beachfront spa and salon. Indoor and outdoor venues are designed to host guest lists of up to 1,000 people and include a luxurious wedding hall, a sprawling lawn, the hotel olive garden, and a canal-front beach. The Bridal Suite, with a dedicated dressing room and direct access to the Roma Ballroom, allows for a truly grand entrance.
Beach Rotana Abu Dhabi
An award-winning city 5-star resort with a prime waterside location and an enviable selection of modern leisure, dining, and business facilities, Beach Rotana Abu Dhabi is much more than a hotel; it is a one-of-a-kind destination. 
When love is in the air, leave the luxurious details to them. They will help you plan the wedding ceremony of your dreams - and the best day of your life - in an idyllic and majestic setting.
With a choice of two fairy-tale ballrooms with a capacity of up to 1,100 guests, beautiful starlit lawns, and decadent personalized touches, there is nowhere more romantic to say "I do" than at Beach Rotana.
With their tailor-made wedding packages specially designed to meet your requirements, their team is ready to offer you expert assistance, leaving you to look forward to your special day with contentment and confidence.
Located on Abu Dhabi's premier golf course, The Westin Abu Dhabi Golf Resort & Spa is a vital part of the only true golf resort in the capital, offering unique surroundings and a highly attractive location. 
Celebrate your special wedding day on the beautiful grounds of the Westin Abu Dhabi, with delicious cuisine, picture-perfect venues, and personalized service, every detail of your Westin wedding is carefully selected to reflect every dream you have. 
The Westin Abu Dhabi Golf Resort & Spa is surrounded by lush green gardens and wonderful tones making this a superb setting for your wedding photographs. 
A boundless blank canvas to realize your most decadent and daring event dreams. Reconsider your understanding of birthday parties, corporate retreats, brand launches, and weddings as Zaya Nurai's vibrant turquoise waters and sugar-white sands come alive as an astonishing backdrop from which to mold memories, enchant, entertain, and excel. 
Picture an exquisite private island, a magical paradise that showcases mesmeric, satsuma sunsets, and sugar-white sandy beaches, where dolphins frolic happily in tranquil turquoise waters, and supremely-luxurious villas are closed-off havens of serenity and style. This dream-like wedding destination is Zaya Nurai Island.