The Top Abu Dhabi Beach Hotels for Weddings
Getting married soon?
Looking for a Wedding Venue?
Let's help you find the right one.
Get Offers Today
When it comes to choosing the perfect wedding venue, most brides prefer a unique wedding venue, whether it's the decor, view, or other facilities, a bride is always looking for the best wedding venue that will make her day special and one that falls within her budget.
A popular choice among brides and grooms, especially western couples, is a beach hotel or resort because nothing is more romantic than a beach wedding or a wedding with a beach view.
Many Arab countries have some of the most beautiful beaches in the world, and Abu Dhabi is certainly among them. Your wedding pictures will look breathtaking with a beach view and the blue waters behind you.
When it comes to having your wedding in Abu Dhabi, the capital of the United Arab Emirates, there are many beach hotels to consider, as the city is located on an island surrounded by beautiful beaches and water and connected to other parts of the UAE by four bridges.
Check out these amazing Abu Dhabi wedding packages!
To help you out, we picked some of the top Abu Dhabi beach hotels for you to choose from: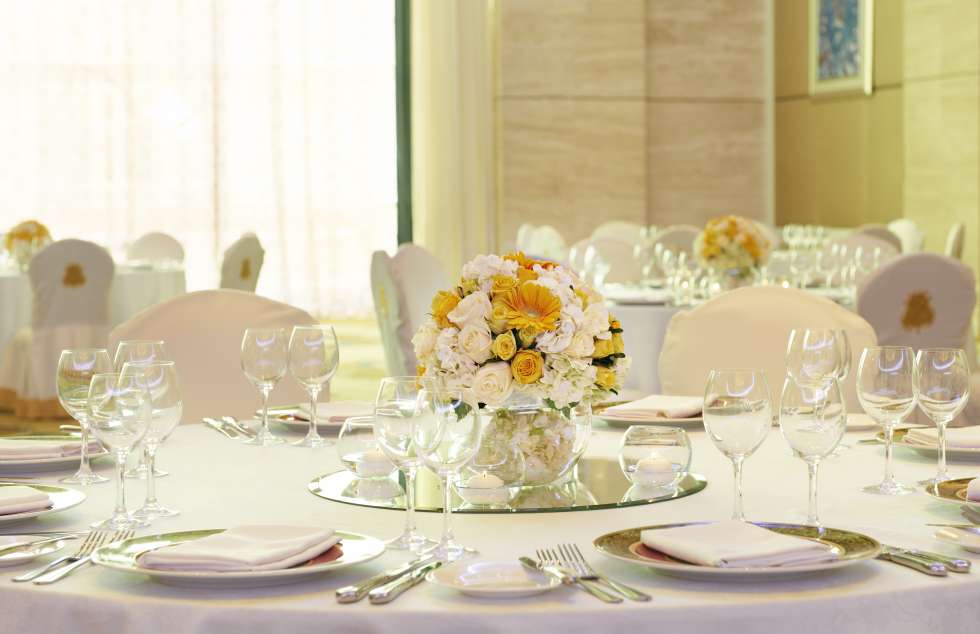 Located in the heart of Abu Dhabi's vibrant Corniche, the St. Regis Abu Dhabi blends authentic traditions with legendary luxury, offering the best services and a variety of menu choices that suit the tastes of different people. The ballroom at the St. Regis Hotel in Abu Dhabi is one of the most luxurious in Abu Dhabi, and is the ideal place for high-end weddings and social events. It is luxurious and elegant, especially with high windows, handmade ceilings and crystal chandeliers creating a charming atmosphere.
The hall area is 1,311 m² and comfortably accommodates over 700 guests for seating and up to 1000 people for receptions. The space can also be divided into three separate rooms allowing the addition of dimensions and flexibility to the events. The ceiling of the 6-meter-high hall features three bohemian crystal chandeliers reminiscent of the Art Deco period.
Along with the warm colors of desert landscapes, this lavish place evokes an air of opulence and style. Located on the ground floor, the hall has its own entrance and is also accessible through the lobby. The hotel offers an elite list of wedding planners to introduce new forms of luxury weddings, where the team ensures that the dream is transformed into reality. The hotel also offers culinary experts to serve a rich menu of Eastern and Western cuisine.
---
For the top Abu Dhabi wedding venues check out this.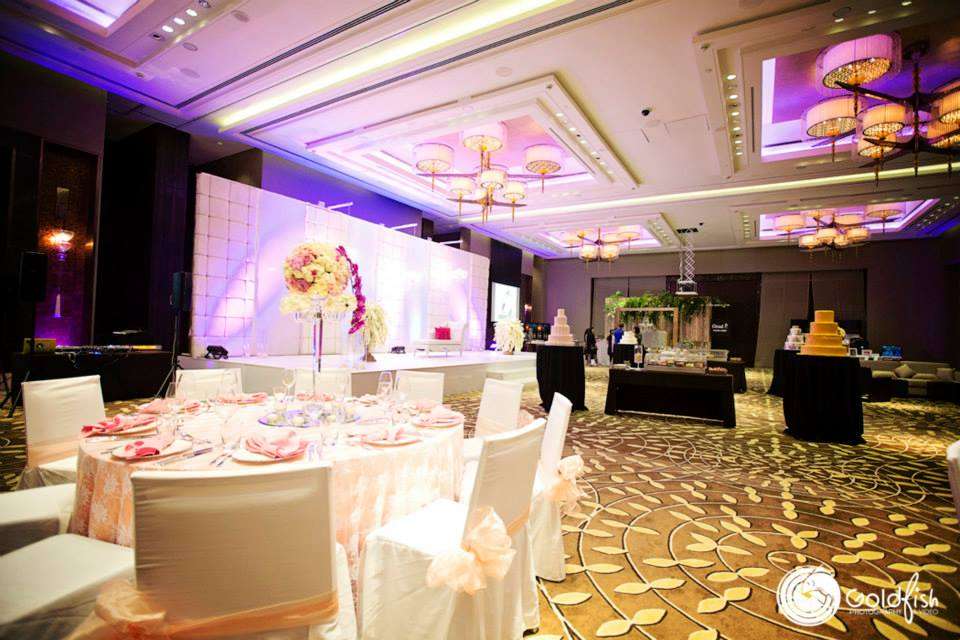 Park Hyatt Abu Dhabi is located on a 9-km private beach on Saadiyat Island in Abu Dhabi.  It offers fantastic views of the Arabian Gulf, landscaped grounds and golf course. The resort occupies a vast area of environmentally protected white sandy beaches of the Saadiyat Beach Golf Club. Park Hyatt Abu Dhabi Hotel & Villas offers an exclusive sanctuary with unique and varied facilities for meeting and hosting special events.
The hotel's main hall has a romantic view of Saadiyat Beach, when you to have a reception at the Yazia Hall. You can also welcome guests to your wedding with a cocktail or a natural treatment session at the spa. Do not forget to have a pre-wedding dinner in one of the hotel's lounges.
The Yazia hall occupies an area of 523 square meters (5629 square feet), which can accommodate 550 guests in a theater seating style. A private entrance, with a high suspension ceiling that increases the sense of grandeur of the place. The hotel offers rates and special offers for all guests attending the weddings.
Shangri-La Hotel, Qaryat Al Beri, Abu Dhabi, is located on the magnificent stretch of the private beach, overlooking the strait that separates the mainland from the island. The Shangri-La Hotel, Qaryat Al Beri, Abu Dhabi is the perfect backdrop for this precious occasion, especially with its spectacular views of the Sheikh Zayed Grand Mosque across the canal.
The stunning celebration hall offers your ideal style for a more intimate occasion. Banquet facilities are also designed at the hotel to meet your requirements. The team will ensure the attention to detail by putting their experience in your hands from the beginning of your wedding to the end of your wedding.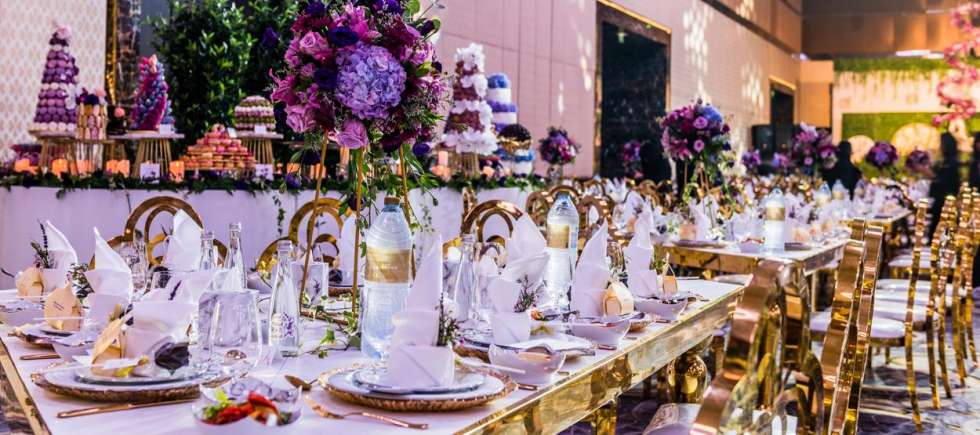 This is one of the most popular wedding venues in Abu Dhabi. Ranging from the beautiful bridal suite to experienced food service providers and a dedicated team of coordinators, the hotel offers you the best services to make your celebration memorable.
You can have a dinner reception for up to 1000 guests at the charming Maison Ballroom, while guests enjoy drinks and appetizers on the spacious terrace overlooking the hotel's stunning lobby.
The magnificent halls at the Conrad Abu Dhabi at Al Ittihad Towers offer the largest banquet facilities in Abu Dhabi, especially with its striking design and elegant architecture.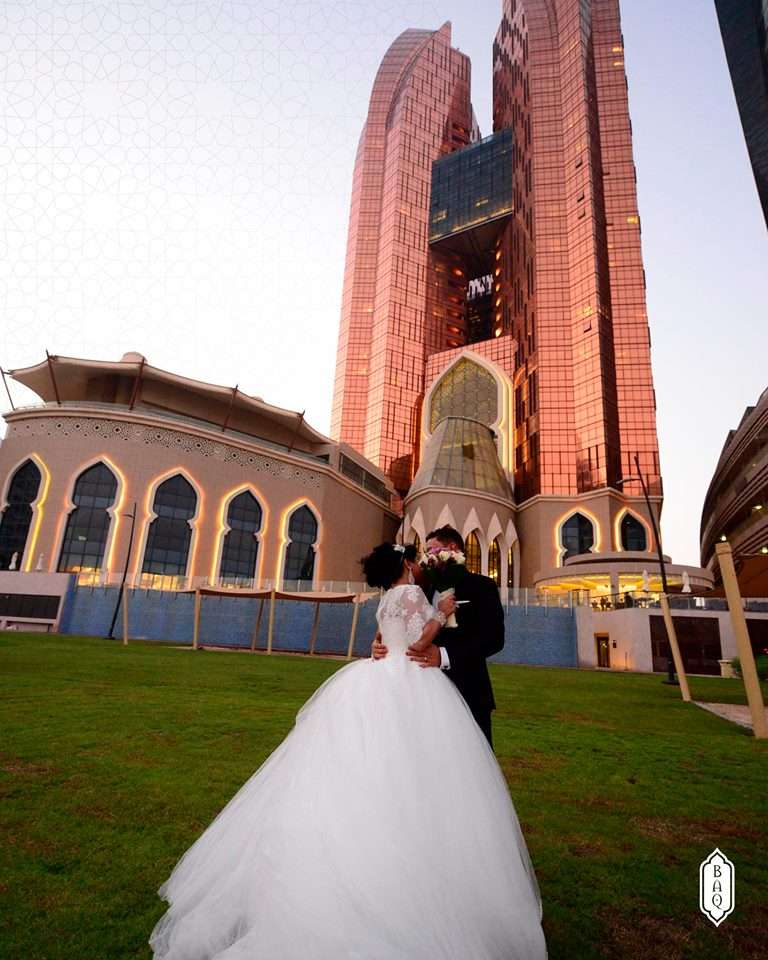 Bab Al Qasr Hotel has one of the largest private beaches in the capital city of Abu Dhabi. The luxurious hotel features spacious spaces with modern Moroccan designs, as well as naturally lit spaces, to form the perfect legendary venue where a dream wedding becomes a reality.
The hotel specializes in custom-made weddings with a range of luxury shows, from the décor of stunning beach entrances to spacious space facilities and showrooms. For those who dream of having a spectacular outdoor wedding, they can enjoy a wedding ceremony on the spacious beach-fronts.
Conveniently located on the Corniche and next to the Presidential Palace, Khalidiya Palace Rayhaan by Rotana is the best place for your events. With their prime location in Abu Dhabi and outstanding facilities, this 5-star resort specializes in wedding and event planning. A dramatic coastline, a breath-taking garden, an amazing indoor space, a stunning pool, and beach area and beautiful countryside, coupled with an abundance of fantastic relaxation and accommodation facilities, it is easy to see why the luxury hotel is chosen by many.
The fantastic events team at the Radisson Blu Abu Dhabi Yas Island has the experience to organize your wedding for all tastes and budgets. Their experienced wedding professionals take pride in anticipating every detail and ensuring that you have your special day, your special way.  With the idyllic Yas Island as the location and stunning views of the Arabian Gulf as your backdrop, couples can choose from 3 different locations: the poolside, garden, and the Galaxy Ballroom. As a gift on your special day, they offer preferential discounts to you and your guests.
Hold a huge traditional white wedding surrounded by family and friends, a simple elegant private ceremony, or something a little bit different for an extra-memorable day — the choice is yours.
Their flexible indoor and outdoor spaces feature stunning scenery and invoke a convivial atmosphere.
Allow Yas Island Rotana to help you create a wedding as individual and memorable as your very own vows at your chosen exclusive venue. From unparalleled catering services to the stunning surroundings of their incredible hotel wedding venue, your special day promises to be beyond your expectations in one affordable celebration.
With a choice of two fairy-tale ballrooms with a capacity of up to 1,100 guests, beautiful starlit lawns and decadent personalized touches, there is nowhere more romantic to say "I do" than at Beach Rotana.
With their tailor-made wedding packages specially designed to meet your requirements, our team is ready to offer you expert assistance, leaving you to look forward to your special day with contentment and confidence.
Whether you desire an intimate ceremony or a grand wedding, every requirement will be attended to with exemplary service. Select from any of the hotel's exceptional venues, each of which offers unmatched views of the exquisite surroundings. These distinct spaces promise to enchant and make your special day one to cherish and remember. The Saqr Ballroom can accommodate up to 1,100 guests, whilst the inspiring Falcon Lawn is a magnificent outdoor function area with lush gardens. 
Host your event at the  25 world-class event spaces. Their grand ballrooms can accommodate up to 1,200 guests, while the superb outdoor venues include sea-view terraces and a beachfront area able to welcome 700.
Amid the Venetian-inspired hotel grounds and overlooking the canal and Grand Mosque, weddings at this Abu Dhabi hotel elevate romance to new heights. The journey begins with guidance by the hotel's team of experts. A dedicated wedding specialist assists with planning and coordination.
In preparation for the big day, brides and grooms can bring out their inner and outer beauty with treatments at the beachfront spa and salon. Indoor and outdoor venues are designed to host guest lists of up to 1,000 people and include a luxurious wedding hall, a sprawling lawn, the hotel olive garden, and a canal-front beach. The Bridal Suite, with a dedicated dressing room and direct access to the Roma Ballroom, allows for a truly grand entrance.