Top Farms to Rent for Your Wedding in Jordan
Getting married soon?
Looking for a Wedding Venue?
Let's help you find the right one.
Get Offers Today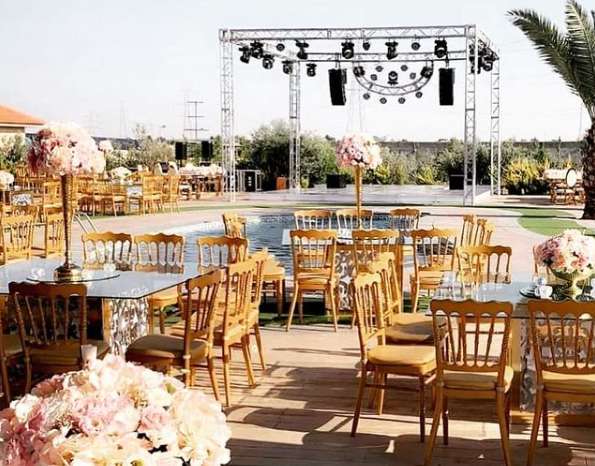 Most brides getting married in summer and spring dream of the perfect outdoor wedding, and if you are getting married in Jordan, then you are lucky to enjoy the most beautiful summer and spring weather, perfect for any celebration.
If you still haven't chosen your wedding venue, we are here to help you out.
Check out the top hotels in Amman with stunning outdoor wedding venues here!
Farms have become a very popular choice among brides this year, as we are seeing many brides choosing to have their dream weddings at one of the beautiful wedding farms available in Jordan.
Check out these beautiful farms to rent that are perfect for your wedding, and choose the one that suits you.
Al Danah Farm in Jalad is the perfect outdoor wedding venue if you are looking for a beautiful view to be the perfect backdrop for your wedding! Get married in Jalad a charming village in Jordan situated nearby to Khirbat al Amin, and close to Wadi al Ghula.
A private farm is located right next to Lagoon Hotel in the Dead Sea, the private villa is located in the Palm Oasis Resort, a gated community in the Dead Sea, Jordan, where security guards are on the watch 24/7.
Blue Haven Farm is beautiful and very spacious it also offers great privacy, perfect for all your weddings and events.
One of Jordan's premier choices for outdoor weddings; BelleVue is conveniently located just outside of Amman in the kingdom's most scenic setting. With views as far as the eye can see, across Jordan and Palestine, the stunning and beautifully landscaped estate will make your wedding day a celebration that lasts forever.
The team of experienced and caring individuals is here to provide unparalleled wedding planning services and to ensure that your needs are catered to. A short twenty-minute drive from Khalda, Amman is all that separates you from a destination that will commemorate your special day through pictures with breathtaking backgrounds and memories that will last a lifetime.
Cedar Farm Jordan
The stunning Cedar Farm is located in Jala'ad, Salt, create beautiful events and weddings at this lovely farm that offers spacious areas and stunning gardens to host your events.
Calla Farm
The very elegant Calla Farm is located on the airport street and is easily accessible.
You can have your wedding outdoors surrounded by the beautiful scenery, or have a special beautiful tent built for your guests to celebrate your wedding in.
Calla Farm is always creating new and wonderful packages for their brides and grooms to enjoy.
Dream Farm
The best outdoor venue for your weddings and events located in Jerash, the luxurious farms offers a large space for all kinds of events.
Flamingo Dead Sea
Flamingo Dead Sea Farm is a beautiful private luxury villa for rent whether for a small event or big wedding, it is 25 minutes away from Amman, located on the Dead Sea highway.
Jude Farm
Jude Farm is located in Madaba near the German University, it is a beautiful villa with a swimming pool and jacuzzi. It is a lovely place to host all kinds of events and parties.
Jerash Farm
Jerash is one of the most beautiful places that is filled with stunning farms, and this amazing farm in Jerash is the perfect wedding venue for you.
Level Farm
Level Farm is simply where thoughts are created to come true. The team there provides a magical hand in arranging your events, to make it better and helping you with the tiny details. 
Their wedding packages include Venue, luxurious buffet dinner, flower arrangements, bridal bouquet, luxury car fully decorated, photography and videography, sound and light systems, and a beautiful dance floor.
Naya Farms not only offers a lovely wedding venue they also help you plan your wedding from A to Z. Have your dream wedding outdoors on their beautiful pool.
The beautiful farm is conveniently located on the airport road.
The beautiful Palma Farm is built to suit all kinds of events, from intimate events to large weddings, the elegant farm is located in Na'ur area, Jordan.
Platinum Farm
One of the most beautiful farms for weddings and engagement parties, it offers a breathtaking venue and lovely pool, the venue offers a spacious location to host your dream wedding surrounded by beautiful greenery, privacy, and of course great weather.
The Greens Farm
Have your dream wedding at this beautiful farm, The Greens Farm is a furnished 12000 Square meters farm in Um Il Amad. Only 18 min. drive from the 7th circle. The Greens Farm offers a spacious venue for all kinds of events, host your wedding around their beautiful pool, and enjoy the nice garden at the venue.
Zain Farm was created and built to host the most beautiful events and weddings, the team of Zain Farm will make sure the venue is perfect and ready for your big day and of course help you will all your wedding needs.