The Top Hotels in Amman with Stunning Outdoor Wedding Venues
Getting married soon?
Looking for a Wedding Venue?
Let's help you find the right one.
Get Offers Today
Outdoor weddings are always a favorite for brides and grooms, particularly in Jordan, where the high wedding season starts from spring till the end of summer. Brides and grooms getting married over the summer in the capital Amman, tend to prefer outdoor wedding venues, as the weather at night is normally beautiful. 
Many hotels in Amman offer beautiful outdoor venues that are perfect for Jordan weddings and engagement parties; each wedding venue has it's a unique style and feel.
Don't forget to book one of the best wedding planners in Amman for your wedding!
It is also easier to plan a wedding at a 5-star hotel which offers the couple professional services in many different aspects - catering, parking, security, cleaning... to name a few. 
To help you decide on the perfect wedding venue, here are 6 stunning outdoor hotel wedding venues in Amman for you to choose from:
The grand terrace at the Four Seasons Hotel in Amman is an elegant wedding venue, which features granite marble floors and beautiful blooms and plants.
On the terrace there is a beautiful water fountain that is serene and romantic. The terrace can seat up to 500 guests, and can have 800 guests for a reception or cocktail party.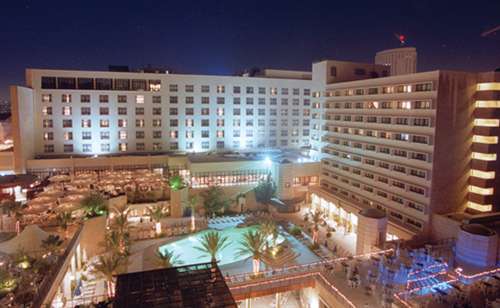 An oasis of modern luxury, this Amman hotel is perched on one of the city's seven hills in the heart of the diplomatic district. The hotel offers one of the largest outdoor hotel wedding venues in Amman. Have your luxury wedding around the beautiful InterContinental pool, and celebrate your dream wedding surrounded by your loved ones.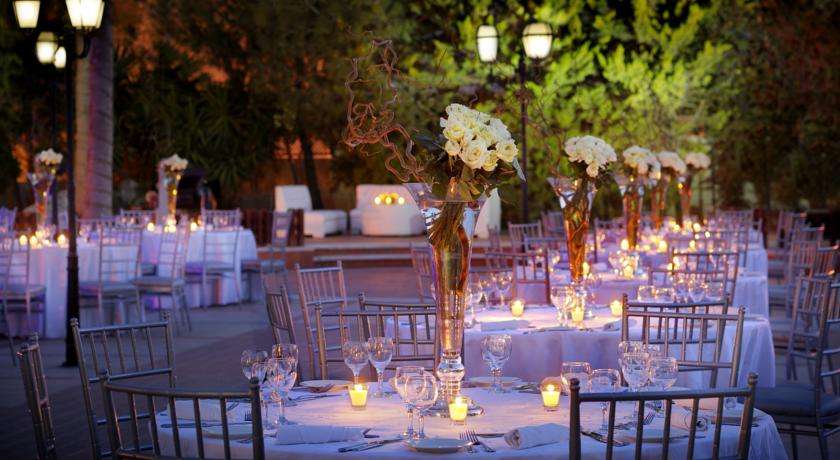 The Marriott Hotel's garden, also called the "Summer Garden", is a beautiful outdoor venue for summer weddings in Amman. It's the perfect place to ensure a memorable day in a beautiful open-air atmosphere accommodating up to 700 guests in a banquet seating style and 400 in a reception seating style. With the picturesque views that surround the garden, your dream wedding will turn into a living fairytale. 
The hotel also offers wedding planning services to help brides and grooms plan their dream wedding.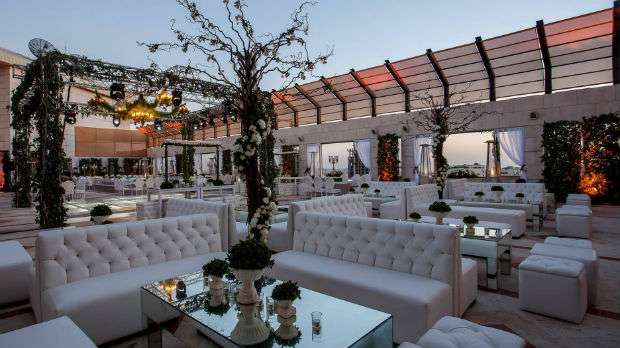 The Sheraton Hotel's terrace offers a spacious place for 300 wedding guests, with a stunning view of Amman. The terrace is located on the 7th floor which makes it a magical place for a summer wedding.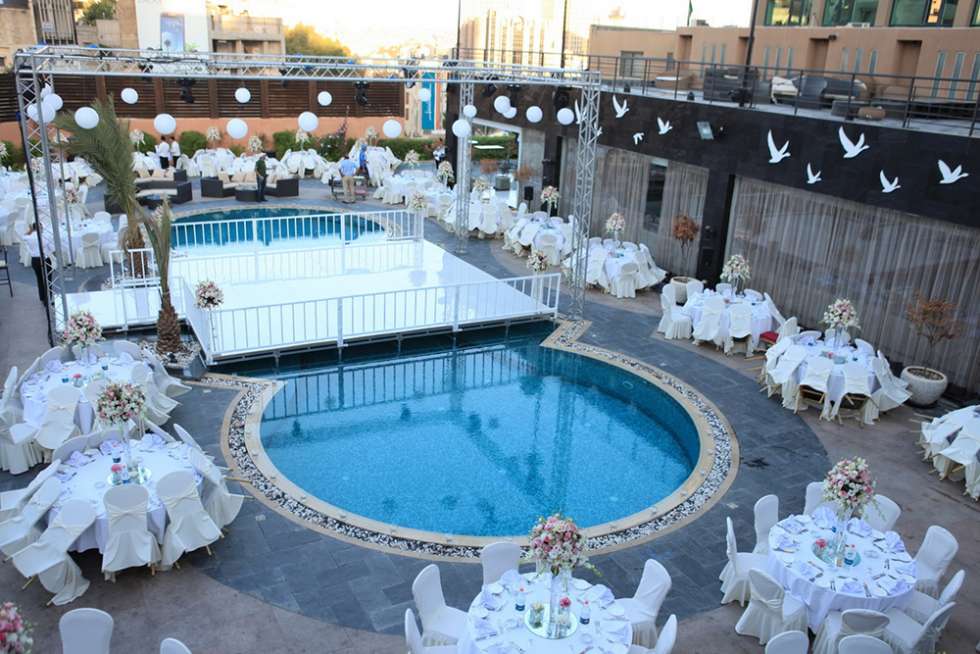 The Landmark Hotel pool area is a great venue for weddings or engagement parties. The venue's capacity is between 200 to 300 guests who can be seated on elegant round tables.