Top Wedding Celebrants in Dubai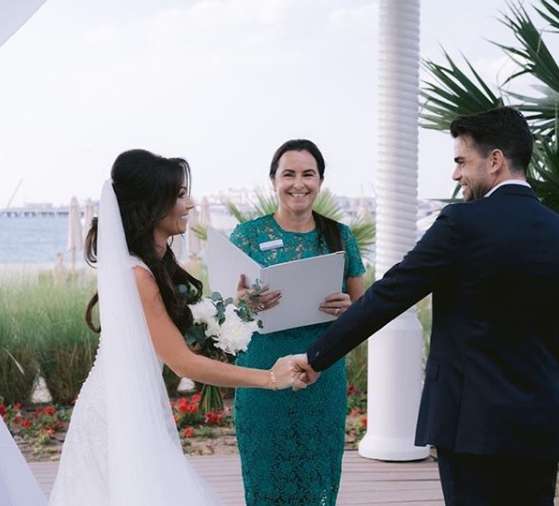 Many couples from around the world decide to have their dream wedding in Dubai, as Dubai is centrally located and has amazing wedding venues and iconic locations. Dubai is also home to some of the best wedding planners in the world, who create luxurious and magnificent weddings.
But there are also many couples who want to get officially married in Dubai and have a Dubai wedding, so before you start looking for the perfect wedding venue, or the right wedding planner, you should book the best wedding celebrant in Dubai to marry you and your loved one, or perhaps to renew your vows.  Keep in mind that tourists cannot officially marry in Dubai, one of the couples has to be a resident, once you have officially gotten married at a court, or a registry office, you can book a wedding celebrant that will create a beautiful ceremony for your wedding day.
Having a celebrant conduct a wedding is still not that common in the UAE and in the Arab World, but it is definitely becoming more popular among brides and grooms especially those who are having a destination wedding in Dubai.
Here is the most helpful guide on getting married in Dubai, click here to check it out!
As you might not know many wedding celebrants or wedding officiants in Dubai, below is a list of the top marriage celebrants in Dubai, so take a look. 
AG Celebrants
Wedding Celebrants, William and Jenny are a husband and wife team operating between Lincolnshire England, and Dubai. They both believe that finding the right Celebrant to help you say "I do" and one who understands the needs and imagination of the couples involved, is of the upmost importance.
Trained by the UK Society of Celebrants, William and Jenny specialise in life event ceremonies including wedding blessings and vow renewal. 
AG Celebrants will work alongside you both to create the perfect tailor-made ceremony. No two ceremonies should ever be the same as no two couples' love stories are the same, believe William and Jenny. 
Affinity Fair
Zu Gatward is a trained celebrant and was a registrar, marriage officer, and registered celebrant with the Kent County Council in the UK for 3 years. She has been living in Dubai for the past 10 years. 
Ceremonies by Karen
Karen strives to create wedding ceremonies that reflect the personalities of the bride and groom. She specializes in weddings in both Dubai and the UK.
Your wedding will be whatever style you want, whether it is cool, traditional, relaxed, fun, or elegant, basically whatever style you choose! Choosing the right team for your wedding means that you have a lot of options, you can hold your party at any time you prefer, in any place that is meaningful to you, and in whatever atmosphere you want to create for you and your guests!
Flo Akinbiyi
Flo Akinbiyi is an exotic mix of Nigerian and German roots who has been enjoying life in Dubai for almost a decade.​ With a strong track record of success in the experiential marketing territory, he has the ability to build an emotional connection between brands and their customers. 
A dedicated member of 'Toastmasters International' with numerous MC engagements, various hosted conferences, and performance history in coaching competencies, makes him an outstanding public speaking expert.
Gareth Noble
Born and raised in Africa, Gareth believes, "community, connection, and spirituality run deep through our veins – I think that is why I love to celebrate the journey of two people becoming one."
However formal or informal you choose to make your momentous occasion, Gareth will guide you all the way. He creates the style and structure of the ceremony and the vows that best reflect you and your partner's feelings and tastes.
Theresa D Wedding Celebrant
Theresa Du Toit is an Award-Wining International Destination Wedding Celebrant based in Dubai.
Apart from conducting wedding ceremonies and vow renewal ceremonies in the UAE, she has also conducted ceremonies in Sri Lanka, Bahrain as well as South Africa.
She is absolutely passionate about Love and Marriage and believes every ceremony should be a celebration, reflecting your personalities and love for each other. Whether it's at the iconic Burj Al Arab hotel with 300 guests,  on a beach, in a garden, or under a tree in the desert with just 4 people, it's to be a wonderful celebration of love.
"If I could conduct a wedding ceremony every day of the week, I would be in 7th heaven!"
So, if you are looking for a passionate wedding celebrant, you have just found her!