Amazing Flower Arches for Weddings
Getting married soon?
Looking for a Wedding Venue?
Let's help you find the right one.
Get Offers Today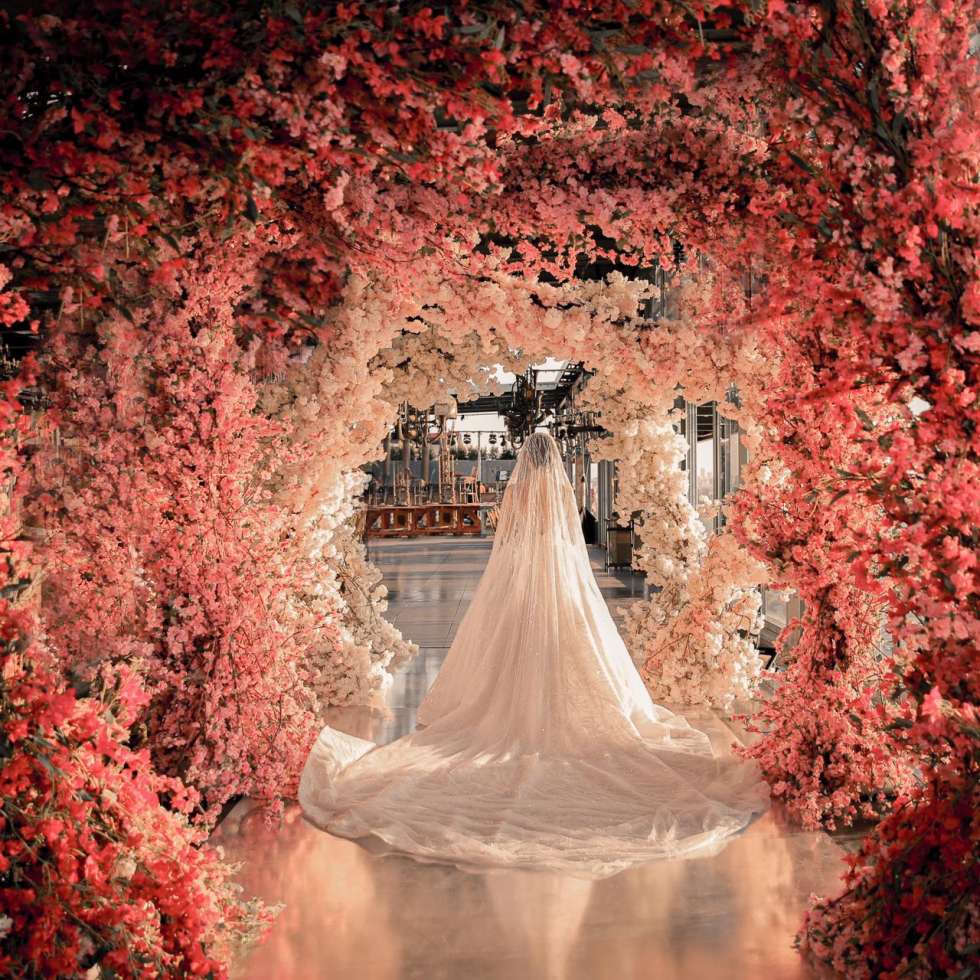 Transform your wedding setup with just one statement piece, a wedding arch! Flower arches for weddings have been trending for years, and are a very classic and traditional detail at weddings, but wedding planners and florists are taking new takes on this classical piece, whether it is the use of non traditional materials or asymmetrical designs​,​ there is always a new creative way to have floral arches at your wedding.​ Floral arches for weddings also create stunning backdrops for wedding pictures.​
A floral arch wedding design can create a focal point for exchanging your vows, or ​it could ​be placed at ​the entrance of the wedding ​venue, or​ any ​where at your wedding ​as you prefer.
Check out: Ideas for Beautiful Beach Wedding Arches
What is great about flower arches for weddings is that they go with any setup or wedding theme, such as a minimal floral arch for a minimal simple wedding​,​ or an overflowing floral arrangement for that luxurious wedding you have dreamt of​;​ just make sure all your wedding decor and florals come together nicely.
There are so many ways to have floral arches for weddings using different materials such as greenery, garlands, and artificial flowers for wedding arch​es​.​ ​Take inspir​ation from​ your wedding venue and ​the ​season ​you are having the wedding in, to select the flowers you will be using for ​the​ wedding arch.
Here are some beautiful flower arches for weddings that we love:
White Flower Arches with Greenery
Keep it simple and classic with a white flower arch. For this seaside wedding in Qatar, the catwalk leading to the kosha stage was lined with beautiful white flower arrangements.
The kosha was centered below a canopy framed in white drapes and decorated in white flowers. Two floral arches on both sides of the canopy added a beautiful visual effect. 
Pink Ombre Flower Arch
Imagine walking into your wedding through beautiful pink ombre floral arches!
The main masterpiece at this Lebanese wedding was the breathtaking floral arch, which decorated the entrance of the venue, just like a magical portal leading into a new world.
All White Flower Arches
White is known to be a "bridal" color; you can't go wrong with white details for a wedding anytime anywhere.
For this All-white wedding in Amman lush all-white flower arches were placed at the entrance for the bride and groom to walk through into their wedding.
Pastel Flower Arches
We love these pastel flower arches spotted at a floral pastel wedding in Amman!
The entrance of the wedding venue was elegantly decorated with lovely floral arches to greet the wedding guests as they entered the main celebration area.
Blush Pink Flower Arches
This pink alfresco wedding in Amman was filled with lush and breathtaking pink flower arches. One was placed behind the stunning wedding cake, while a series of pink arches caught the guest's attention as soon as they made their entrance into the wedding. 
Bright Blue Flower Arches
For an out-of-the-box wedding setup, this blue alfresco wedding in Amman had wonderful bright blue arches.
The wedding venue was filled with an abundance of blue flower arrangements; exquisite hydrangea flowers and smaller-sized blue arches decorated the tables, and those wonderful blue flower arches created the magical paths.
Baby Breath Arches
Nothing is more delicate than walking down the aisle through baby breath arches to say your I Dos!
This floral wedding ceremony was charming in every way; the highlight was an abundance of white floral arches colliding together to create a statement-worthy aisle paving the road beautifully for the couple to tie the knot into happily ever after.