Stunning Hydrangea Flowers for Weddings
Getting married soon?
Looking for a Wedding Planner?
Let's help you find the right one for you.
Get Offers Today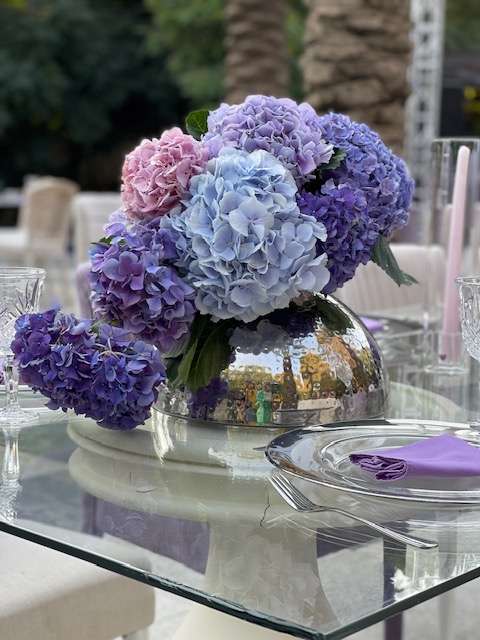 Hydrangeas are among the top popular and favorite wedding flowers among brides! We have seen many gorgeous wedding decor using this beautiful compact flower. 
Why should you choose Hydrangea for weddings? Because they are lush and absolutely gorgeous.
Hydrangea weddings are perfect no matter what your wedding theme or style is; from romantic and classic, fun to whimsical, they are simply perfect!
Hydrangeas come in all different shapes and colors. The blooms colors are what really make the hydrangea stand out. They range from pink to blue, including all shades of lavender to violet to purple,from white, blue, to pink, red, and green. Hydrangeas will simply take everyone's breath away.
Hydrangea for weddings is a great choice because they are usually available during summer to late autumn, and they are budget-friendly.
Also, check out: Stunning Flowers for a Desert Wedding
Take a look at these lovely hydrangea weddings ideas we have for you:
White Hydrangeas
White, as you know, is a "bridal" color; you can't go wrong with white details for a wedding anytime anywhere. We love how white hydrangeas were used in this stunning all-white wedding in Amman by wedding planner Lina Dakkak.
Click here to see more from this all-white wedding in Amman!
Pastel Colored Hydrangeas
Pastel colors are always so pretty, especially in spring. For this pastel floral wedding in Amman, the wedding venue was covered in beautiful flower arrangements in pastel shades of blue, pink, and lavender.
The banquet tables were decorated with blue, blush pink, and purple hydrangeas which looked very pretty and natural.
Click here to see more from this pretty floral wedding in Amman!
Blue Hydrangeas
For a bold and unique wedding, blue hydrangeas are a perfect choice! For this all-blue alfresco wedding in Amman, by MY Event Design, the wedding venue was filled with an abundance of blue flower arrangements; exquisite hydrangea flowers decorated the tables, and wonderful blue flower arches created magical paths.
Nothing but blue opulence was seen at this alfresco fresh mid-summer wedding - from the flower installations seen at every corner of the wedding venue, down to the tiniest detail.
See more from this stunning all-blue alfresco wedding in Amman here!
Blush Pink Hydrangeas
Pink is always a great color for weddings, for this pink outdoor engagement in Amman, the team of MY Event Design created an exquisite setup.
The scenery was packed with elegance and style, flourishing with an abundance of pink hydrangeas and some greens dressing up the rustic tables beautifully and sliding down the long tables.
Click here to see more from this pink outdoor engagement party in Amman!
Fuchsia Hydrangeas
Add a pop of color to your wedding with fuchsia hydrangeas! The setup was brimming in bold and oversized hydrangea flowers in fuchsia hues - because nothing can beat the striking visual look of this flower! Their large size, and strikingly-beautiful color added style, brilliance, and playful attitude to the table decor.
Click here to see more from this breathtaking pink alfresco wedding in Jordan!
Purple Hydrangeas
For the love of purple and stars, a stunning purple wedding took place in Amman that was designed by Alissar. The team used upscale flowers such as Hydrangea, Delphinium, Allium, Lisianthus, and Lavender. 
See more from this luxury purple wedding in Amman click here!
Hydrangea Archs
Hydrangeas are not only used for wedding centerpieces and bouquets, but they can also be used to create beautiful floral arches for you and your groom to capture the most beautiful pictures with.
Just like Asal and James's wedding at the Dead Sea in Jordan, a beautiful arch made from greenery and white hydrangeas was created for that wedding. Click here to see more from this garden wedding at the Dead Sea!
Hydrangea Staircases
For the most beautiful bridal entrance, have your wedding staircase decorated with lovely hydrangeas, they will give the entrance a lush and rich feeling, and the colors are so pretty!
Take a look at this hydrangea-themed engagement party in Amman.