Beautiful Celebrity Engagement Rings
Getting married soon?
Looking for Bridal Jewelry?
Let's help you find the right jewelry store.
Get Offers Today
Celebrities are always the center of attention especially when it comes to their love lives; once a celebrity gets engaged the world starts following the details of their proposal, the engagement, and the wedding, from the engagement and wedding rings to the full wedding ceremony. 
Just like everyone else, celebrities get super excited about their engagement rings and love to show them off. Of course, most celebrity engagement rings are unique, expensive, and dazzling.
As we all look at our favorite celebrities for inspiration whether it is fashion, hairstyle, or makeup, we also look for inspiration when it comes to jewelry and engagement rings.
If you haven't been keeping up with the latest celebrity engagements and haven't seen the most beautiful engagement rings, we are here to keep you up to date.
If you haven't picked your engagement ring just yet, maybe you would like to get some engagement ring inspiration from your favorite celebrities who got engaged this year.
Here are some beautiful engagement rings of your favorite stars: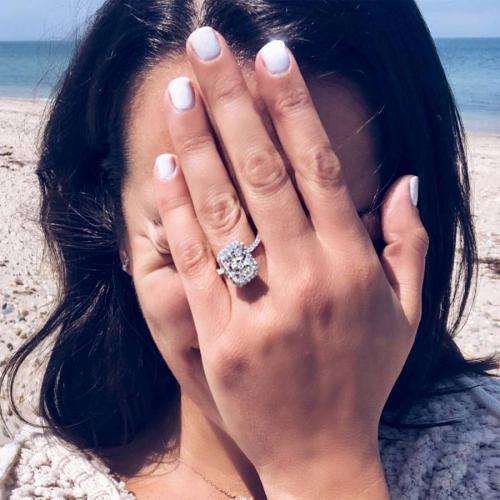 Lea Michelle
Lea Michele showed off her engagement ring from Zandy Reich with a snap captioned "Yes" on her Instagram account. Leah showed off her four-carat diamond engagement ring to all her fans. Zandy Reich popped the question with a ring that he designed with Leor Yerushalmi and The Jewelers of Las Vegas.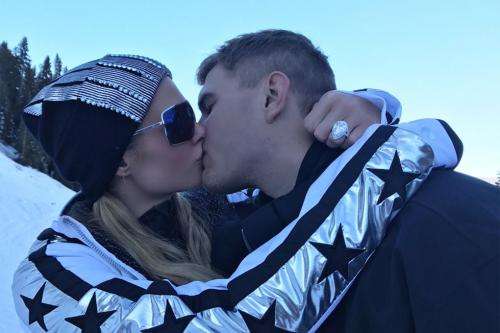 Paris Hilton
Chris Zylka proposed to Paris Hilton on New Year's with a 20-carat diamond ring. Her 20-carat pear-shaped engagement ring that reportedly cost $2 million.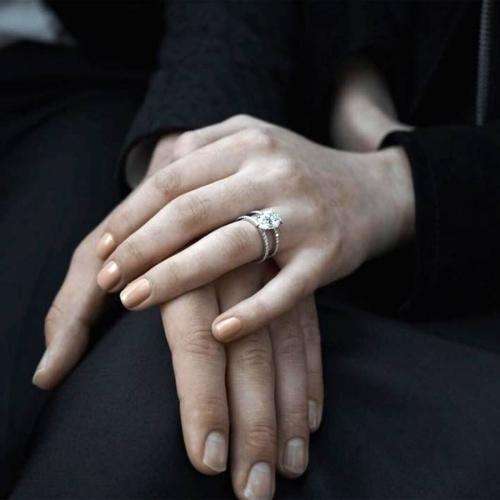 Sophie Turner
Sophie Turner got a unique engagement ring from Joe Jonas, the couple shared their engagement news on Instagram. Sophie Turner's engagement ring is a solitaire pear-cut diamond set on a double pavé band, in white gold.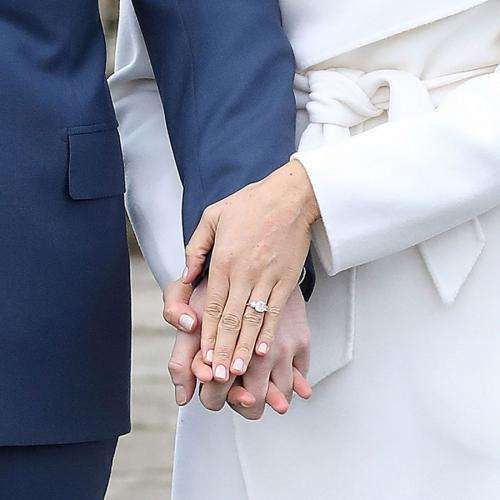 Meghan Markle
No ring is more unique than Meghan Markle's engagement ring from Prince Harry, a three-stone engagement ring made up of one diamond from Botswana and two others from Princess Diana's personal collection.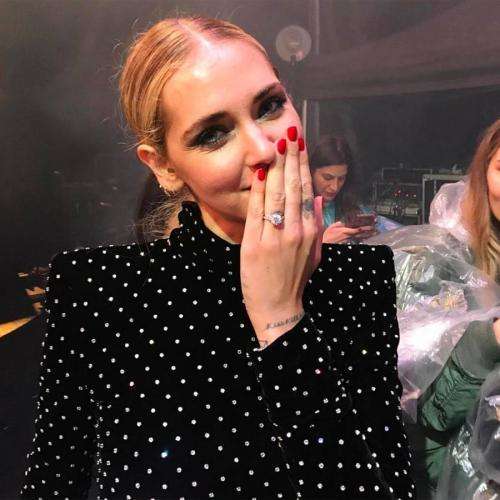 Chiara Ferragni
Chiara Ferragni got a proposal from singer Fedez at one of his concerts, the singer planned a very romantic proposal in front of thousands of people. The eye-catching ring is a large, round-cut diamond solitaire that is set upon a lustrous white-gold band.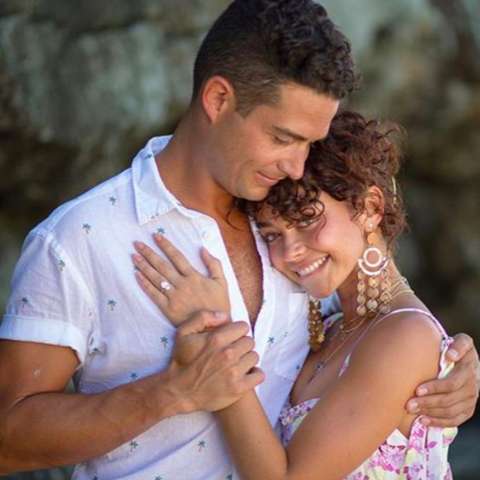 Sarah Hayland
Sarah Hyland showed off her Lorraine Schwartz-designed oval diamond she received from her Bachelorette alumnus fiance Wells Adams. The 5-carat ring would probably run $175,000 to $200,000.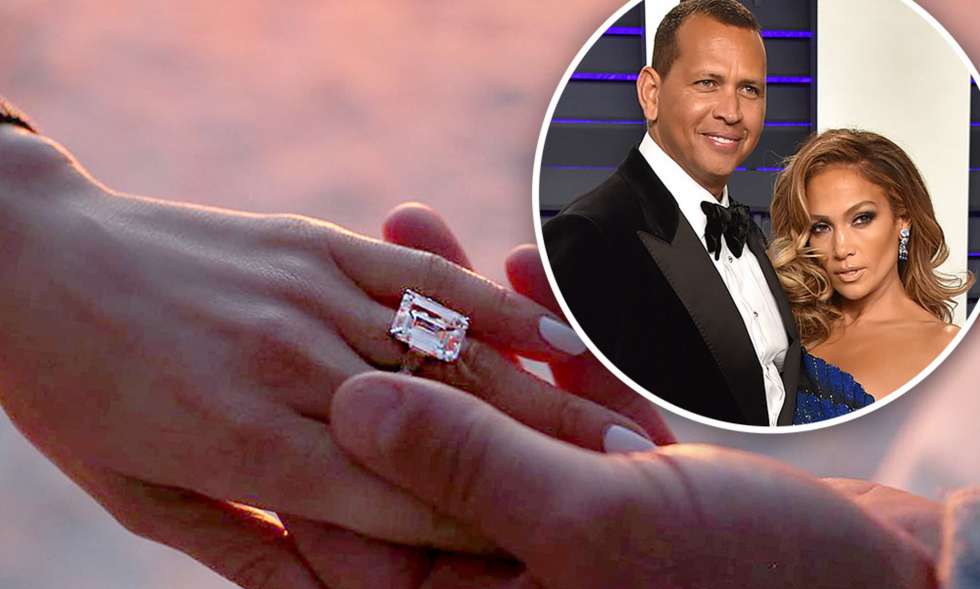 Jennifer Lopez
Alex Rodriguez presented Jennifer Lopez with an emerald-cut diamond sparkler. According to the experts, Jennifer Lopez's ring is 20 carats and worth around $4.5 million.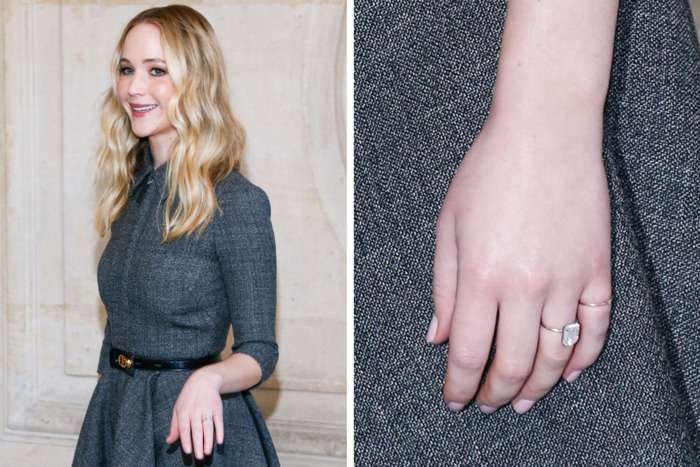 Jennifer Lawrence
Actress Jennifer Lawrence is preparing to tie the knot with art dealer Cooke Maroney. Her engagement ring from Maroney is by NYC jeweler Alison Lou, featuring a sizable emerald-cut diamond set on a thin gold band
Meg Ryan
The actress and her rocker fiance John Mellencamp, decided to make things official with a yellow-gold band topped with a single solitaire diamond and an accompanying diamond-studded silver band.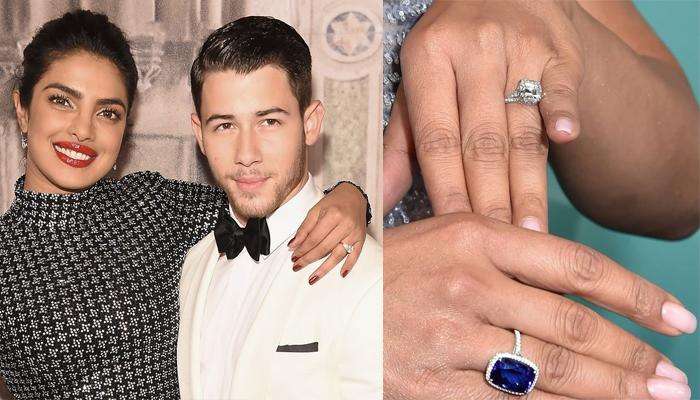 Priyanka Chopra
Priyanka Chopra gave the world the first look at her gorgeous engagement ring from fiance Nick Jonas! Priyanka's ring is a high-quality cushion cut weighing around 4 carats. Rumor has it that Nick shut down a Tiffany & Co. store in London to shop for the perfect ring in privacy.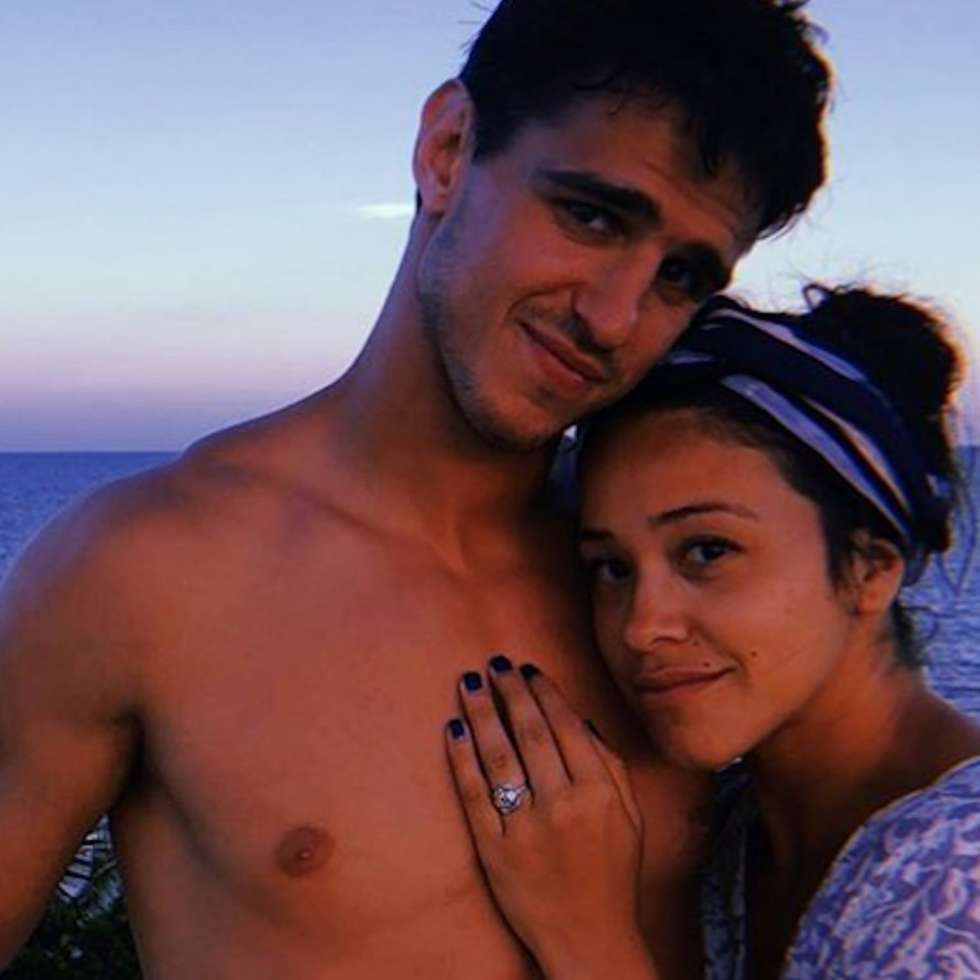 Gina Rodriguez
Actress Gina Rodriguez is now married to Joe LoCicero, but for his proposal, Joe picked an art deco-inspired ring featuring one large diamond set on an intricate diamond plate.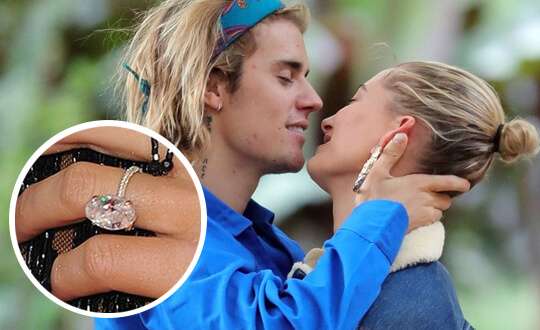 Hailey Baldwin
Justin Bieber went all out when he proposed to Hailey Baldwin, the singer popped the question with a special mesmerising oval-shaped diamond with exceptional length and grace, somewhere between 6 and 10 carats.