A Boho Rustic Summer Wedding in Lebanon
Getting married soon?
Looking for a Wedding Planner?
Let's help you find the right one for you.
Get Offers Today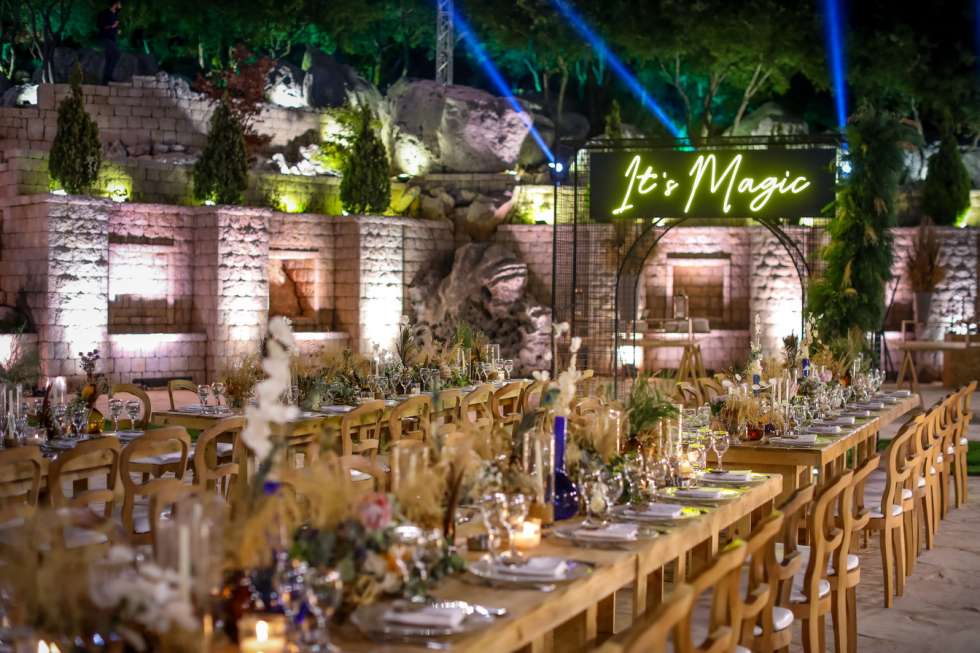 One special and very romantic wedding took place in Lebanon on 16, August 2019. The wedding was planned and designed by Arrows Events Design & Planning, which was all about celebrating true love! As the couple, Paul Saade and Joanna Ladkani, have known each other for 10 years and were reunited through a common friend (who was the best man at the wedding), it did not take them much time to realize that they were meant to be and got married 1 year and a half after they met again. Now that's what we call destiny!
This wedding was the night Arrows went bridal! As the bride, Joanna is the owner of Arrow Events Design & Planning.
Their beautiful wedding had a boho feel which was shown in all details starting from the feather wedding dress to the church dried herbs and peacock feathers decoration arriving at the wedding party with boho tribal patterns everywhere - from welcome drink tables to platforms, giveaways and the cake. 
The couple even had a big handmade dreamcatcher to serve as guests' photo booth in the dinner area right next to a tattoo station with gold tribal patterns to keep guests entertained at all times.
They also had a van with a boho setting in the welcome drink area and guests also enjoyed taking photos in front of this background.
For the entertainment, the bride's sister prepared a surprise and hired a Latin dancer along with all of the bride and groom's friends which definitely spiced up the party. And since the groom is half Belgian and they had some wedding guests coming from abroad, the couple had 2 oriental drummers enter and perform Dabke tracks while they distributed the Lebanese tarbouch keeping their wedding guests engaged and entertained.
It was a fun, unique, and stunning boho chic wedding by all means!
---
Wedding Venue: The History Events Venue
Wedding Planner: Arrows Events Designs & Planning
Wedding Photographer: Tony Khattar Photography
Wedding Catering: Saveurs Du Monde Catering
Wedding Dj: DJ Tony C Official
Wedding Entertainment: Cats Production
Wedding Production: A2Z Production and Styro3D
Wedding Flowers: Bonsai Flowers Lebanon
Bridal Hair: Georges Mattar Official
Bridal Makeup: Nabil Makhoul
Wedding Dress: Bernard Jabbour
Furniture: Ets. Rabih Matta
Bar: Liquid Engineers
Fireworks: Elie Geagea
Hostesses: Select Agency
---
Take a look at the wedding pictures below. For more Lebanese Weddings click here.