Bridal Shower Decorations in Dubai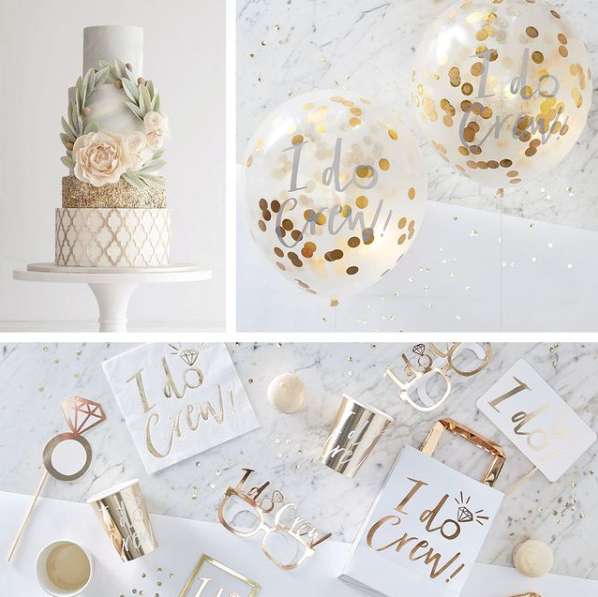 As we all know, once a couple announces their engagement, many events and parties start taking place, especially if you are in the Middle East. Events vary from beautiful dinners with friends or family, to the henna parties and bridal showers closer to the wedding date - it is all about celebrating the lovely couple.
Usually, it's the bride's close friends, sister(s), or bridesmaids who plan the bridal shower party. Many details go into planning this fun girls-only celebration: from the party catering to bridal shower decorations, fun games, and more. There are many tasks to tick off the list to make sure that you have planned the perfect bridal shower.
Make sure you have a fun bridal shower with these ideas right here!
If you are planning a bridal shower in Dubai, then you must be looking for the best stores selling bridal shower decorations in Dubai.
Also, check the top wedding registries in Dubai here!
Here is a list of them to help you find all you need for an intimate fun-filled shower party. 
An international balloon company with 5 years of experience and success in the balloons industry.
They are known for their bright and stylish bouquets of balloons and also create individually customized solutions for each customer. They also have their own 24x7 delivery service, that can deliver your order as fast as possible.
A one-stop-shop for all your needs! Educational items, arts and crafts, party items, costumes for kids and teens, flowers and frames, and much more.
Party Camel is a one-stop online party shop bringing you the ultimate in up-to-the-minute, inspiring, design-led partyware and innovative gifts from around the globe. Offering you the very best in fun and stylish quality international brands, next-day delivery throughout the UAE, and super-fast delivery options across the GCC, their goal is to save you time and make your life easier.
You'll find that putting together your own Instagram-worthy celebration at home really can be a piece of cake!
It all started with two ladies joining the same company in Dubai. After two years of working together, they both decided to take their path and started brainstorming for business ideas that they would like to explore.
They knew that have to be on top of their game so they decided to start attending international conferences and start building strong partnerships with various suppliers so that they could meet their customer's demands. 
Serving the UAE since 2004 with four Party Centre locations, they are one of the largest party supplies superstores in the world and offer the most complete online and in-store selections of all kinds of party supplies. They offer a massive range of officially licensed party tableware, costumes, piñatas, balloons, party favors, party bags, blowouts, hats, kits, and accessories for kids and adults alike.
They've searched the globe for the trendiest and most popular party items and have made them easily available to you. As an all-inclusive store for online party supplies in the UAE, Party Centre offers a wide range of party supplies and ships from our warehouse in Dubai so that you can count on low shipping rates and quick delivery times.
Not sure where to start? Shop by party occasion, color, theme, or categories like seasonal events party supplies, birthday party supplies, theme parties, special occasions party supplies, costumes, baby party supplies, balloons, party kits and so much more - buy everything under one roof.
Any party looks empty and less festive unless there are party balloons or decorations.
Look no further as Party Monster sells the best party supplies and balloons all over Dubai and the other Emirates.
At Party Monster, you can choose from a wide range of balloons and party supplies. With over 1000 products in their balloons and party supplies section, they are proud to call ourselves the leaders in party shops in Dubai.
Always bringing in the latest fashion in balloons and party supplies to Dubai.
Since 2001, Party Zone has been spreading smiles and making beautiful memories. Whether it's birthdays, baby showers, or anniversaries,  they have you covered for all your treasured moments and holidays. With stores across the UAE and through their website, they strive to make your special moments a hassle-free and convenient experience. 
Do you have something to celebrate and want to make it extra special? Then stop by Party World where you can find all your party needs to make it fun and unique! They have a large assortment of products themed to suit many occasions including birthdays, baby showers, bridal showers, bachelorettes, Halloween, Valentines, Graduation, New Year, Eid, Christmas, National Day, and many more. Some party supplies include plates, cutlery, cups, decorations, gifts, favors, gift wrapping, and a selection of adult and children costumes and accessories.
Tamona.ae is an eCommerce company that specializes in providing the most thoughtfully curated party favors, supplies, birthdays, and gifts for every occasion to make your celebration much talked about and remembered for a long time with a range of stylish, exclusive, and funky items.