Chalets in Riyadh for Weddings
Getting married soon?
Looking for a Wedding Venue?
Let's help you find the right one.
Get Offers Today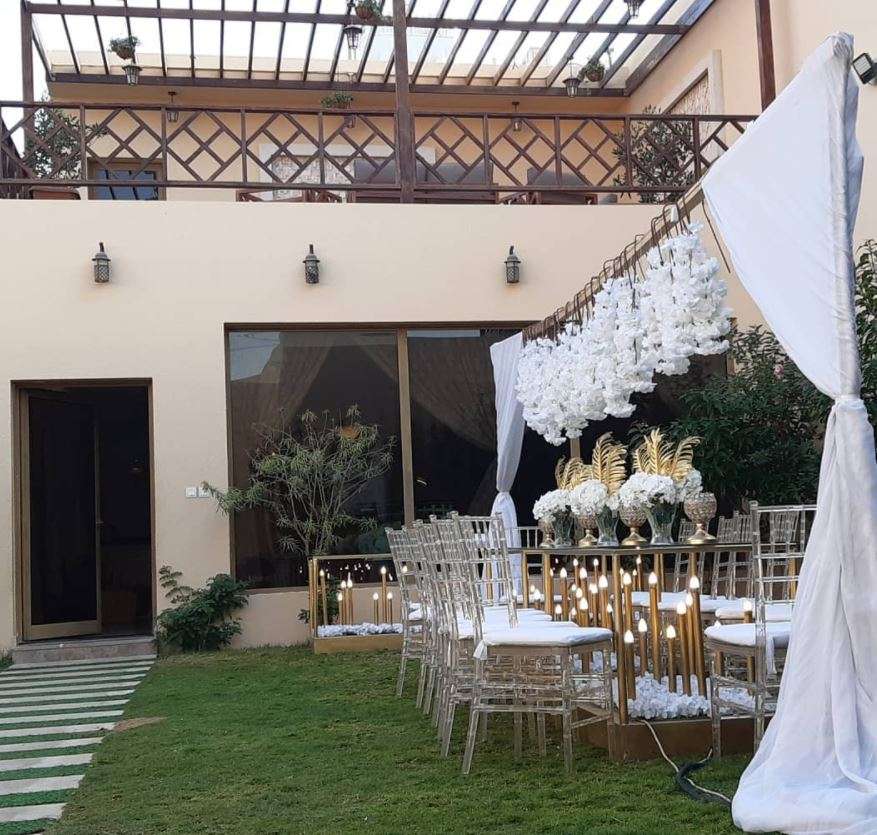 Saudi brides have different tastes and styles when it comes to their wedding details, some brides love the idea of a luxurious wedding in a grand ballroom, while others want a different option, and this is why many brides look for a chalet with wedding venue in Riyadh.
If you are having your wedding in Riyadh then you are one lucky bride, as Riyadh is home to many beautiful hotels with ballrooms, and elegant wedding halls, as well as beautiful farms for weddings. Check out:
The Biggest Hotel Ballrooms in Riyadh
Top 5 Hotels in Olaya District in Riyadh
Smaller Hotel Ballrooms for Smaller Weddings in Riyadh
Most Popular Wedding Halls North Riyadh
If you are looking for beautiful chalets in Riyadh for the perfect private wedding, we are here to help you out!
Take a look at these chalets in Riyadh for weddings that are absolutely beautiful, and will give you the chance to choose any wedding decoration or theme you want with the help of the best wedding planners in Riyadh. They will help you with every detail of your wedding from the wedding chairs, centerpieces, to the wedding kosha.
Take a look at these beautiful wedding chalets in Riyadh.
Gelnar Resort is located in Al Rimal area, and this chalet is considered to be one of the most luxurious and elegant chalets, it is the perfect holiday destination in Riyadh.
Gelnar Resort is perfect for any event and is a popular choice among families on holidays and weekends.
The chalet offers privacy and beautiful nature, it also has a very modern design for the modern bride.
Al Monasabat Chalets in Riyadh is located in Al Kadisiya area, and is perfect for any kind of event and celebration. They are always offering amazing packages and offers for different events with great prices.
Whisper Halls in Riyadh is located in Nimar neighborhood, exit 26, and the hall is elegant in every way, making it perfect for any occasion.
Reiva Monasabat is a beautiful wedding venue in Riyadh, located on north King Suleiman Street in Al Qairawan area. Reiva offers amazing packages for events and weddings.
Sewar for events offers 2 wedding halls each hall can accommodate between 50 to 70 guests. The venue consists of two stories and the ground floor offers abaya services and a hall for the buffet, as for the hall on the first floor, it offers a bridal suite for brides to get ready and take their photos.
Abant Chalet in Riyadh is located in Al Rimal area, the wedding hall has a modern design and is fully equipped for any event. The venue also offers outdoor wedding venues for beautiful outdoor events.
A large farm with an area of 26 thousand square meters, and includes indoor and outdoor areas, a kitchen, dining room, and lots of greenery. It is located in Wadi Hanifa and close to the Suwaidi neighborhood.
The Andalusi Ref Resort is located in Al Rimal area, with beautiful nature and landscapes, and lovely outdoor areas.