Desert Wedding Venues in The UAE
Getting married soon?
Looking for a Wedding Venue?
Let's help you find the right one.
Get Offers Today
We are spotting many weddings that are taking place in the most unique venues, and as Arab couples are always looking for the next big thing, even when it comes to choosing their wedding venue, brides and grooms are going for unique wedding venues for the biggest day of their lives. 
Whether you live in the UAE or have a destination wedding there, we must say that it is home to the most beautiful locations and venues; from top hotels, and outdoor venues, to venues located in the middle of the desert!
If you want a romantic wedding in a magical, mystical, and breathtaking venue in the UAE, why not have your wedding in the desert? There are plenty of beautiful resorts and venues in the middle of the UAE's desert where you can have a magical wedding with an authentic desert experience.
Also, check out: Top Desert Wedding Venues in Dubai
And as we know that couples are always so busy planning their weddings that they need a lot of help, we have compiled some of the most amazing desert wedding venues in the UAE.
Check them out below.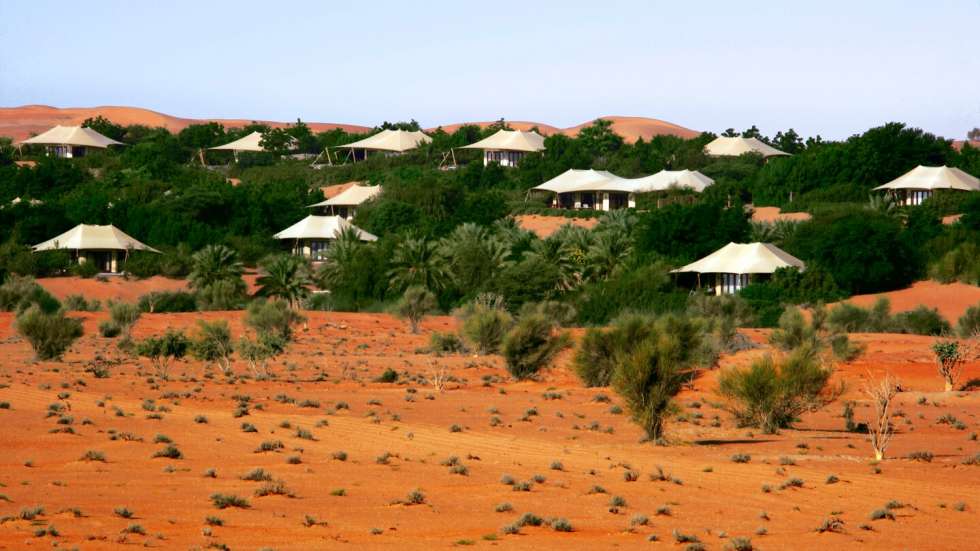 Al Maha, a Luxury Collection Desert Resort and Spa in Dubai is a private, guest-only oasis nestled among the lush palm groves, emerald canopies and iconic sand dunes of the Dubai Desert Conservation Reserve. The hotel offers secluded tranquility and iconic vistas of the sweeping plains and Hajar Mountain massif.
In the tranquillity of the Dubai Desert the Al Maha Luxury Collection Desert Resort and Spa is an inspired choice for your wedding celebration. Set in a verdant oasis deep within the desert, the forty-two elegantly furnished Suites cater to the discerning travelers who seek an authentic Arabian cultural experience and incomparable levels of service. Al Maha offers everything you dreamt of for your special day. 
Deep within the desert landscape lies Al Wathba, a Luxury Collection Desert Resort & Spa, Abu Dhabi - an intimate retreat suffused with natural beauty and serene tranquility.
Host an exceptional event in their exquisite destination, located only 45 minutes away from Abu Dhabi. Interiors are inspired by historic wood and sand dwellings, featuring local details. The impressive ballroom features a dedicated entrance, a foyer, and an enclosed outdoor terrace.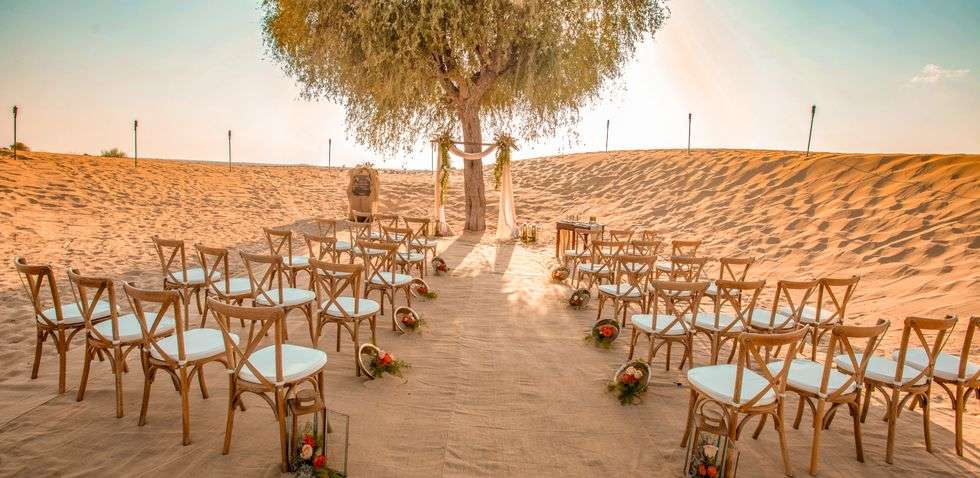 Step into a realm of pure bliss at Bab Al Shams, designed to ensure that your special day is truly magical. Choose from an array of intimate and majestic venues, and experiences, each an environment of pure elegance and inimitable Arabian refinement. 
Nestled among the dunes, the newly renovated low-lying Bab Al Shams resort is the world's favorite choice for dream desert getaways.
This oasis of tranquility combines rustic charm with top-tier hospitality and luxury to bring to life an authentic desert experience.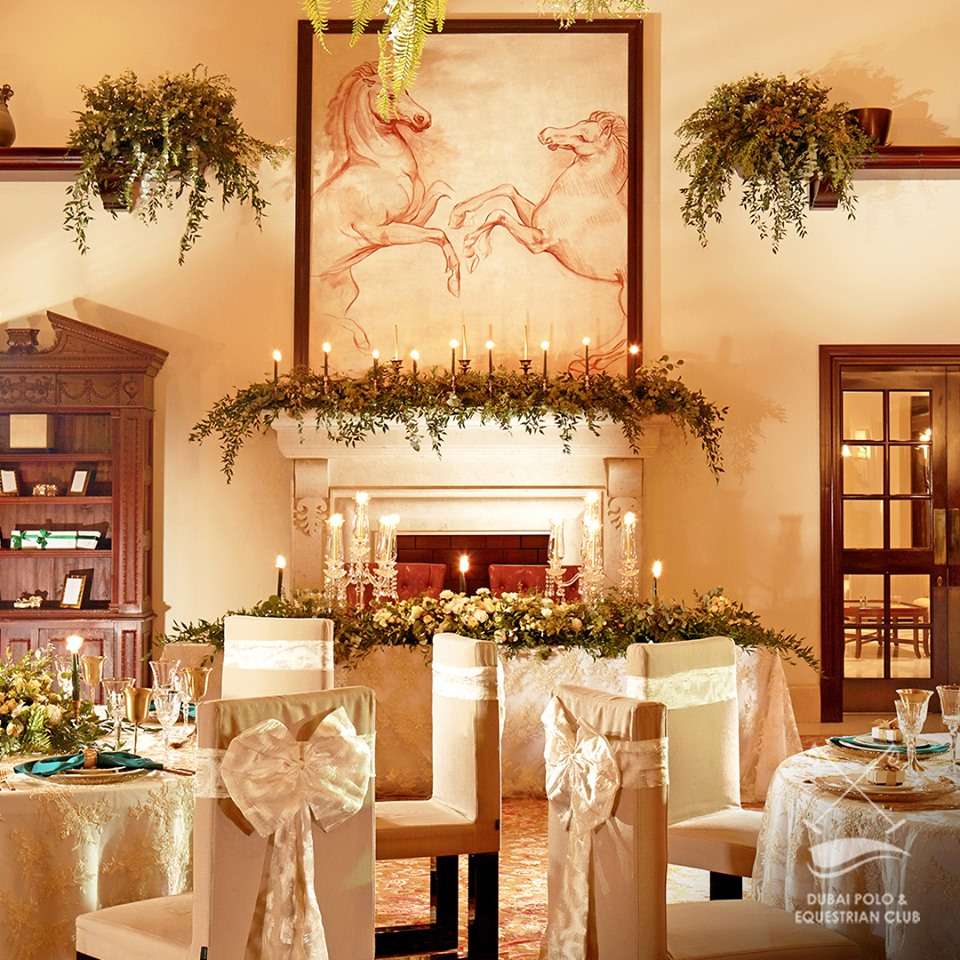 An ideal venue for all your events with a day filled with romance in one of the most beautiful wedding venues, Dubai Polo. Their events team will help you plan every detail of your special day. Officially launched in April 2006, the Club has become the heart of equestrian activity amongst residents in Dubai, as well as, visitors to the city and a sought after Dubai desert wedding venue.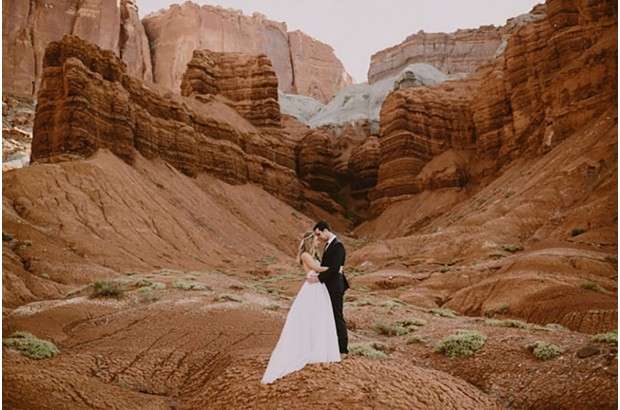 Mercure Grand Jebel Hafeet is a unique mountain oasis resort that sits at the top of historical Jebel Hafeet in Al Ain at the lofty height of 3,000 feet. The hotel is a truly unique mountain oasis.  At 3,000 feet, the air is clear, and as you drive up the mountain you can feel the stresses of a busy life drift away.  During the cooler months, their beautifully manicured outdoor courtyard area beside the pool offers a stunning location for your reception.
They have a fantastic range of wedding packages for all budgets and tastes and their team will ensure you have a flawless celebration. The elegant ballroom holds up to 300 guests. 
The Mercure Grand Hotel Jebel Hafeet's talented events team is able to help you turn your dream wedding into a reality.  Their top-notch chefs can customize menus to suit any taste to help you make your big day so special.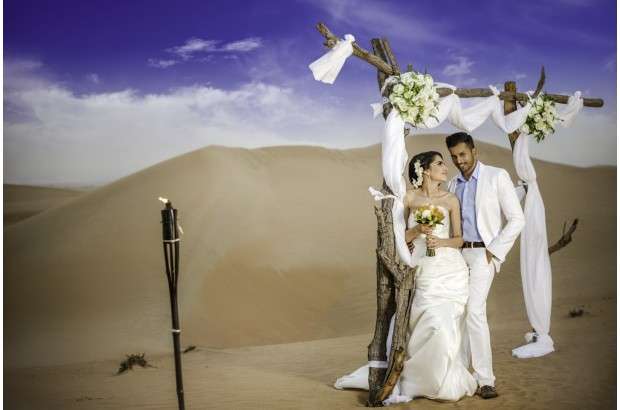 Platinum Heritage Desert Safaris in Dubai offers authentic and unique experiences of the desert. They are the experts in creating authentic and luxury desert events. To maintain exclusivity, and to ensure that their venues are secure and well-maintained, all of the camps are located in private property owned by the Royal family.
Heritage camps are the traditional-style Bedouin camps and the Platinum camps offer luxurious and exclusive settings at desert oases.
Whether you are looking for a smaller venue to host an intimate event or a location for a large-scale function, they have a range of different camp capacities to cater for groups of all sizes. 
On the outskirts of Abu Dhabi, the world's largest sand desert – the Empty Quarter – beckons! Qasr Al Sarab by Anantara rises up from flame-colored dunes like a mirage, inviting adventure in the most luxurious of styles. 
Celebrate in one of the world's most majestic destinations. Secluded in the world's largest sand desert, wedding parties journey just 90 minutes from Abu Dhabi, or soar over the legendary Empty Quarter to land at a private helipad.
Wed with an intimate pool villa ceremony at one of the most spectacular wedding venues in Abu Dhabi or reserve the entire Royal Pavilion Villas for prestigious exclusivity. Dine like Bedouins under the stars and dance in the opulent Liwa Ballroom. 
Just north of Dubai, The Ritz-Carlton Ras Al Khaimah, Al Wadi Desert invites guests to connect with nature and culture amid the beauty of a 1,235-acre protected preserve. An exchange of vows as the sun dips below the sand dunes, a lavish feast within a majlis tent and a night of dancing inspired by Arabian folktales, are wedding visions that come to life at this Ras Al Khaimah resort.
Forty-five minutes from Dubai, this destination resort offers alternatives to the traditional wedding hall with outdoor venues set amid the beauty of the desert. Whether you have chosen to celebrate as a couple or with a group of friends and family, the resort's wedding experts are passionate about bringing your dream wedding to life.
A luxurious five-star desert resort set amidst the Arabian oasis on the outskirts of Al Ain city in the vast landscape of Remah Desert which was once home to the nomadic Bedouin tribes of the Emirates.
At Telal Resort Al Ain, you can find some of the region's rarest species of antelopes, such as the Domani, Reem, and Arabian Oryx roaming, flourishing, and thriving in their natural environment.
Enjoy a timeless elegant poolside set-up of tables, adorned with sophisticated floral centerpieces paired with neutral-hued linens that create an aura of ageless refinement.  
A magical oasis, away from all the noise, where you live to the rhythm of the sun. Let your guests enjoy a unique glamping experience in the Arabian Dunes, a vibrant, yet relaxing pool scene, exquisite restaurants serving tastes from around the world ·