A One Year Wedding Celebration in Lebanon
Getting married soon?
Looking for a Wedding Venue?
Let's help you find the right one.
Get Offers Today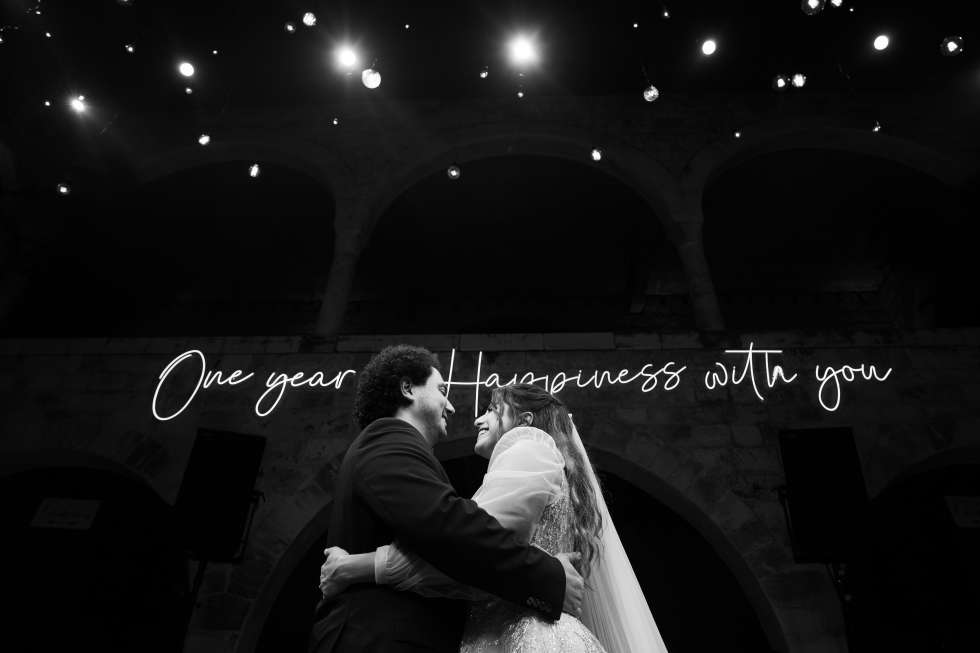 This wedding is a very special wedding; the wedding of Rami and Chantal Nohra has a special story. The couple got married on 26 December 2020, but couldn't celebrate with all the people they love because of the COVID-19 pandemic. One year later, on 26 December 2021, they hosted a one-year wedding celebration at Palais du Mzar, a raw historic venue in Ghazir, Lebanon. 
The beautiful and very romantic wedding had a customized art deco-inspired setup planned and designed by Arrows Event Design & Planning.
There were pretty blooms in every corner, as well as lovely neon lights with phrases such as "One Year of Happiness with You" which describes the couple's story perfectly.
For a romantic feel, the venue was decorated with light bulbs hanging from the ceiling creating a very unique and magical ambiance.
---
Wedding Venue: Palais du Mzar
Wedding Planner: Arrows Event Design & Planning
Sound: Chady Akiki
Lighting: Bacchus Production
Photography: Dazl Production
Catering: Bluemz Catering
Flowers: Bonsai Flowers
Dabke: Hayakel Baalbeck
Band: Arnabeat
DJ: DJ Tony
Tables and Chairs: ETS Rabih Matta
Neon: Bar Seco
Bar: Liquid Engineers
Hostesses: Diffa Droup
Giveaways: Atelier Bonheur Maison and Clay.o.patra
Bridal Makeup: Yvonne Hatem
Bridal Hair: Georges Mattar
Wedding Dress: Abbas Harajli