Wedding Venues in Dubai for Horse Lovers
Getting married soon?
Looking for a Wedding Venue?
Let's help you find the right one.
Get Offers Today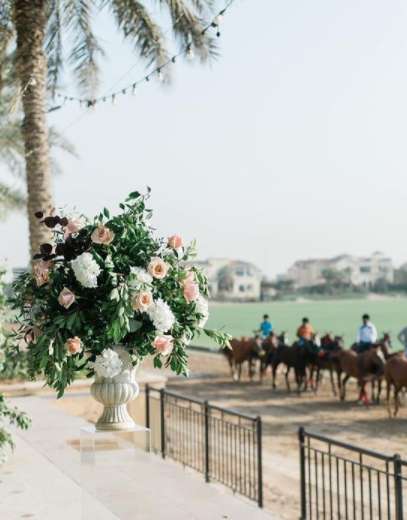 With the wide variety of wedding venues available in Dubai, from beaches to gardens, outdoor wedding venues, grand ballrooms, magical desert venues, and equestrian clubs, brides and grooms getting married in Dubai are offered the chance to make their wedding quite unique and unforgettable.
Whether you are living in Dubai or having a destination wedding in Dubai, you will find many beautiful wedding venues for your big day in this marvelous city.
Choosing your wedding venue according to your own style and interests will reflect your personalities onto your wedding and make it more unique and personalised. If either of you is a horse rider and in love with everything equestrian, you can select a polo club in Dubai to hold your wedding at. We then suggest that you go for an Equestrian Wedding Theme to compliment the setting and create a cohesive wedding theme that you and your wedding guests will cherish and remember for forever.
Dubai is world famous for its Dubai World Cup which is a thoroughbred horse race held annually since 1996 offering 9 races, consisting of eight 8 thoroughbred contests and one purebred Arabian contest. 
You have a variety of equestrian clubs and resorts in Dubai to select from, including The Meydan Hotel which houses beautiful racecourses that host international horse races, the Dubai Polo and Equestrian Club, Al Habtoor Polo Resort and many more.
The venues selected beow are perfect for grand celebrations and simple weddings, so choose your favorite venue to book your wedding. Check out these wedding packages in Dubai as well.
A day of romance and celebration in the most breathtaking surroundings imaginable. The ideal venue for your event, offering unique and inspiring settings.
Their dedicated Lifestyle Events Team will make the planning process as much pleasure as your dream day. Arrive by romantic horse-drawn carriage and soak up the wonder in the knowledge that your fairy-tale wedding will unfold exquisitely from beginning to end.
5-Star luxury, The Meydan Hotel is designed in the shape of a wave in motion with a luminous green glass facade, boasts spectacular views, substantial spaces, and an abundance of natural light. Enjoying a majestic position overlooking the Dubai racecourse, yet within easy striking distance of Downtown Dubai, the Sheikh Zayed Road, and Dubai International Airport, guests can enjoy total serenity while remaining connected with the hustle and bustle of the city. 
The property offers a choice of opulent ballrooms, breathtaking outdoor venues, and iconic settings to bring your fairytale wedding to life. Special wedding packages include professional wedding planners, complimentary tiered cakes, and a variety of honeymoon options. 
Some of the key venues at the hotel are, the  Sky  Bubble, a  transformative flexible space overlooking the Meydan Grandstand, The Ballroom, partitioned four ways with ethereal views of the racecourse, and the Turf Lounge – boasting a capacity of 350 people paired with stunning views of  Dubai.  Each venue seamlessly blends innovation,  design, and luxury together making for the perfect wedding location.
The Al Habtoor Polo Resort & Club is a state-of-the-art polo and equestrian community devoted to equine sports located in Dubailand. Set in more than six million square feet of land, the Club consists of 122 villas for lease, branded luxury homes, four world-class polo fields, a Polo Academy, a Riding School, two international-sized arenas plus a dedicated Riding School arena and 520 modern stables. At its centerpiece, the Al Habtoor Polo Resort exudes timeless Andalusian elegance within an oasis of excellence, uncompromising luxury, and unparalleled service.
Whatever your vision and background, your special day should be unforgettable and, at its heart, uniquely you. With outstanding serviced standards, like a dedicated wedding butler, an in-house sommelier, a talented culinary team, and the top planning professionals, we strive to make your vision and purpose your reality. With Dubai's most unique outdoor and indoor gathering spaces, each with its own ambiance, we can accommodate lavish affairs with more than up to 5,000 guests in style with impeccable service. 
At Bab Al Shams Desert Resort, they are committed to ensuring that your wedding celebration is not only exceptional but hassle-free. They are delighted to offer brides and grooms a choice of packages, each offering their own unique benefits as well as their signature privileges.
Step into an oasis of elegance and luxury and let Bab Al Shams Desert Resort & Spa make your fairy tale dream come true. Capturing all the romance of the land and blending it with luxury and authentically Arabian experiences, let the natural décor of the desert with blue skies and alluring hues of golden sand dunes paint a perfect picture wedding celebration like no other. There is something magical about the desert that takes your breath away. The Arabesque elegance of the resort has been finished with rustic touches that will add another chapter to your wedding story.