The Luxurious Wedding of Tony El Mendelek and Elena Massabni in Lebanon
Getting married soon?
Looking for a Wedding Venue?
Let's help you find the right one.
Get Offers Today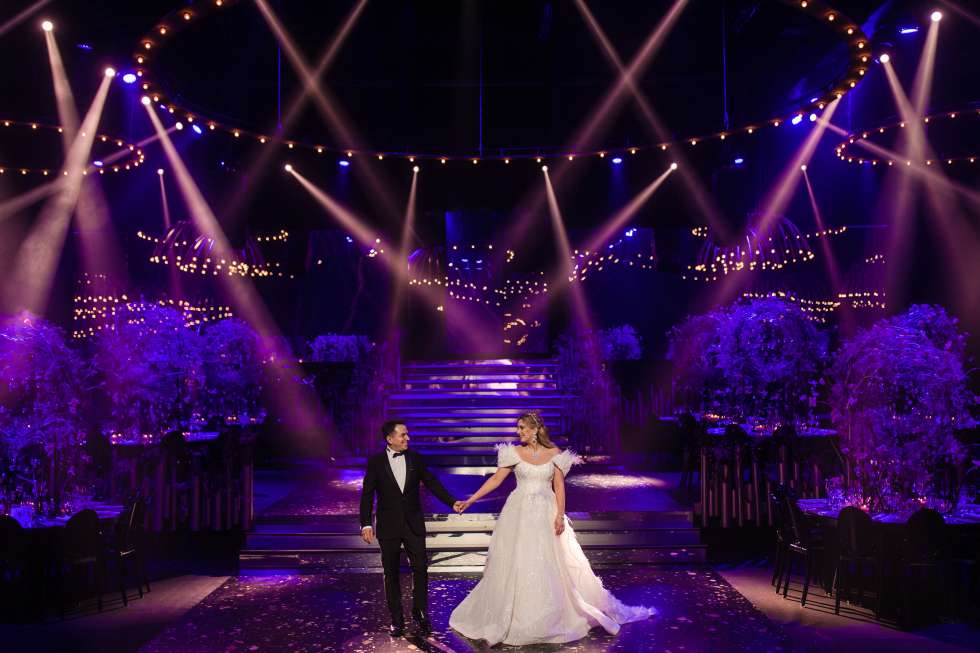 The one and only Lebanese beauty expert and hairstylist  Tony El Mendelek, got married to the love of his life Elena Massabni at Ociel Venue in March 2022 in Lebanon.
Wedding guests had a fun-filled celebration with so much joy and love. Every detail at this grand event was meticulously planned. 
The bride looked absolutely stunning in a couture wedding dress by Lebanese fashion designer, Reem Kachmar, and, of course, no one other than the groom, Tony El Mendelek took care of the bride's hairstyle. The bridal look was completed with a stunning headpiece by Centimes Bourgeois Headpieces who are based in Lebanon.
The groom, of course, kept a close eye on the bride's hair making sure it was just perfect. And later on in the evening, the bride changed the headpiece to another out-of-this-world glowing bridal headpiece -it was like nothing we have seen before!
A wedding like this must be attended by the most famous celebrities in the Arab world and covered by ET Arabi! 
The celebration was personalized in every way imaginable, with personalized charger plates with the couple's illustration on them. And to make the wedding even more unique, the couple danced to the tunes of a personalized song with special lyrics written for the bride and groom by musical artist Sijal Hachem.
As for the decor and setup, it was a modern and chic affair with swoon-worthy details. Red was the main color for the wedding symbolizing romance and love. The night was filled with shows and entertainment as the wedding guests celebrated the happy couple till dawn.
---
Wedding Venue: Ociel Venue
Wedding Flowers: Roni Bassil
Wedding Production: Albert Kozah
Entertainment: Arts and Melon
360 Video Booth: Picme
Wedding Catering: Cat and Mouth
Wedding Photography: Pulse Production
Lighting: Events Technology
Wedding Furniture: PBS Events
Hostesses: Diffa Group
Sound: Loudnclear
Bar: The Tipplers
Printables: Nahhal Printing Group
Bridal Hair: Tony El Mendelek 
Bridal Headpiece: CB headpieces
Bridal Makeup: Roula Riachi
Bridal Jewelry: Gerard Tufenkjian
Wedding Dress: Reem Kachmar