Drone Videographers in Dubai
Getting married soon?
Looking for Wedding Photographers?
Let's help you find them.
Get Offers Today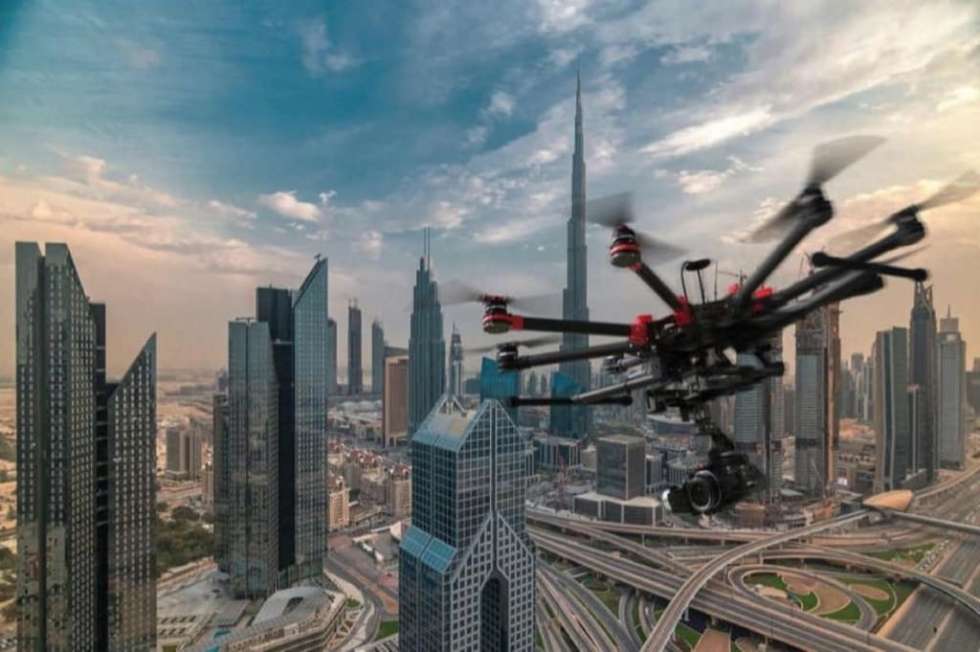 A few years ago, many wedding photographers started using drones to capture the magic of the entire wedding ceremony from above, and this idea became very popular among Arab couples.
Check out: Drones for Your Wedding Photography
The photos and videos captured by this technology are unique, and you will have the opportunity to capture all the beautiful landscapes from the wedding venue or photograph all the invitees in one photo.
If you are celebrating your wedding in Dubai, or anywhere in the United Arab Emirates, and you want to use a drone to shoot videos for your wedding, there are many companies that provide this service with all professionalism and perfection in Dubai.
Also read:
If you are getting married soon and looking for the best Dubai wedding packages, click here!
Check out these companies that offer drone videography services for weddings.
Chopper Shoot is an aerial photography company based in Dubai, UAE with a regional office in Abu Dhabi. They specialize in aerial photography using both helicopters and drones. They have complete in-house equipment and an experienced team of camera operators, technicians, and drone operators with safety records. The company's dedicated permits department is well versed in the latest drone regulations in the region and handles the entire permitting and compliance of the Film Authority, the Ministry of Defense, and the Civil Aviation Authority.
The company provides high-quality aerial photography and drone videography services for real estate, construction, film production, and personal projects in Dubai, Abu Dhabi, and all of the United Arab Emirates. The company guarantees you a hassle-free experience with the guarantee of obtaining high-quality photography.
Dream Box
The Dream Box team will capture your story and present a unique handmade movie for you and your love story. You can't be everywhere on your wedding day, so the staff will look for those little moments that only happen when the whole family comes together - interactions between the older and younger generations; stolen kisses, the ultimate happiness everyone feels when they come together to celebrate love. Then they will capture all those moments to be tied together in a way that will touch your hearts for years.
GeoDrones is a leading Drone Services Company in the United Arab Emirates operating around the Middle East Region. It provides commercial and professional aerial services using drones with cutting edge technology. 
Feds Drones
FEDS (Falcon Eye Drones) are the industry leaders in Unmanned Aerial Systems (UAS) commonly referred to as 'Drones'. The benefits that drones provide are unmatched by traditional methods of mapping, monitoring, and inspections. They are the future.
Residing within a cutting-edge industry, FEDS are innovative by nature. They are at the forefront of technological advancements in their field and committed to providing cost-efficient, time-saving and safe solutions that are far superior in quality and detail than any other in the market.
Shadow is a leading creative and production house in Dubai known for its outstanding work in photography and videography. With state-of-the-art studios in the UAE, Shadow works with brands and companies to create cutting-edge content with an enduring commitment to delivering the best results with an ongoing focus on quality in delivery.
Sky Vision
Sky Vision is a progressive drone company in Dubai capable of creating awe-inspiring aerial videography and photography content. With unparalleled passion and a sharp visual eye, they work with a wealth of clients and diverse business sectors to bolster their brand profile.
Fully licensed and qualified to fly cutting-edge drones, they deliver an unrivaled standard of video and photographic content. As one of the best drone filming companies in Dubai, Sky Vision is fully-versed with the very latest in evolving drone technology, which means they can deliver a production standard that's second-to-none.